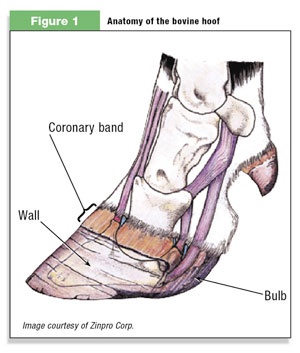 Known as one of the largest health problems on United States dairies, lameness costs producers thousands of dollars each year through veterinary bills, higher culling rates, lost milk production and a decline in reproductive performance. While lameness is not often tied directly to reproductive failure, research continues to show that sore feet are closely tied to breeding pen performance.
Lameness 101: Hoof anatomy
It's nearly impossible to understand why the dairy cow's hoof responds to stress in the ways it does without understanding its structure, which is illustrated in Figure 1.