This is the first of a regular column to bring you information regarding some of the research being done around the world and published in the Journal of Dairy Science (JDS). The objective is to bring to light areas of research that may have an immediate practical application on a dairy farm as well as research that, even though it may not have a practical impact now, could be interesting for its future potential application.
The idea is to give a brief overview of select research studies but not go into detail on each topic. Those interested in further in-depth reading can use the citations to find each study.
"Value of the Dutch Holstein Friesian germplasm collection to increase genetic variability and improve genetic merit," Vol. 101, Issue 11, Pages 10022-10033, Nov. 2018: The Holstein Friesian (HF) breed is the dominating dairy cattle breed worldwide. In the early 1990s, national HF gene bank collections were established to safeguard genetic variability. The Dutch HF germplasm collection is a rather unique collection containing material from many A.I. bulls over a period of approximately 40 years.
In this study, the authors assessed the value of bulls from the Dutch HF germplasm collection, also known as cryobank bulls, to increase genetic variability and improve genetic merit in the current bull population (bulls born in 2010-2015). They concluded by saying the Dutch HF cryobank bulls can be used to increase genetic variability and improve genetic merit in the current population.
The benefit of using cryobank bulls depended on two factors: the relative emphasis on variability and the selection criterion (i.e., the index). The more emphasis is put on genetic variability, the higher value of the contribution of the cryobank bulls.
Anticipating changes in the breeding goal in the future, the germplasm collection is a valuable resource for commercial breeding populations.
"Technical note: Comparison of dry matter measurements from handheld near-infrared units with oven drying at 60ºC for 48 hours and other on-farm methods," Vol. 101, Issue 11, Pages 9971-9977, Nov. 2018: Accurate dry matter (DM) of feeds is critical to balance dairy cow diets.
Due to its importance, the industry has been trying to make it easier and faster to test DM on-farm. This study compared DM predictions of three handheld near-infrared spectrophotometer (NIRS) units to conventional oven drying at 60ºC using two alfalfa and two corn silages daily for 20 days.
In addition, on-farm DM methods (microwave, Koster tester and food dehydrator methods) were also compared. Although the NIR units were not as exact as the oven method, the authors indicate the results suggest the NIRS units could be as accurate as oven drying at 60ºC for 48 hours if the factory-set calibrations were corrected for bias (especially for corn silage). They also found food dehydrators were an accurate and consistent way of determining DM.
"Indicators of resilience during the transition period in dairy cows: A case study," Vol. 101, Issue 11, Pages 10271-10282, Nov. 2018: This was an interesting study where the authors evaluated a series of parameters to determine if they could identify cows at risk.
The idea behind the study was to obtain physiologic and behavioural signals with sensors and then evaluate which signal, or combination of signals, would better help identify cows that are less able to cope with the stress and metabolic and infectious disorders that often occur around the transition phase.
To this effect, they collected sensor data on activity and behaviour measurements, as well as rumen and ear temperature data from 22 dairy cows, during a period starting two weeks before expected calving until six weeks after parturition.
During this period, the health status of each cow was clinically scored daily. Sensors from three different companies were used to detect activity (lying time, standing time, activity), behaviour (eating, ruminating and activity level), and ear temperature and rumen temperature (every 10 minutes).
The objective of this type of study is to identify indicators on-farm that could be used for management even before the onset of disease becomes apparent. Detection of cows at risk would allow for adequate preventive intervention, often without the need for medical treatment.
The results of this particular study indicate, statistically, the most optimal linear combination of predictors consisted of average eating time, variance of daily ear temperature and regularity of daily behaviour patterns in the dry period.
The authors concluded although the findings in this experiment have to be treated with care given the low numbers of observations, this research indicates a combination of static and dynamic sensor data properties could be used as indicators of cow resilience.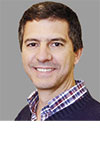 Pedro Nogueira

Nutritionist
Shur-Gain