If your farm could have great success and prevent more lameness by spending less money, would you be interested?
A new year, especially one that starts a new decade, always seems to initiate the motivation for change or new habits. With this in mind, I hope this article prompts you to rethink how your operation runs footbath protocols, with a good chance to save money in the process.
Many articles have been written on digital dermatitis (DD, also known as hairy warts, strawberry warts) on the cause, risk factors, prevention, footbaths and so on. We know more about the spirochete, the main bacteria involved in this painful lesion, than ever before. Positive advancements in footbath design and the wide availability of products marketed to treat or prevent DD are forward strides.
Yet DD is still the number one cause of lameness in dairy herds in most countries around the world, with increasing concern among feedlot cattle. Some herds experience very massive and aggressive lesions that seem next-to-impossible to control even with frequent use of footbaths. So why – with all our knowledge and products for the disease – do we still have so much lameness from this persistent little bacteria? The reason this disease has become so prevalent may be in the way we have been trying to prevent or treat the lesion in the first place.
Focus on the Type III cows
While the M-stages of DD are commonly discussed in this magazine and elsewhere, we place less emphasis on the three types of cows associated with DD:
Type I: animals that have never experienced an ulcerated lesion (M2)


Type II: animals that have experienced a single ulcerated lesion (M2) but not repeated


Type III: animals that have recurring ulcerated lesions (M2) and have become chronic
The Type III animals are the driving force behind the disease, and this is where we have to focus our efforts to evaluate the effectiveness of our treatment and prevention efforts. My experience in the hoof health field leads me to believe copper sulphate needs to be part of an effective DD program, but I also began to wonder if the concentrations used in the footbaths could perhaps be a contributing factor to why DD has become such an epidemic in many herds and dramatically increased the percentage of Type III animals.
Research project: Effect of lowering footbath pH on claw health and DD
To answer this question, I facilitated a research project funded by the WestGen Endowment Fund to evaluate how footbath pH value (lowering concentration) affects claw health and DD. The project farm was a client of mine with two groups of cows, with two robots and one footbath per group. The first 15 weeks, both groups had the same footbath design, frequency and product (copper sulphate with commercial acidifier). The concentration was very typical for industry standards and recommendations and had an average starting pH of 2.0 and ending pH of 2.9. All cows had their feet scored bi-weekly with the DD check app for M-stage, as well as signs of chronicity (proliferated or hyperkeratotic) for the following 15 weeks.
In week 16, all factors remained the same except for in the treatment group, where the product concentration was reduced to have an average starting pH value of 3.2 and ending pH of 3.5. This change in protocol was kept the same until the completion of the project at week 34. During this period, we continued to collect bi-weekly scores for M-stage and signs of chronicity.
Figure 1 shows how the majority of the lesions looked in treatment (pen 1) compared to control (pen 2). The data was sent to the University of Wisconsin for Dr. Dorte Dopfer to analyze, and results are shown in Figures 2 and 3.
Results showed lowering the concentration and starting the footbath at a pH value above 3.0 improved the number of cows not experiencing an ulcerated painful lesion. More importantly, this same group of cows had a dramatic decrease in Type III chronic cows, the driving force behind the recurring outbreaks. If our program lowers the number of proliferated lesions associated with these Type III animals, then we lower the reservoir of DD in the environment that allows for the recurring outbreaks.
How can this save money on the hoof health program?
There is money to be saved by running the most effective program possible to impact these Type III cows. Not only is that savings captured by using less product (copper sulphate) in the footbath but also by focusing the impact on the costliest segment of the herd: the cows with chronic lesions.
Here (and shown in Table 1,) is a typical footbath protocol I suggest to my clients:
Detect and treat all ulcerated M2 lesions.


Reduce copper sulphate to 8 to 15 pounds or 3.6 to 6.8 kilograms (3% to 5%), depending on size of footbath.


Run copper bath five to seven days each week, depending on feet and leg hygiene.


Monitor lesions to a set goal. Recommend no more than one treated M2 lesion for every 100 cows per month, or the equivalent to herd's accepted number of treated cows for mastitis month.


Once the goal is reached, you can substitute a copper bath with a cheap feed-grade salt bath (5% to 10% concentration). This will further reduce the cost of the DD prevention program. The number of copper baths that can be substituted will vary from herd to herd. Always wait a minimum of six weeks before making a substitution.
Other key notes to remember are to make sure dry cows and heifers are part of your herd's footbath and prevention program. Keeping your prefresh heifers free from DD with proper nutrition and footbaths if needed is a crucial part to controlling DD. If you combine a good heifer program and continued prevention, including footbaths during the dry-off and transition period, you can dramatically decrease the overall cost of the herd's prevention efforts and improve results.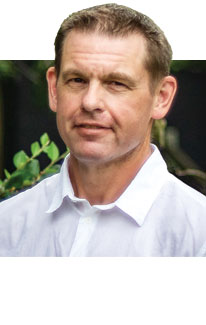 Jamie Sullivan

Hoof Trimmer
Rippleview Hoof Care