Hoof trimming has progressed significantly over the last three decades. Until the '80s, cows went to pasture daily, which allowed for natural hoof wear.
Yet, already at that time, some forward-thinking, high-level producers were hoof trimming their cows, either themselves or by a professional hoof trimmer. At the time, the objective was primarily aesthetic, so the cows would be at their best during agricultural exhibitions.
Nowadays, in addition to greatly increasing in weight and size, the vast majority of dairy cattle remain indoors at all times.
Fortunately, these animals enjoy a much higher level of comfort, with improved stalls that are longer, wider and equipped with rubber mats or mattresses, and barns with high-performing ventilation systems. However, the arrival of a new disease in the early '90s – bovine digital dermatitis – drove modern producers to establish and follow a rigorous hoof health management program.
This general change in the raising conditions of dairy cattle has promoted the use of professional hoof trimming services. In the following paragraphs, I will discuss some essential procedures I believe producers should expect from their professional hoof trimmer.
Biosecurity
Biosecurity consists of a number of measures implemented to slow down or stop the propagation of contagious pathogens from an animal to another or between farms.
Upon his or her arrival, your professional hoof trimmer should wear clean clothes and wash their boots and hands before entering into the barn. The same procedures should also be done when leaving the farm.
The hoof trimming equipment, including the containment cage and barriers, should be thoroughly cleaned beforehand with a pressure washer and properly disinfected.
Rinsing with a water pressure washer exclusively is not enough. In order to obtain a good cleaning and disinfection of the equipment, it is important to follow these four steps:
Remove the organic matter with a pressure washer.


Apply a detergent to remove the biofilm and rinse thoroughly, following the detergent manufacturer's recommendations.


Disinfect with a noncorrosive sanitizer approved by Health Canada.


Ensure the equipment is completely dry before reusing it at another client's farm.
Particular attention should be paid to the hoof trimming tools: knives, grinding wheels, etc. Tools should be soaked in a disinfectant solution to avoid transmission of blood-borne diseases such as bovine leukosis.
We must never forget the hoof trimmer, like any other agricultural adviser, remains a potential vector of transportation for pathogens from one farm to another. Zero risk does not exist, but the implementation of responsible practices can significantly reduce the risk of transmission.
Trimming procedures
Different trimming techniques exist; most of them are valid provided they are well understood and applied by the hoof trimmer. The trimmer should be able to properly identify and adequately treat the two major groups of hoof lesions: horn anomalies and infectious diseases.
For cases of horn anomalies, a good professional hoof trimmer should know how to put on a block and when it's necessary to apply a bandage. In the case of infectious diseases, the treatment protocol to follow must be predetermined by the farm's attending veterinarian.
In order to standardize lesion identification, I modified a document produced by the Alberta Dairy Hoof Health Project in which I inserted protocol sheets that could be completed by the attending veterinarian for each type of hoof disease (Figure 1).
This tool will facilitate discussion among the producer, the veterinarian and the professional hoof trimmer while ensuring each hoof lesion is associated with its specific name.
Trimming equipment
Trimming containment chutes and equipment have changed over the last decade. The majority of chutes now work with hydraulic systems and have a waiting area. The efficiency of modern equipment has increased both the speed of execution and cow comfort while reducing the physical effort needed from the professional.
However, hoof trimming still requires a high level of concentration; no machine can replace the care of a conscientious professional. As in many areas, the quality of the work should overtake the speed of execution; the good old foot knife remains an essential tool for performing the most delicate operations. For its part, the electric grinder performs wonderfully for the rough work.
Trimming report
Many dairy producers measure their herds' hoof health based on the number of bandages applied following the professional hoof trimmer's visit. Considering the number and complexity of diseases, as well as their multiple underlying causes, it is unfortunately an invalid and outdated hoof health indicator.
Today, the production of a thorough hoof trimming report including specific details for each cow has become an essential tool to ensure effective communication among the owner, the veterinarian, the professional hoof trimmer and employees. A good report should mention all the lesions encountered by the professional, the treatments performed and the follow-up action to be done for each animal whose hooves have been trimmed. (See an example in Figure 2.)
Click here or on the image above to view it at full size in a new window.
After discussing biosecurity, trimming procedures, equipment and the relevance of producing a report, we can conclude the time when "hoof trimming" was an improvised trade done by traveling workers without appropriate training is definitely over.
Nowadays, efficiency requirements faced by Canadian dairy producers have forced hoof trimming standards and requirements to be raised significantly.
Today's dairy producers have the right to expect quality from their professional hoof trimming services. It's up to producers to demand them.
PHOTO: Hoof trimming equipment should be soaked in a disinfectant solution to avoid transmission of blood-borne diseases such as bovine leukosis. Photo provided by Raymond Boulais.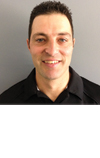 Raymond Boulais

Owner
La Sabotière