Beginning June 3, the Canadian Dairy Network (CDN), CanWest DHI and Valacta will have a new joint identity called Lactanet Canada.
The leading dairy herd improvement organizations for milk recording, genetic evaluations and knowledge transfer are partnering for the betterment of the Canadian dairy industry. The three founding partners will operate out of two locations in Guelph, Ontario, and Sainte-Anne-de-Bellevue, Quebec, with 11 board members and 500 staff members to continue providing services to more than 10,000 dairy farms across Canada.
Progressive Dairyman Editor Lora Bender asked the Lactanet management team to expand on what this new partnership means for dairy producers and the industry.
Why is this partnership important to Canadian dairy producers?
Lactanet: The Canadian Dairy Network-CanWest DHI-Valacta partnership will proactively position our organizations and industry to face the challenges ahead and better serve producers and the entire Canadian dairy sector.
Declining farm numbers, increased investment in on-farm technologies and the demand for more diverse services fits well with plans to integrate our business operations and meet changing customer needs. Some of the key benefits include:
Leveraging the strengths of each founding partner to be globally competitive


Enhanced rate of product innovation by combining resources


Operational synergies and economies of scale


Positioning the industry for the future


Improved risk management capability


Extended reach of Valacta Centre of Expertise benefits
Lactanet created a business model that is unique in the world by combining within a single organization all the components of milk recording (data collection, lab analysis, data processing), genetic evaluation, traceability, herd management software, applied research, advisory services and knowledge transfer. This coordination through the dairy data value chain creates exciting opportunities to help the Canadian dairy industry remain among the best in the world.
Why is this partnership necessary at this time?
Lactanet: With increasing pressure on dairy herd profitability driven by lower milk prices, increased farm debt load and rising interest rates, we are being proactive by enhancing our abilities to deliver new products and services that will help our customers better address the economic challenges they are facing.
In addition, in this era of genomics, there has never been a stronger need to link genotypes with phenotypes (i.e., data collected on dairy animals), which makes the partnership between CDN and the two DHI service providers even more timely.
When the partnership takes effect on June 3, what changes will dairy producers notice?
Lactanet: Our new branding as a national organization will be the most noticeable. The Lactanet name and logo will replace the existing branding on all of our products, services and communications. The industry will also see the release of new integrated products and services in the latter half of this year.
What is the plan for CDN, CanWest DHI and Valacta and the current services each entity provides?
Lactanet: Current and future services: Current staff, services and fees will remain the same at the onset. Producers should expect to see their same representative on-farm and have access to all the previously available services within their region. With this partnership, we anticipate providing even more services but with the same resources.
Fees will not change as a result of the partnership. However, each business activity will continue to operate as a separate division, and fees will represent the actual costs of delivering services in the respective areas of operation or provinces as they do now. Efficiencies will come mostly from better coordination of resources from the three organizations, allowing us to create more value from the same existing resources. Some economies of scale are also anticipated.
Within the first year, Lactanet will release several newly integrated services, including electronic-only DHI services, new reports for udder health and robotic milking systems, as well as a new tool for selective dry cow therapy decisions.
We will also be involved with key industry initiatives, such as Compass as a genetics management tool in partnership with Holstein Canada, and DairyTrace as the national traceability initiative in collaboration with Dairy Farmers of Canada. Moving into year two, Lactanet will continue to release new integrated products, expand knowledge transfer activities and expand our dairy herd management resource centre.
Website: A website portal (Lactanet) has been developed to present Lactanet news and information while linking users back to each partner's respective website. Over time, the three organizations will transition to a single website. There will be a similar transition for our social media channels.


Offices: Lactanet will retain both current office and lab facilities located in Sainte-Anne-de-Bellevue, Quebec, and Guelph, Ontario. Further, there will be no change to our additional lab operations in Edmonton, Alberta, and Chilliwack, British Columbia. There are significant benefits to continue operations at both sites, including logistics for milk analysis, redundancy of major lab and IT infrastructure for disaster recovery, retention of key personnel, wider recruitment opportunities and the ability to maintain business relationships with key partners from both regions including agricultural universities.
Does the partnership affect any industry awards?
Lactanet: No, the partnership will not affect industry awards. The standards for milk recording services for herds that qualify for publishable lactations and genetic evaluations in Canada are already the same from coast-to-coast as determined by industry organizations such as A.I., breed associations, CDN and DHI (CanWest and Valacta).
Where do you see Lactanet Canada five years from now?
Lactanet: Lactanet is only the first step towards implementing the vision of a unified dairy industry as endorsed by each of the organizations in the fall of 2016. As a producer-led organization, we want to build on our partnership foundation and develop closer connections with our dairy industry partners consistent with this vision.
As the number of dairy producers decline, it is important that we are able to adapt to the changes quickly and to provide products and services that will enhance the profitability of our dairy farmer customers. Our structure was purposely designed to be flexible with the ability to integrate more partners as necessary.
PHOTO: The Lactanet Canada management team includes, left to right, Daniel Lefebvre, chief operating officer; Neil Petreny, chief executive officer; Barbara Paquet, chair; and Brian Van Doormaal, chief services officer. Photo by Lora Bender.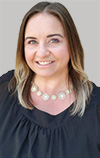 Lora Bender

Editor
Progressive Dairyman