The COVID-19 pandemic has drawn many war-like comparisons, some of which are warranted, as many people have and continue to experience unprecedented changes to daily life.
However, these comparisons do little to highlight all the good that has happened despite these trying times. In the same way slivers of light poke through cracks in a door and illuminate a dark room, relief efforts and donations of time and money provide hope and a sense of community amid the pain and uncertainty of a global pandemic.
Progressive Dairy shines a light on some of the dairy-related organizations that stepped up during the COVID-19 pandemic:
Dairy Distillery
Dairy Distillery, located in Almonte, Ontario, makes Vodkow, a vodka made using the dairy byproduct milk permeate. In March, they switched their production to make alcohol-based sanitizers to fill the surge in demand caused by the pandemic. Omid McDonald, founder and CEO of Dairy Distillery, explains, "We figured that the big industrial players would be able to fill the need, but then we got phone calls from the Ottawa Hospital and Department of National Defence looking for sanitizer. And so we said, let's switch over production, and that's what we did in March."
McDonald says the transition to make sanitizer was straightforward once they were able to source the necessary materials. When production of the sanitizer began, McDonald says the company was approached by hundreds of individuals and dozens of charities looking for hand sanitizer. "We put the two needs together and offered a bottle of hand sanitizer. When an individual would buy one, we would donate a bottle to a front-line group in need, and through that program, to date, we've donated over 30,000 bottles of hand sanitizer," McDonald says.
This initiative is ongoing as Dairy Distillery continues to offer hand sanitizer for sale through its website and partnerships with companies in the Ottawa region.
McDonald says they are looking to take in large amounts of milk permeate in order to combat the current shortage of alcohol needed to make sanitizer. He notes, "What's interesting about this [is that] it's yet another application of dairy. No one would think that you'd use dairy to make hand sanitizer – and [yet] we're doing it."
Provincial milk boards and agencies
Collectively, the Canadian provincial milk boards and agencies have made over $5 million worth of donations to support food banks as a part of COVID-19 relief efforts. Monetary donations, as well as dairy product donations, have been made and facilitated by these boards and agencies across the country. Partnerships with dairy processors and transportation links have also been made through provincial milk boards and agencies in order to mitigate some of the costs associated with those processes and to provide greater access to dairy products.
Jeremy Dunn, general manager of the BC Dairy Association, says the organization and the farmers it represents recognized the stress the pandemic placed on food bank resources and wanted to increase its food bank donations to reflect that. "Our members saw this as a call that they should answer, and they did by donating $150,000 from BC Dairy Association to Food Banks BC," Dunn says.
Likewise, general manger of Dairy Farmers of Nova Scotia, Brian Cameron, says a cash donation of $20,000 to Feed Nova Scotia was the quickest way to provide relief to food banks in the province. However, Cameron says that was only the first step. Dairy Farmers of Nova Scotia has continued its support efforts by forming partnerships with local processors. "Close to 20,000 litres of fluid milk in May, as well as around 4,000 kilograms of cheese in May were donated through [those partnerships]," Cameron says.
These organizations and the other provincial milk boards and agencies estimate their donations have helped feed thousands of Canadians during the pandemic.
Food and agricultural supply corporations
Several large corporations have made substantial donations to help the communities in which they operate.
The Tetra Laval group, the food packaging, processing and distribution company that includes Sidel, DeLaval and Tetra Pak, donated $165,000 to United Way Centraide as part of the corporation's larger donation to help global COVID-19 assistance efforts. Stephane Banville, Sidel's vice president of engineering and project management for the Americas, says the donation was made to the organization because "we know that they are focused on improving the quality of life in the community and empower its most vulnerable members during this pandemic. We are sure they will make good use of the money." The donation was made primarily to support the greater Montréal community, where the Tetra Laval group operates.
Nutrien, a major provider of crop inputs, has provided thousands of N95 masks to healthcare workers in Saskatchewan and accelerated their supply chain to ensure the availability of fertilizer and seed. Nutrien also donated over $1.3 million to their communities to help feed those in need.
Pride Seeds, a large corn seed company, announced in May that they would be donating over $36,000 to food banks across Canada to help ensure Canadians affected by COVID-19 could access food. The donation is to be distributed to local food banks chosen by Pride Seeds employees.
ILLUSTRATION: Illustration by Kristen Phillips.
Editor's note: This is not an all-encompassing list, but we wanted to highlight stories of dairy farmers, companies and organizations across the country stepping in to assist those in need during the COVID-19 crisis. The projects identified here were compiled by our staff and their news sources. We recognize it is not a complete list of all dairy-related donations that have occurred in the past few months.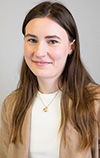 Emma Ohirko

Editorial Intern
Progressive Dairy