Currently, experts are projecting that 30% to 70% of Canadians will be affected by COVID-19.
What is COVID-19?
Human coronaviruses cause infections of the nose, throat and lungs. They are most commonly spread from an infected person through respiratory droplets generated when you cough or sneeze; close, prolonged personal contact; or touching a contaminated surface.
To help stop the spread of germs:
Cover your mouth and nose with a tissue when you cough or sneeze and dispose in a waste basket.


If you don't have a tissue, cough or sneeze into your elbow or upper sleeve.


Do not cough or sneeze into your hands.


Avoiding touching your eyes, nose or mouth with unwashed hands.


Routinely clean all frequently touched surfaces, such as doorknobs, faucets, equipment, tools, steering wheels, countertops and keyboards with routine cleaning products and disposable wipes.
Remember to wash your hands after blowing your nose, coughing, sneezing, using the washroom, before and after eating, and often throughout the day:
Wash with soap and warm water for at least 20 seconds.


If soap and water are unavailable, use an alcohol-based hand sanitizer that contains at least 60% alcohol to clean hands.


Take precautions when opening doors, using handrails, touching light switches, etc. Try and use your closed fist, hip or cover your hand with a piece of clothing if able.
Social distancing on the farm
I understand that social distancing is a very difficult request in the dairy industry. Farms and other dairy businesses cannot shut down for weeks at a time. Chores, animal care and farm maintenance must continue, but there are some precautions you should take to protect the health and safety of your employees, families, visitors and the community.
Limit the number of visitors to your farm to include essential services only. Practice social distancing even when others are required to visit or deliver to your farm. Avoid close contact, stay in a different room or outside, and maintain a distance of at least 6 feet from visitors.
Encourage others to refrain from visiting your farm if they are sick or have recently returned from travel. Clean door handles, equipment and other common surfaces before and after visitors arrive.
People still required to visit your farm or facility may include:
Milk truck drivers and other delivery personnel
Representatives from breeding units and veterinary services
Supply company representatives or delivery services, such as feed delivery personnel
Service technicians or repair personnel
You should also apply social distancing practices to your workforce as much as possible:
Where possible, assign tasks that allow employees to work independently.


Assign staggered lunch breaks and other break times to reduce social interaction.


Advise workers to clean and disinfect common surfaces such as microwaves, counters and other areas before and after their breaks.


Eliminate or limit the amount of time employees are required to work in close contact.


Establish a schedule to clean and sanitize equipment, steering wheels, tools and other common surfaces.
We also understand that operating with limited employees and other resources can be a challenge. In order to ensure the safety of everyone on your farm, you must still follow safe operating procedures. Avoid rushing through tasks and forgetting safety requirements.
Ensure employees completing tasks that are new to them, and high school students or others helping on the farm, receive proper training on how to complete their tasks safely.


Even with the potential shortage of gloves and N95 masks, you must ensure you are still using appropriate personal protective equipment (PPE) for the tasks you are performing.
What to do if you are concerned someone on your farm team may have been exposed to, or are experiencing symptoms of COVID-19 (coronavirus):
Isolate yourself within the home as quickly as possible


Contact your primary care provider, local public health unit or Telehealth Ontario at (866) 797-0000.


Follow the instructions given by your care provider, public health unit or Telehealth.


Only visit the emergency room or assessment center if you are experiencing serious symptoms, including a high fever or shortness of breath.


If you need to visit an emergency room or assessment centre, you should call ahead to advise that you may have been exposed to, or are experiencing, symptoms of COVID-19 (coronavirus).


Do not call 911 unless it is an emergency.


If you or an employee have returned from a trip abroad, as encouraged by the federal government, you should self-isolate for 14 days.
The public information being provided is continually being updated on a very frequent basis.
We urge you and your team members to monitor the official communication channels such as the sites below.
Local health department
Cheryl DeCooman, CHRL, can also be reached at (519) 532-2508 or @udderlySAFE on Twitter and Instagram.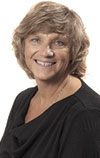 Cheryl DeCooman

President
People Management Group