Canadian agriculture continues to show strength and resilience against a backdrop of higher interest rates, trade uncertainty and volatile commodity prices, according to Farm Credit Canada's latest analysis of farm assets and debt.
Our latest temperature check shows the industry is well positioned to thrive in the current economic and financial environment, according to the findings of a two-part research series.
Total farm debt in Canada recently exceeded the $100 billion mark, according to Statistics Canada. But most Canadian farms continue to be in a good financial position, and the majority of producers have used debt to make strategic investments in improving their operations' productivity.
The current debt-to-asset ratio in agriculture remains lower than the 10-year average, both nationally and in most provinces, and farm liquidity remains healthy, despite facing challenges in the current economic environment.
These are just some of the key indicators we monitor to assess the overall health of the industry.
For individual farm operations, a relatively low debt-to-asset ratio provides financial flexibility and represents lower risk, while liquidity reflects the ability of producers to absorb fluctuations in farm input prices, demonstrate patience with their marketing plans or take advantage of unexpected opportunities.
Overall liquidity is still healthy, but it has taken a small hit in 2017 thanks to lower commodity prices and increasing interest rates. The industry ratio (calculated by dividing current assets by current liability) remains well within the range to cover unforeseen circumstances.
FCC's first article in the two-part research series also shows profitability in Canadian agriculture decreased slightly in 2017 when measured against the value of farm assets, which have continued to increase.
The pace of farmland value appreciation has exceeded that of income over the past few years.
The second article focuses on the impact of rising interest rates on equity of farm operations. Interest rates are expected to increase before the end of 2018, while prices of farm inputs, such as fuel and fertilizer, must be monitored.
Current production challenges across the country could result in 2018 crop receipts lower than in 2017; however, the forecast still shows foreign demand for Canadian commodities remains strong, supporting cash receipts.
Over the past decade, farm cash receipts have increased by an average of $2 billion per year, resulting in higher profits and significantly increasing the net worth of Canadian farms over the same timeframe.
The overall balance sheet for Canadian agriculture is healthy, but producers need to understand their financial situation and build resilience into their business plans so they can thrive in this dynamic operating environment.
For more information and insights, visit the FCC Ag Economics blog post.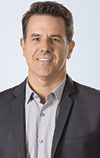 J.P. Gervais

Chief Agricultural Economist
Farm Credit Canada