It's baseball season, and it has me thinking about team dynamics, but not just sports teams – also farm teams.
I work with many clients for many different reasons, ranging from increasing net profit to succession planning to business plans. In my travels, I have witnessed a few great teams, and they all share some common traits.
One of my colleagues, Rick Hermonot, likes to talk to people about "the five keys to focus." Focus is critical to a successful operation.
This focus can relate directly to building – and leading – a farm team. The five keys to focus are: vision, priority, hard work, discipline and passion.
If you want to build a great farm team, here's how each of these building blocks can lead you in the right direction.
Vision
Everyone needs to have the same game plan. In baseball, it's pretty simple: win. It can be that simple in farming, too. Many times the vision needs to include profit, but there's often many other factors to consider.
The vision should also be broken into sections, or milestones, that can be celebrated (or corrected) along the way.
Don't we encourage our children to cheer on their teammates when they have a great hit, tag a base runner or make a great catch?
On your operation, the overall vision might be a quality standard, harvest date or production goal. A milestone may be ordering supplies to be on-farm by a certain date or having machinery and equipment "race ready" for harvest.
Each team member should know what the milestones are, how to reach those goals and how each milestone applies to the overall vision.
Start with a vision for your farm and break that vision down into smaller parts so you can encourage a "cheer-on" attitude. What if one of these small parts doesn't succeed? Even if there is one bad play in the game, there's always a next time.
Priorities
The leaders of the farm need to make team building a priority. As a young person dreaming about running a farm, coaching employees may not be part of the initial dream.
However, with today's competition for workers, increasing minimum wage and decreasing margins, building a team has to be a high priority. It needs to become part of the culture of your business.
In Little League, do the kids automatically cheer for their teammates? No way! It's learned. This needs to be part of the training in a farm business, too. It needs to be clear operating as a team is a priority at your operation.
Hard work
This isn't a problem for most farmers. They tend to be the hardest-working people around. However, team building is a different kind of hard work (similar to bookkeeping or doing taxes).
It's also not something that should be put off until a "rainy day." Team building should be scheduled, and all team members should be expected to participate.
It takes the whole team to focus on the other four keys to develop the fifth. If this was easy, they wouldn't call it work, right?
Discipline
It's a great feeling to score a touchdown or stop a team on the one-yard line, but that success doesn't happen overnight. It may look like it comes naturally to players, but the discipline to read the play or anticipate the run takes disciplined practice.
Discipline is prioritized hard work over time. Most people working in the industries we serve aren't afraid of hard work, but many can use a little more discipline and better aligning of vision, priorities and hard work.
Passion
If I had to take a guess, passion is probably why you are farming in the first place, but your passion may be fading due to low margins or employee problems.
Begin to re-kindle that passion with small victories. Refer to vision and make sure you know why you are farming. Maybe the reasons for your drive have changed over time.
Break that vision down into priorities and take a little time to celebrate the small things. If margins are low, it will take hard work and discipline to keep feeding the fire and keep that passion alive.
Putting it all together
These are five keys to successful farm teams I have seen in my experience. To recap, create a vision for your business team; make team building a priority, and know that even team building is hard work; apply discipline to hard work to achieve your successful team; and take some time to feed your passion.
I am reminded of a quote that's hanging in one of my clients' training rooms: "Nobody on your team is smarter than everybody on your team."
Use everyone's strengths. Make team building a priority because good teams always accomplish more.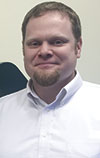 Ethan Robertson

Business Consultant
Farm Credit East