Maarten Wouters left his home in Holland to work in Luxembourg at the age of 19. He was given the opportunity to take over the farm where he worked, so he and his dad farmed together there.
During this time, he married, and he and his bride, Joanne, honeymooned in Alberta. While in Canada, they visited old neighbours, the Elsens, who had moved to Lacombe.
They loved Alberta but were unable at the time to consider immigrating, as they were locked into a 12-year lease agreement. In 10 years, they had to commit to or decline an extension to the lease. During these years, the young couple welcomed three daughters into their home.
Maarten and Joanne visited Alberta and the Elsens again in 1995. The feeling it was better to own than rent land helped them decide to let the leased farm go and move to Canada.
Their present farm, near Bowden, was purchased in January 1996 and, by April 24, the family had arrived in their new country. Their new operation had 320 acres – two quarter sections – and 40 cows in a tiestall barn.
There were a lot of differences in their new home and business. The biggest change was the field size; the Canadian fields went on forever compared to the old country, where the 200 acres they farmed was rented in 25 parcels from 15 owners.
Back in Luxembourg, to get silage home from the field where it grew, it was necessary to travel through four towns. Having all their land in one location was wonderful, the Wouterses say.
Another, less positive change was: In Luxembourg, farms were right in town, and the farmers knew everyone and were part of the town community; not so much in Alberta.
However, spraying or manure spreading – not popular in the old country – was less of an issue in their new location. The Wouterses credit the three Philipsen brothers, neighbours who made them feel welcome, for helping them a lot when they first came to Canada.
Although their new farm had a relatively new barn, Maarten chose to add on to the facility in 1999. The new barn allows loose housing on a straw pack, giving cows more comfort and freedom to move about. They need about 1,200 to 1,300 bales per year for bedding.
A trip to British Columbia yielded a second-hand double-eight parlour which, along with a holding area and some heifer housing, is located in the old barn.
The Wouterses do all their own fieldwork with the help of one hired hand, Joe, a young Swiss man who lives in a mobile home on the farm. He is very dedicated to the farm and has been with them for eight years.
Maarten does all the seeding, and they all pitch in for cutting hay, trucking, doing silage, spreading manure and all the other jobs required on such a busy farm.
The business has grown over the years. In 2002, they purchased an adjoining farm, bringing their size to 720 acres or four-and-a-half quarter sections. They grow barley and oats for silage, alfalfa for haylage and barley, wheat and canola for grain.
They bought or leased quota as it became available and grew out all their own heifers to increase the herd. They have also kept cows as long as feasible, with several older cows still in the herd. Their oldest cow will be 15 this year and has had 11 lactations.
Maarten says the loose housing contributes to cow health and longevity. They now milk 130 registered Holsteins with a daily production of 1.6 kilograms fat per day and have about the same number of dry cows and youngstock. The Wouterses do a herd health check with their vet every two weeks and do hoof trimming at five-month intervals.
The Wouterses hosted Breakfast on the Dairy Farm in June 2015, an event that brings people to the farm for a wholesome breakfast. Tents are set up for cooking and eating, and farm and city people mingle over the meal.
About 63 volunteers make the event happen, and an average of 600 people turn out for sausage and eggs, pancakes, granola, yogurt, etc. Other tents hold workshops and videos, and the barn is open to visitors.
This event is a combined effort of the Southern Alberta Holstein Club, the East Olds Dairy Farmers and Alberta Milk. The event is hosted yearly as a way to educate consumers about the dairy industry and includes various professionals – vet, hoof trimmer, nutritionist and a Holstein Canada classifier – demonstrating and explaining their parts in the industry.
Business partners also have setups, and there are things like face painting for the kids. The breakfast travels to a different farm in the area each year.
Maarten and Joanne have hosted more than 30 international exchange students over the years, introducing many to dairy farm life. They have come from such countries as Holland, Sweden, Germany, England and New Zealand.
Many have come for education-related work exchanges and have stayed for several months. Many of these young people have kept in touch, and the Wouterses enjoy occasional visits from them and their families.
Their daughters are all grown and away now. Jeanette farms with her husband, Jan, in Ontario and is mom to four children. Pascale owns a massage therapy clinic in Saskatchewan, and Edith is assistant relationship manager at Farm Credit Canada. With no children planning to continue their business, the Wouterses started to look for other solutions.
Maarten states, "We would like to support young people to get started into the dairy industry. Since we had lots of opportunities in our lives, we thought we'd give young people a chance to fulfill their dream." They have found a young couple to work with and are in process of figuring out how to make it work satisfactorily for all parties.
Maarten and Joanne attend their local Catholic church and take part in some events at their community hall. Joanne sang in a quartet until recently. Maarten enjoys welding, fixing or refurbishing old machinery.
Joanne describes him as a "very calm man." They have been able to travel a bit, with Joe home to care for things. They have visited family in Luxembourg, toured Brazil and traveled to Kenya for a nephew's wedding. He is a farm development consultant, and they got to see some of his clients' farms.
"What an experience. It was sure an eye-opener to how good we have it in Alberta, even with minus 40 degree temperatures," Joanne remarks, adding, "We never regret our move from Luxembourg to Alberta."
PHOTO 1: Maarten and Joanne Wouters found their best farming opportunity in Alberta and have been carrying it out for more than 20 years.
PHOTO 2: Maarten and Joanne Wouters moved to Canada in 1996 with their three daughters. Now their children have families and careers of their own, and Maarten and Joanne are looking to transition their farm to non-family members with a shared passion for farming. Photos provided by Joanne Wouters.
PHOTO 3: A few years after acquiring their farm, the Wouterses decided to add on a bedded-pack barn to increase cow comfort. Photos provided by Joanne Wouters.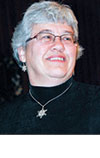 Alice Guthrie

Freelance Writer
Hagersville, Ontario