While dealing with tightening margins, more and more dairy producers are looking for ways to diversify their businesses.
A panel presentation at the 2019 Canadian Dairy XPO in Stratford, Ontario, gave four dairy producers the opportunity to share their firsthand experiences into diversification. Each one found success with a different avenue – beef feedlot, dairy processing, solar panels and anaerobic digester.
Craig Connell established Wicketthorn Farms Inc. in 1981 after emigrating from Scotland. It is now a family-owned corporation in London, Ontario, with Connell; his wife, Moira; their son, Lloyd; and his wife, Tina; as shareholders. Lloyd and Tina's daughter is also involved as the dairy herd manager. Together, they farm around 1,800 acres, milk 340 cows and run a 2,400-head feedlot they added a few years ago. The feedlot is stocked with bull calves and beef-cross calves from their dairy as well as purchased animals.
Christian Kaiser joined his family's 200-cow dairy farm in southern Quebec in 2001. When his younger brother joined in 2010, they increased the herd with a second farm site. With his nephew now on board, they are farming about 2,000 acres, do custom work and raise extra heifers to sell. Four years ago, they started selling non-GMO milk. In 2017, they diversified to processing by purchasing the plant that was bottling their milk.
After farming with his parents and brother for several years, Gerald Schipper, his wife and their four children started Skipwell Farms in Aylmer, Ontario. At the time, they were milking 280 cows. They diversified by installing solar panels. When their son joined the farm, they expanded to now milk 400 cows, farm 1,850 acres and operate a separate grain company.
Dave Green is the sixth generation at Greenholm Farms Ltd. in Embro, Ontario. When he returned home from college, they expanded the barn and slowly built the herd to 200 milking cows. In January 2013, they started producing 250 kilowatts of power with an anaerobic digester. Late last year, they fired up a second digester and now produce 500 kilowatts per hour. In addition, they farm about 1,000 acres – for the dairy and cash crops – and have incorporated cover crops and no-till.
Q. What were the drivers to get you thinking about diversifying your business?
CONNELL: We diversified in different lanes for a number of years. In the '90s, we rented our neighbour's land and delivered a load of TMR a day to feed their 140 cows. When that farm was sold, we got involved with Holstein heifers. That worked well until BSE came along, so we moved on to sheep. Now we're on to beef. We always diversified to something other people weren't in, so there wasn't quite as much competition. There was also a driving fact that we wanted to expand.
KAISER: We went to no-till in 1990, and part of our land is going organic right now. We're trying to get extra income, not necessarily by buying more land at $20,000 and quota that is not available. We looked at doing the non-GMO milk that we started; then the opportunity came up to buy the plant. We don't want to do the same thing everyone else is doing. We're switching part of our herd to Guernsey, and all Holsteins are going A2 to make specialty products.
SCHIPPER: We're always looking at different things to do. In the early 2000s, we sold a lot of embryos and some breeding stock. When that market dried up and we were expanding, we realized we were in a unique spot with an opportunity to hook up to the grid. We had to build a barn anyway, so we built it in such a way that 90 percent of the roof was facing south, ideal for solar panels. Once we started building the barn, the phone started ringing off the hook; we had people dropping by just about daily who wanted to put solar panels on our barns. That's how we got into that part of it. Then, I was diagnosed with a blood clot, so physical work became a hindrance. I had to be very careful, so we started expanding the grain side of things as well. Fortunately, we were able to buy land right by us, so it was a natural progression.
GREEN: Our main driver was risk management, not putting all of your eggs into one basket. Dairy has been a strong industry for a number of years, but things can change, as you well know in this past year. We've always been interested in new technologies and trying to apply them to our business to make it better. The digester fell into that – spreading things out and chasing after new technologies.
Q. How did you decide the type of diversification to pursue?
CONNELL: Livestock is what we knew and felt most comfortable with. We had gathered more land, and selling corn and beans didn't seem to make a lot of sense to us. We set out so that we'd walk all of our crops off the farm. Everything we grow, we feed, and a beef feedlot was certainly the way to do that. We feed all of the crops we produce and contract a couple of hundred acres from neighbours for extra corn.
KAISER: I have a love for the dairy industry. We didn't want to get too far from what we know and what we like doing. This way, you take out the middle man. You get your milk that you know is high-quality; you can do specialty milks and you market it to the end consumer. From milking cows to milk transport to the processing to the marketing, it is all done by one family.
SCHIPPER: We made sure if we were going to diversify that we did our research before we delved into it. That's how we realized it was a huge opportunity to come on to the grid for our farm. Being from Alymer, we seem to get lots of sunshine, so solar panels seemed to be a natural fit for us that way too.
GREEN: It was a new concept, but we had been researching it for a quite a few years. We actually looked at it when we built our original barn in 2004. At that time, there was pretty good government money to help build a digester, but there was no fixed price on it. They were also chasing after the European concept of feeding corn silage to the digester. At that time, it was $7 corn, which didn't make sense to us. We backed off and then re-approached it a few years later when they came out with a fixed contract. That is what triggered us to chase after it.
Q. Has diversifying your business improved it?
CONNELL: It gave us control of the crops we grow. It's increased cash flow to a point where beef is 60 percent of our income, and dairy is 40 percent, so it's became a major part of our business.
KAISER: It's diversified the risk, not having all eggs in the same basket. It's only been two years, so we're starting to see the upside – the cash flow is getting a lot better and we're starting to have a handle on everything. The first two years were a learning curve. I think there's a lot of opportunity that we see, and it's coming along.
SCHIPPER: The number one thing it has done for us is: It's been a morale booster. My son is a lot different than I am. He is not a real genetics cow guy; he loves the crop grain side of it, and it sure has been a motivator to be able to run equipment. As well, we were able to set up a team around ourselves. We try to hire on a great bunch of people and treat them well. I guess it's made life easier for everybody. Diversifying has created some unique opportunities, especially for staff. Of course, an extra source of income sure helps to improve your relationship with your banker.
GREEN: It definitely spread out the cash flow having different sources of income. The digester, as of this last year, is probably equaling my milk cheque coming in. It's also added a different set of excitement. I really enjoy the digester side of it. On a daily basis, it doesn't take that much time, not even close to what the dairy needs. It's easier to grow that thing than it is the dairy, [which would involve] milking more cows and more sick cows. I'm not saying the digester doesn't give me problems either – it does, believe me – but it's definitely an exciting avenue and shows you another part of the industry. That's definitely been an advantage.
Q. What types of challenges did you face during the process of diversifying and how did you overcome those?
CONNELL: Cash flow was the initial drag until we got the numbers of livestock built up and started a regular marketing flow. Once we got that done, the big challenge is making sure you have a market. We're always looking if there's an opportunity to contract a few weeks or a few months ahead. We initially thought when we built the barn that maybe we had overdone it and have trouble filling it. That's just not a problem; it's keeping it empty that's the bigger problem. Right now, there are some marketing challenges. We're fortunate we've built a relationship with the packer, and we're able to move them reasonably well.
KAISER: We had partners going into the second project, and that didn't turn out too well. It made us lose a year in advancing the company. As you're growing, cash flow [is a challenge]. When you get into processing, the producers need to get paid every 15 days, and the cash comes in [from retailers] every 60 days. When you double big accounts, that cash flow is a hole in the beginning. Then HR, to get the right people in the right place. We didn't start on-farm processing, where you start small and grow slowly; we took over something that had 30 employees. If you want to change the way things are done and change the product lines, you get resistance from some employees who have been there a long time.
SCHIPPER: With solar panels, you know that you're dealing with government programs to get hooked up. It seems like just when you've got all of the ground covered, they move the goalpost and you get back at it again.
GREEN: Government regulation was probably our biggest challenge. One of the biggest things to remember is: You don't put a shovel in the ground until you have every bit of paperwork done; otherwise, you're going to get taken to the cleaners, as they can back out. The other thing was: Having support from the suppliers was a big challenge. You're so used to being able to call your local [dairy equipment] dealer when you have a problem, and they come out with parts the next day. When you start dealing with biogas stuff, you're getting it from Europe. They promise a week-and-a-half and, really, it's three to four weeks. There's also issues with engine suppliers. They will sell you an engine, but there is nobody there to maintain or service it. It's gotten a lot better in the last half-a-year with a little bit more stability for it, but it brings you to a whole new level of reality of what things cost.
Q. Do you have any advice for those thinking about diversifying their dairy farm business?
CONNELL: I wouldn't discourage anybody from diversifying; I think it's an important part of business. I think it's good if you choose something you have an interest in, whether it be livestock or crops or people. If you try to go against that, it could get to be awful hard work.
KAISER: It's got to be something you are passionate about because you're going to put all of your energy into it. You're going to do a lot of research, so don't go into it too fast. Going into the area a lot of people are jumping into maybe isn't the right thing. Find something that's new, something that's different than what everyone else is doing.
SCHIPPER: Same thing, research. Back when we started, there were a lot of people who said, "Don't put solar panels on livestock barns because you're going to be dealing with stray voltage." We consulted, and we actually took a stray voltage test of our whole farm, and we had a benchmark so that after we had solar panels on, and there was in fact stray voltage, then we could justifiably say that's what the cause was. Of course, make sure you get everyone who's working with you on board as well so it's not just a one-man show.
GREEN: Find something you are passionate about and chase after it. Being dairy farmers, I think we have an excellent opportunity in an asset-rich/cash-poor business because loans come a little easier, and you can chase after business that's maybe cash-rich and asset-poor. As soon as you start creating non-farm income, it can mess up your ability to transfer farms to the next generation and things like that. A lot of times, you have to set up a separate company to collect your off-farm income. Your accountant should be on top of that, but you don't want to make that mistake.
Q. Do you plan to further diversify your business in the future?
CONNELL: We often discuss what we might do, what might work, what wouldn't work. We're certainly open to new ideas. We did go into the methane digester quite heavily. We've done all of the research and have a plan for 250 kilowatts. We went a fair ways down the line but, when we got down to looking at the total cost, it just didn't work out. If we could have got to 500 kilowatts, it would have worked. A 250-kilowatt one requires a lot of the same infrastructure, but you just have half the income. We did not feel it was a good enough return.
KAISER: If there are opportunities there, we're looking at them to see if they make sense. My brother and I have four kids each, plus there's an extra seven nieces and nephews, so there might be a few of those interested later. Now that we've got the processing side, maybe later on we do the retail side or something to finish the line completely. We're always looking for opportunities, but we've got to do the research and see if it makes sense and that someone wants to do it.
SCHIPPER: We're always looking. At the moment, our grandchildren are fairly young yet, so we'll wait until they're a bit older and then see what their areas of interest are.
GREEN: We're always looking at different opportunities. We're bringing a lot of waste organics from industry into the digester, so that's opened up a whole other opportunity. We've got a small trucking company, and we're picking up a bit of organic waste (probably a quarter of what we actually use we are trucking ourselves). There's a group of digesters that formed a company, Cornerstone Renewables, to work together to source material. I think the group is now disposing of 250 tons of organic waste a year by running it through digesters and spreading on the land.
PHOTO: Members of the panel on diversifying your farm business at the 2019 Canadian Dairy XPO included, left to right, Jason Sutherland, moderator, ruminant technical and sales supervisor, Shur-Gain/Trouw Nutrition; Dave Green, dairy producer, Embro, Ontario; Gerald Schipper, dairy producer, Aylmer, Ontario; Christian Kaiser, dairy producer, Noyan, Quebec; and Craig Connell, dairy producer, London, Ontario. Photo courtesy of Shur-Gain/Trouw Nutrition.
The panel was moderated by Jason Sutherland, ruminant technical and sales supervisor, Shur-Gain/Trouw Nutrition.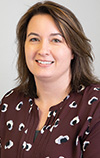 Karen Lee

Editor
Progressive Dairyman