Booker prize-winning novelist and art critic John Bergen said, "What makes photography a strange invention is that its primary materials are light and time."
Snapping a picture may seem simple and, certainly, with technology advancing every day it is becoming easier. When it comes to picturing livestock, and especially cows, capturing that light and time just right so the animal looks pristine and its best self is near impossible.
Unless, of course, you're Patty Jones.
An early love
Those in the dairy industry know Patty Jones, if not personally, then professionally. Jones has been photographing livestock for more than 40 years; it's the only job she's ever had, the only job she ever wanted.
Having grown up in the Eastern Townships of Quebec, Jones' love for cows began early: Her mother was a schoolteacher, and her father was a dairy farmer with purebred Holsteins. It wasn't until college, though, that she considered picturing cows for a living.
"When I finished high school, I went on to Sheridan College for photography. By the end, I had reached out to Bob Miller. He was doing livestock photography in the U.S. but had been brought up in the Eastern Townships. He came to see me and asked if I'd be interested. And I thought, 'What have I got to lose?'"
Jones knew she'd found her calling and began training with Miller to perfect her craft. In her early years, Jones photographed all types of livestock in countries the world over.
"At one time, early in my career, we did all animals. Even chickens, believe it or not. Bob had bought out Jim Rose, and Jim told us that if you have to do a chicken, just get a mouthful of smoke and blow it in their face. They'll stand right up straight. And it works."
Jones has learned a few things about photographing animals throughout her 44-year career. She's often asked how she has remained in the industry for such a long time.
"I just love doing it. It's my passion. I love dairy cows; I love meeting new people. I like the idea of recording the animal for posterity and making her look absolutely the best I can."
Picturing perfectly
Her work is now to the point where most can recognize a Patty Jones photo just by glancing at it: the sharp top line, perfect foot position, beautiful ribbing and bright attentive eyes of the Holstein are just a few of the tell-tale attributes of Jones' photos that so many producers continue to seek when picturing their herds.
Jones says she has always been a proponent of picturing cows, even if they won't be used for marketing or showing. "I'll go to places where a guy will have a great old cow; she's by her time of getting a great picture. But this cow has done so much for him."
"So you try to do everything you can to show the grand old lady she is – for him as much as anybody. He'll probably never use it for anything other than a memory. You just try to give them as much as you can."
Working with animals is not always easy. In fact, frustration is often a common culprit of what sabotages a straightforward task – just maybe not for Jones. "I use a crew of many people. It's mostly getting them used to the idea (of working with a cow) because they'll get frustrated before I will.
I just tell them to go easy with her because, sometimes, it's the first time that animal has been out. And she may not have had a halter on very much. I'll tell the halter man to rub on her head a little bit and, by doing that, you can see her relax."
Jones has always been a patient person, an attribute that has come in handy over the years. She used to push hard to get the best photos quickly, but running a shoot that way, with such urgency, didn't always work out the way anyone wanted.
Learning to be even more patient helped that – but so did technology. "With the digital changes, it's made things a lot nicer. We used to work outside in the winter all the time. My God! Some days, I wasn't sure about it.
Now, I can just change the background, so we can work inside. A lot of cows don't go out as much; they're in the freestalls, which is a great way to have cows. They're not used to going outside so, if we can work inside, near their friends, things usually go a lot better."
Inspired … to retire?
Working the same job for 44 years certainly takes its toll on the labourer. For Jones, though, the old saying rings true: If you love what you do, you'll never work a day in your life.
"People ask me what's the best picture I've ever taken, and I say, 'Well, I hope I haven't taken it yet.' I just love getting out there every day and putting a cow into position. People ask me how I do this every day, and I don't know – I just love it. I know now, at this age, this is what I was supposed to do with my life."
While she's been slowing the number of clients she'll take on, Jones has no plans to leave the industry any time soon. She enjoys her unique opportunity to move the Canadian dairy industry forward by picturing great cows and showing others what Canada has to offer.
While Jones contributes to the industry with her work, creating her prefix, Silvercap Holsteins and having part ownership of several cows is how she invests in it.
"I have a couple of young guys as partners, and I think it's helping them to get some different genetics. I work with some very established farmers. I own quite a bit with Vogue Cattle Company. My expertise in the group is photography, but they all bring different aspects to it, and it works really well."
Working in a male-dominated industry has also continued to fuel Patty's drive to keep doing what she loves. She recognizes how much the industry has changed over the years and how many more opportunities there are for women to have a long-standing career in Canadian agriculture.
"I say go for it. Way back when – this is quite a ways back – they used to say the dummies stayed on the farm. Well, that's far from it now. You need to know how to run a business, be your own vet, your own advertising and marketing. Women can do this and can do it as well as a man can."
When asked about her induction into the Canadian Agricultural Hall of Fame, Patty says it was most unexpected. "Back in the spring, Paul Larmer, who I've known for years, phoned me and said he wanted to be the first to congratulate me.
I said, 'For what?' He said, 'You're going to be inducted into the Canadian Agricultural Hall of Fame.' And – this is funny for me – I couldn't say anything for a few minutes."
Jones is proud and humbled to be inducted alongside two other outstanding women in agriculture, Robynne Anderson and Jean Szkotnicki.
Jones was nominated by Semex Canada and says she's very thankful for all the work put into her nomination – yet it's clear she still can't quite believe it. "It's the passion I have for it. I'm being recognized for something I love to do. That's probably the neatest thing about it. It's very cool."
The induction – and her resounding success over the past 44 years – are most certainly deserving, for Jones has created a legacy with her unmatched talent of capturing light and time.
PHOTOS: Patty Jones, livestock photographer. Photos by Patty Jones.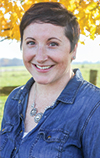 Jess Campbell

Freelance Writer
Strathroy, Ontario
Before commenting on our articles, please note our Terms for Commenting.