While Michael Barrett, president and CEO of Gay Lea Foods Co-operative Ltd., admits he doesn't particularly like Christmas, there is one tradition he enjoys. Every year on Christmas Eve, he sits down to watch a classic version of A Christmas Carol.
When asked to share some of his observations of the dairy product market at the PDO Triennial Symposium, March 4-6, in Toronto, Barrett decided to put it in a similar context to that of the film and reviewed the dairy industry's past, present and future.
Past
In the early 1900s, every town had some port to collect milk, whether it was a cheese or butter factory. Typically, they were co-ops made up of farmers, but that didn't always ensure a home for their milk.
One dairy producer delegate for Gay Lea Foods regularly shares with Barrett what it meant to farm without supply management. "He brought me a piece of paper with the amount of milk he took to his local dairy, and written across it in pencil in 1933 was, 'Rejected. We don't need milk today,'" Barrett said.
The supply management system developed in the '60s eliminated the dependence on local demand and led to the creation of a broader pooling system. This brought balance to finding a home for milk across the country.
"Understanding that dairy past influences clearly what we are doing today," he said.
Present
"We also have to deal with the present to understand what the future is," Barrett added.
Dairy continues to be a family-based industry, which is motivating for many and an important factor in today's marketplace.
"Family is a critical component of not only what you are looking for as a sustainable item but also what consumers are looking for in the marketplace. In being able to understand where their food comes from, that family farm is incredibly important," he said.
Barrett also mentioned it is a motivating factor for Gay Lea Foods' board of directors and members to ensure there is a sustainable dairy industry to pass on to the next generation.
Having this strong family backbone is necessary when facing the adversity of today's industry. It is no longer simple to determine the world price for dairy components.
There are a number of attributes that go into determining what a global dairy ingredient price is, from Brexit to stock levels to whatever is happening around the globe.
"Although we are in a supply-managed system, the reality is: The global system today impacts our margins, what we are able to sell, what globally we can export and what we can actually sell it for as well," Barrett said.
Canada's dairy industry is starting to see the effects of the Comprehensive Economic and Trade Agreement (CETA). The amount of cheese that's allowed into Canada from Europe is increasing substantially, and it is directly competing with cheese producers in Canada.
The quotas for the Comprehensive and Progressive Agreement for Trans-Pacific Partnership (CPTPP) have been allocated, and now the industry is figuring out how to import the foreign components, primarily from Australia and New Zealand.
There has also been a significant change in Canada's relationship with the U.S., and that has impacted trade.
There are domestic challenges, too. Earlier this year, the Canadian Food Inspection Agency (CFIA) allowed a plant-based, non-dairy product to be labeled as cheese.
The new food guide has removed dairy and eggs as a stand-alone food group. "They made it very clear they did not want to hear from processors. They limited where they were going to get their commentary from," Barrett said. "Unfortunately, I believe the agenda has been hijacked."
Consumers have a lot of choices in the marketplace today, and the fluid milk market continues to decline. This trend is happening in the U.S. and Europe, too.
Future
"There are a lot of things that are going to happen in 2020," Barrett said.
The year 2020 marks the end of the export subsidies under the agreement with the World Trade Organization (WTO).
"No longer can Canadian dairy be subsidized. People aren't talking about this," he said. "It will have considerable impact on what we have the right to be able to export out of this country."
The Canada-United States-Mexico Agreement (CUSMA) is delayed with American politics, but if it goes the way it is supposed to go, the effects will be felt in 2020.
Barrett sees continued consolidation in the dairy industry, not only with retailers but also organizations. "Cooperatives are disappearing. This is a concern for us," he said, noting it creates a loss of producer control in the industry.
In regards to the pushback on the value of dairy in Canadian diets, there are people like Dr. Andrew Samis from Queens University who are questioning if bias played a role in the new recommendations.
Samis has said there is no conclusive scientific evidence to suggest a shift from food from animals to plants. Barrett said, "This is what we're facing. At least we have people like Andrew who are speaking out against this in being able to say this is not correct, but this is our future."
There is some good news in the changing dietary needs and the focus on protein. "Milk is a natural protein. There's a positive; this is not all negative," Barrett said. "That changing dairy diet is going to help us, but there are going to be different regulatory and political changes as well."
New nutritional labeling will result in a health warning on chocolate milk but not potato chips. The size of that label will impact how dairy products are advertised, he said.
Political pressure is starting to isolate lobbying groups. "I get concerned when I hear and read that the DFC is nothing but a lobbying group because that is gaining steam," he said. While the organization does more than lobby, if that is all it is seen as, it can limit its ability to be a voice for the industry.
More imported product offerings can be expected, not only cheese, but under CPTPP and possibly CUSMA, there will be shelf-ready products that will be able to come into Canada. "We have to be prepared for that," he said.
Another item of concern to Barrett is the curtailing of investment in Canadian dairy processing. The industry needs to be in a position where processors can make an investment and get a return on it.
"If you start to lose processing in Canada, you have no place for the milk," he said. At the moment, a number of Canadian processing companies are choosing to invest in other countries.
What to do
After his dream about the past, present and future, Ebenezer Scrooge began to alter his behaviour in order to change his future. Barrett offered some suggestions on changes that can be made now to impact the future of dairy.
"We have to play offence, not defence," he said. People who are opposed to dairy want to put the industry in a defensive state. "We don't have to be apologists. We have to be trumpets of the success and what happens.
Dairy is an incredibly important piece to the stability of our rural communities," Barrett said, adding health and nutrition, sustainability and family are all good elements to talk about as well.
Dairy needs to become an experience in today's foodie culture. "We're not making dairy sexy. We're not making dairy as the element that says it's fun," he said.
Gay Lea Foods recently brought new life to cottage cheese. "We took the lumps out. We made cottage cheese an experience. We made it something different. For the first time in 12 years, cottage cheese consumption went up again, and I'd like to think we had something to do with it," he said.
The industry needs to have a unified voice. Competing interests should not be warring with one another but instead come together so the voice is the same across the country.
Focus on your customers, not just the person that's in the grocery store but processors as well. "You've got to be able to have that partnership. It's a way to make sure we have that investment here in Canada," he said.
The industry needs to invest wisely in terms of advertising and support for the industry. "There are scarce resources. You have to invest wisely in being able to make sure we have this industry moving forward," Barrett said.
Accept that change is inevitable. When you can recognize that, you have the opportunity to confront it.
"Change is going to come to our supply management system, and we have to be ready through dairy unity and investment," he said. At the same time, "Don't apologize for supply management; continue to talk about its virtues."
Lastly, govern well to ensure the producer voice is heard and cooperative models are upheld.
Just as Scrooge did, the dairy industry can learn a lot from taking a look at the past, present and future, then altering its tendencies in hopes of changing what is yet to come.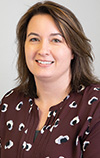 Karen Lee

Editor
Progressive Dairyman