Dairy producers and industry representatives are invited to attend the Progressive Dairy Operator's Triennial Dairy Symposium, March 4-6 at the Delta Hotel and Conference Centre in Toronto, Ontario.
The conference starts with an evening cheese and wine reception on Monday, March 4, and continues with two full days of presentations. Industry experts will address a variety of topics that fall within the conference theme "Managing Disruptors on the Dairy Farm."
The Tuesday evening banquet speaker, Dr. Brian Goldman, is a rare individual with great success, in not one but several adrenaline-pumping careers.
In his new "Power of Kindness" keynote presentation, Goldman takes audiences out of the hospital room and into the world at large, investigating why kindness is so vital to our existence. He will share personal anecdotes from his quest to gain a deeper understanding of his own sense of empathy.
Learn about managing without antibiotics from Wisconsin dairy producer Lloyd Holterman, who has farmed without using antibiotics in the milking string for over two years.
His wife, Daphne, will also be participating in the producer panel discussion "Costs & Profit Under the Microscope," where she will detail how Rosy-Lane Holsteins manages both costs and margin using examples from their farm.
Hear one of Progressive Dairyman's regular contributors in person as Elaine Froese will address tough transition issues during a general session as well as a breakout session.
Froese is a lifelong farmer and uses her background in conflict resolution and communication to coach her clients through transition so they can focus on the business of farming. Symposium registration will include a copy of her new book, Building Your Farm Legacy.
Jeff Ansell will coach attendees in how to properly respond to challenging questions, avoid media traps and deliver difficult news in a session titled, "When the Headline is You."
He will reveal his unique process to equip dairy producers, industry reps and researchers with the confidence and ability to successfully manage all manner of media encounters.
Read on to learn more about some of the general sessions as the presenters from Wednesday morning answer questions about their presentations.
The Digital Farm
Robin Johnston
Cainthus
Why is this topic important?
JOHNSTON: The term "digital farm" is often used as a catchphrase to describe the farm of the future but, in reality, it is already here and it can take many forms. Where once we considered the volume of data the key to advancement, we have now moved towards understanding how this data can work for us and lead to competitive advantages.
We are in an exciting time; the dairy industry is seeing new technologies being brought to market every year. These technologies can make farms more profitable, aid in the decision-making process and improve animal welfare, all while being minimally invasive to animals.
With that being said, we now need to understand how to best integrate these technologies to provide meaningful insights for producers and their team.
The "digital farm" should really be considered the "connected farm." It is the interconnection of the data modern technologies produce that will raise the bar for modern farming.
What do you hope attendees will take away from this presentation?
JOHNSTON: I hope those listening to the presentation will get a better understanding of the technology available to the dairy industry and what it will mean to them and their business. The "digital farm" doesn't need to overwhelm a producer and, with some practical examples, my aim is to make attendees comfortable with the next step for data on a dairy.
Get Cows Pregnant and Keep Them Pregnant
Dr. Eduardo Ribeiro
University of Guelph
Why is this topic important?
RIBEIRO: For a long time, reproductive management of dairy cows has been focused on improving estrous detection and insemination rate. As result, multiple management strategies were developed to tackle this problem, and reproductive efficiency of dairy herds has improved in recent years.
Although there is still room for improvement regarding insemination rate in the average herd, the next big challenge in reproductive management of dairy cows is to reduce consistently the incidence of pregnancy losses. We estimate, on average, 60 percent of fertilized eggs in lactating dairy cows fail to develop to term, which impairs production efficiency and sustainability of dairy herds.
Incidence of pregnancy losses, however, is variable among herds and depends on multiple factors that include genetics and long-term health and nutrition. Recognition of this fertility problem and associated factors will hopefully lead producers to make management decisions focused on the improvement of pregnancy survival, which in turn will lead to further enhancements on reproductive efficiency and profitability of dairy herds.
What do you hope attendees will take away from this presentation?
RIBEIRO: I hope attendees will appreciate the nature and importance of pregnancy losses in dairy cattle and learn a few ideas on how to manage cows for better fertility.
Early Life Effects Last a Lifetime
Dr. Tine van Werven
Utrecht University
Why is this topic important?
VAN WERVEN: In all countries over the world, we try to optimize food production and minimize the carbon footprint. This will be an important challenge for the next decades. Efficiency of milk production increases by longevity of the herd. This means less youngstock is needed for renewal of the herd.
Unravelling the epigenetic mechanisms that regulate milk production will explain how environmental factors influence lifetime lactation performance of the dairy cow, as well as the lactational performance of its offspring.
Epigenetics is the study of changes in gene activity that do not involve alterations to the genetic code but still get passed down to at least one successive generation. It explains why some genes are expressed, and others are silent.
These patterns of gene expression are governed by the cellular material, the epigenome. These epigenetic "marks" tell the gene to switch on or off.
Several external or environmental factors like pre- and post-natal nutrition, stress or negative energy balance will act as epigenetic "marks" and therefore influence the lactational performance.
By identifying these crucial marks and factors, and using this knowledge during youngstock raising, we will be able to optimize the lifetime performance of dairy cows.
What do you hope attendees will take away from this presentation?
VAN WERVEN: I hope attendants will realize early neonatal life is crucial for future calf performance, and taking care of a heifer starts already at conception.
Australian Deregulation Disruption: A Farmer's Perspective
Stuart Crosthwaite
The Hermitage Dairy Pty Ltd.
Why is this topic important?
CROSTHWAITE: The Australian dairy industry has faced some critical challenges following significant change from everything from corporate mismanagement, deregulation and other key issues. The Canadian dairy industry has its own challenges but can learn from what's happened and is happening in Australia in guiding its future.
On top of that, there is constant pressure on the historical family farming model. Succession planning and investment on-farm are impacting growth and the future of farming in Australia.
What do you hope attendees will take away from this presentation?
CROSTHWAITE: The issues facing Australian farming families are most likely similar to Canadian family farms. Attendees will understand how a small group of Australian dairy farmers have taken matters into their own control and have built their own co-operative along with other initiatives like succession planning to foster a better future. Hopefully, they will be motivated to look into ways to improve their own circumstances.

Labour Fundamentals and Fine Details
Ken Linington
Labour Issues Coordinating Committee
Why is this topic important?
LININGTON: Access to a reliable qualified workforce is becoming a limiting factor to our businesses as dairy farms get larger.
What do you hope attendees will take away from this presentation?
LININGTON: Knowledge on how to improve the recruitment and retention of workers, including an understanding of how to access workers through the Temporary Foreign Worker Program.
Go to the Progressive Dairy Operators website for more information and to register for the PDO Triennial Dairy Symposium.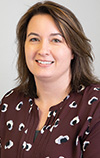 Karen Lee

Editor
Progressive Dairyman