COVID-19 has led to many changes in 2020. Everything from public gatherings and social experiences to home and work life is different today than it was a year ago.
Dairy farms and the businesses that serve them were not immune to these changes. A few Ontario dairy producers and a veterinarian discussed how COVID-19 procedures affected their businesses and what it means for the industry moving forward during a panel presentation at Canada's Digital Farm Show, Sept. 15-18.
For the most part, daily tasks for animal husbandry, feeding and fieldwork "remained relatively normal," said Alanna Coneybeare, who farms with her parents at Conlee Farms Ltd.
With robots milking their herd of 110 cows, they usually only have one employee in the barn at a time. But they do have to be more mindful of keeping a distance when technicians come on the farm.
"We really try to make a conscious effort to not be as hands-on as we would have liked," she said. "Sometimes you feel a little useless trying to keep your distance while someone else is working."
At Thurler Farms Inc., Nick Thurler has seven full-time employees and has to be more mindful of employee interaction. Two people are needed for each milking, and Thurler filled in often to let employees showing signs of illness have time off until they felt better.
Rob Goodwill has two full-time employees he works with each day at Lormarr Lea Holsteins. "You have to make sure they are healthy and, at all times, make sure you take those precautions," he said.
All three producers have switched to doing more on the phone and online. If someone needs to visit their farms, it is by appointment.
"There's less people dropping by the farm," Coneybeare said. "I've got to say I don't miss that."
She has noticed how much this practice has helped with time management. "We don't mind listening to new people coming in and seeing what they have to offer us, but it really emphasizes a respect of our time when people do that by making appointments," Coneybeare said.
Veterinary clinics also made adjustments to their normal business practices.
After waiting a couple of days to be declared an essential service provider, Reg Clinton, veterinarian at Kirkton Veterinary Services, explained they needed plans to continue to provide both traveling and in-clinic services while keeping staff and customers safe.
"We had to add in a layer of human biosecurity – timing of when you put your gloves on, how you pass drug orders to the clients or just setting them on the counter, keeping your distance, all those things we had to do," Clinton said.
They also implemented a screening protocol for farmers and pet owners to see if they have traveled, been in the hospital or had any exposure to COVID-19 positives or suspects.
While on-farm, they use the length of the cow to help with maintaining distance between the vet and the farmer. For procedures where they would need help, they opt more for sedation than to have someone assist with physical restraint.
"We make sure we have everything lined up before we get involved in something so that we don't have to ask for extra hands all the time," Clinton said.
They also provided more farm management advice since March.
"We're looking at all different aspects of the business on dairy farms and trying to ensure that we're being as lean as we can be on the farm and making good decisions," he said.
Providing advice on keeping or culling a do-not-breed cow, how far the dry period can be stretched and keeping the calving area from being overstocked was a way they assisted as farm advisers.
"There's a part of our job that actually is a sounding board," Clinton mentioned, noting talking with frustrated farmers on quota changes or not having the same access to farm supplies.
Managing milk supply at the farm level
As demand for milk shifted rapidly, it didn't take long to see milk supply changes were needed all the way back at the farm.
Thurler mentioned drying off cows and making more culling decisions.
Coneybeare utilized the "tools" they have for managing the farm's supply of milk from month to month. One tool is monitoring the number of do-not-breed cows and culling if needed. With milking robots, they can slow the milking frequency, particularly for cows nearing dry-off. Another tool is feed additives to increase milk fat production.
"I can't change today what I'm going to be milking tomorrow, but there's those small little tweaks that you can make that can help you kind of ride the storm when things are changing pretty quickly," she said.
Coneybeare's farm was not asked to dump milk, but they had a reduced price like everyone else.
"The burden of that financial loss was shared on the industry equally, which I think is something that is really important to recognize. As an industry, we still kind of pulled together and didn't bear the weight of that financial loss on one group disproportionately over the other," Coneybeare said.
Managing milk supply from the board's perspective
To stay informed of the rapidly changing milk market, the Dairy Farmers of Ontario (DFO) board members and P5 Quota Committee met through virtual platforms every week, reported Thurler, who also serves as vice-chairman for DFO.
"[Until March] you didn't think about how specialized some of the processing was with some mostly catering to the food services and some more to the grocery stores. When you have a big shift of demand from consumers like that, it's hard," Thurler said. "It was very challenging to keep up with the changes."
The quota system is set to respond to consumer demand forecasts, but that's nearly impossible when you don't know the demand. "You're in a time that nobody knew what to expect," Thurler said.
Goodwill, who is chairman of the Gay Lea Foods Co-operative Ltd. board of directors, added, "The processors and Dairy Farmers of Ontario had to work very hard to make sure that as much milk could be processed at a time because there was such a huge fluctuation."
GayLea also spent a lot of time focusing on employees from health screenings and providing PPE to keeping up morale through layoffs and plant closures.
"We have to make sure they understand that they are as essential as we are to making the milk and getting it on the trucks. It's just as essential for the processors to keep moving and keep processing that milk so the whole system keeps running," Goodwill said.
Maintaining mental health
The emerging focus on mental health in agriculture the past few years helped make conversations on the topic easier to have in 2020.
"For me, especially, it's been helpful," Coneybeare said. "When you're having those really tough days, when you feel overwhelmed, because there's maybe not so much stigma around it. … We can maybe articulate those feelings better and feel like we're being heard more."
She said there is getting to be more and more online resources available, and counseling sessions can be had in a tractor cab versus having to make an appointment in town.
As all of the days in the pandemic started to blend together, Goodwill said it is important to take a break from work every once in a while.
"There's more to life than just farming," he said. "We have to make sure that we take the time to just appreciate what we have and take the time with family."
Long-term effects
Looking further out, Clinton said daily farm tasks won't change much more. There will continue to be physical distancing and a few procedural changes for biosecurity.
From a farm education standpoint, the availability of podcasts and webinars is more than what we've ever seen before. "That's been very good, and that'll probably stick," he said. The virtual meetings eliminate the need for travel and time away from family.
However, Goodwill said virtual meetings make it harder to engage with others compared to face-to-face meetings.
"How do you get people interested in being a board member and being involved in your industry?" he asked. Dairy producer committee meetings and farm show meetings draw people in, and then they get involved in other aspects of the industry.
"I think that's where our industry is going to be challenged is to bring in that next generation of people that you know really want to be involved and can take up the torch and move it all forward. That's really what we need to be starting to think about: how do you engage people through a virtual kind of world?" Goodwill said.
For Coneybeare, the pandemic emphasized the importance of financial diversification. In addition to the dairy, they have 25,000 broiler chickens and 700 acres for farm feed and cash crops.
It also has her asking questions about the entire supply chain from the safety of employees to local processing capacity. "It doesn't matter how good of a job we're doing if the rest of the supply chain also isn't safe, secure and reliable," Coneybeare said.
"We need to take a more active role and a more active voice to make sure that our food system remains secure, remains safe and remains reliable, and to really use this opportunity to address some possible shortcomings in the future," she added.
Thurler said he encourages the DFO board to look further down the road at what to expect.
Overall, though, he said, "As a dairy industry, we weathered the storm quite well. It came quick. It came harsh. But it shows that supply management worked."
Goodwill closed with positive sentiments as well. "I think, as an industry, we are better for it. It forced us to make changes; it forced us to change as boards of directors and people doing [virtual] meetings. It forced us ahead 10 years. There are some good things that are going to come out of this."
PHOTO: Photo by Mike Dixon.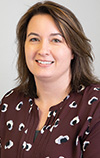 Karen Lee

Editor
Progressive Dairy