The harsh Canadian winter brings severe weather and cold temperatures that create hazards on your dairy. Snow, ice and sleet are unavoidable – but injuries are, so create a winter safety plan to be proactive about your dairy's safety this winter.
Your plan should include policies and procedures relating to how your operation will function when there is inclement and cold weather. This plan should be communicated to your employees and include the following topics.
PPE
It is important to wear the proper clothing when working in cold weather. Cover up all exposed skin including your face, neck, head and ears. Wear appropriate, warm, slip-resistant, insulated and waterproof footwear. Wear inner and outer layers that will keep you dry. Have a change of clothes available in the event yours get wet. Wear waterproof and insulated gloves, especially when working with water or in wet conditions. Continue to use appropriate PPE and high-visibility clothing. Finally, take frequent breaks in warm areas.
Cold stress and illness
Working in the cold uses excess energy in the body to maintain body heat. Consider temperature and wind chill when working outside in cold weather. Take proper precaution and watch for signs of cold-stress illnesses such as:
Frostbite: Reduced blood flow, numbness, aching, pale skin, tingling or stinging


Hypothermia: Shivering, loss of coordination, confusion, loss of consciousness


Trench foot: Tingly or itchy feet, blotchy spots, swollen and/or numb toes or feet
Ice and slippery surfaces
According to statistics from the Association of Workers' Compensation Boards of Canada in 2016, 18% of time loss injuries were due to slips, trips and falls, which accounts for around 42,000 employees each year. Slips and falls are more likely in the winter months, as snow, ice and rain can make walking surfaces and stairs slippery. Patches of ice, debris and other items may not be visible if they are covered in snow. The ground may be icier in the early morning and in the afternoon as the sun goes down and wet areas freeze. Pay attention to the ground conditions in your work area throughout the day. Clear snow and put salt or sand down as needed throughout the day, especially at entrances and pathways.
Slip-and-fall hazards can also be found indoors as floors can be slippery when snow and ice is brought inside. To prevent slippery floors, clean boots and remove as much snow as possible from equipment before bringing it indoors. Watch for slippery areas and clean up water and ice from the floors inside.
Winter driving and operating machinery
Being prepared for winter is essential; ensure your vehicle is in good condition and has the proper tires and emergency equipment. Always clear your vehicle or equipment of ice and snow including windows, mirrors, roof and lights before you begin driving. You should also always check tire pressure, wiper fluid levels and wipers before you begin driving. Allow yourself extra time when driving in the winter. Remember: Black ice can seemingly come out of nowhere, so maintain a safe distance from others to allow for safe braking. Check the weather conditions before you travel and pull over if the weather is too bad.
Working around equipment gets more dangerous in the winter, and extra precautions are needed. Slippery conditions may make controlling equipment difficult; adjust your driving depending on the conditions. Equipment and boots may be slippery, so use extra caution when getting in or on/off of equipment. Poor lighting in the morning and afternoon makes it hard to see hazards or pedestrians; use lights and drive cautiously. Pedestrians must stay away from vehicles and equipment when they are in operation – remember: Just because you can see the large piece of equipment does not mean the operator can see you. Use heaters, windshield wipers and defrosters to ensure maximum visibility.
Remember that some cellphones will turn off when they are left exposed in areas that are too cold. Ensure you keep your cellphone in an area that is dry and not too cold so you are able to use it to communicate to your co-workers and especially in the case of an emergency when you need to dial 911 for help.
Inclement weather
We all know winter driving can present unique challenges. Driving conditions can change rapidly, and you must adjust your driving depending on the current conditions. Slow down and drive appropriately for the road conditions. Check the weather forecast before you head out so you know what to expect while you are out driving.
COVID-19 winter controls
Some of the controls that have been in place through the warmer months may not be possible as the winter weather approaches. Employees will be working indoors more, and there will be less ventilation as doors and windows will be closed and meetings or lunch breaks will not be held outside.
You may need to add additional controls to offset this situation. Consider using mechanical ventilation to increase air flow; ensure you have adequate spacing (6 feet of distance) in lunch rooms. Increase the use of masks, which should be worn in all public places and in private areas of the workplace if employees cannot maintain 6 feet of distance. Depending on your municipalities' requirements, continue screening all employees and visitors, and do not allow anyone who is sick to enter the workplace. We understand these controls may be a challenge, and we are all getting tired of COVID, but now, more than ever, we need to keep everyone safe and stop the spread of COVID-19.
Cheryl DeCooman, CHRL, can also be reached at (519) 532-2508 or on Twitter and Instagram.
References omitted but are available upon request. Click here to email an editor.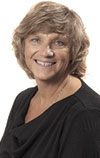 Cheryl DeCooman

President
People Management Group