While working in different areas of the dairy supply chain, Jon King grew frustrated with how data was shared – or rather wasn't shared.
"Each part of the supply chain had their own datasets that were held in a silo. We really only shared with the other partners along the supply chain either when something went wrong or when it came time for pay," King says.
He adds, "It would take us five to 10 days to even agree what the problem was before we even started working on a solution."
By that time, the problem could have compounded or started to affect other areas of the supply chain.
He began developing a shared data system while working as the manager of transportation logistics and producer pay at Dairy Farmers of Newfoundland and Labrador. When he received information, he'd digitize it and put it in a place that could be accessed by producers, haulers and processors.
"It worked well, and it solved the basic challenges that we had with our access to data. At least we knew together what the problems were when they happened," King says.
After stepping away from the industry for a few months to use his commercial drone license in filming documentaries, King was called back to the dairy industry to build a cloud-based platform with even greater functionality.
He spent time evaluating the industry and found there was an opportunity to digitize and optimize the supply chain.
"[There were] opportunities to find inefficiencies in the supply chain and provide the right stakeholders with recommendations on how to improve their operations," he says.
King spent several months visiting farms and completing milk runs with haulers to understand the specific technology needs of the dairy supply chain.
Three years ago, he launched Milk Moovement, a cloud-based software that connects producers, cooperatives, processors, and haulers with a single, shared database.
It starts with the driver mobile app that provides real-time pick-up and drop-off data, route planning and an easy-to-use interface. The app uses telematic data to monitor the hauler's location. When they arrive at a farm, the geo fence automatically detects the location and loads that farm's data for easier access for the hauler.
"The goal of the driver app is simplicity," King says. "Drivers can complete pick-ups and drop-offs in the application in 30 seconds or less."
It can also function offline for farms where cellular service might be unreliable.
The driver app's route data is integrated with lab and third-party data, which is all stored in shared portals. Producers, cooperatives, processors and haulers can each access a portal customized just for them to digitize and optimize operations, view real-time information, understand historical trends, set custom notifications, and predict and resolve supply chain problems in minutes.
The single, interconnected web portal with shared views enables everyone to see the same data at the same time, which leads to finding solutions a lot faster than before.
King explains, "If something goes wrong in the supply chain, say a driver picks up the wrong amount on a farm compared to what was predicted for that farm, an automatic notification is triggered by email, phone call or text message to the cooperative, that driver's manager and the producer themselves. On that notification, there's a button that goes directly into our web portal where all the information is shown to each of the parties, and they can all comment together.
"Typically, with those tools, what we're able to do is find, agree upon, and actually solve supply chain issues, on average, in four minutes or less, which is a significant reduction from what we've seen before and what the industry average actually looks like," he says.
The web portal also tracks information over time. Producers can monitor production, quality and other data and compare year-over-year information for the farm or in comparison to the industry average.
"That makes it easy for them to see exactly how their farm is performing against themselves and against the industry," King says.
Ian Richardson milks 200 cows in Cormack, Newfoundland, and says it is one of the only apps he uses daily.
"It is an easy way to see what the cows are making," Richardson says, noting he can see the pick-up information before the truck leaves the yard.
He checks milk production, butterfat, protein and somatic cell count (SCC) each day. In addition, he looks at monthly totals and compares production year to year.
"It is nice to benchmark the farm – where it used to be and where it's going," he says.
Richardson has granted access to members of his farm support team to monitor the data along with him. The software's settings feature allows dairy producers to set permissions for what users can see. For example, Richardson's nutritionist and veterinarian cannot see his pay information, but can see production and quality information in real-time.
"We used to get data once a month; now it's from the day before," Richardson says. "If we ever have an issue, it is much easier and quicker to respond."
There are notifications built into the system for production and quality information. If a farm has a spike in SCC, the system provides automatic notifications to the cooperative, the farm and any user that farm has connected (nutritionist, feed provider, veterinarian, etc.).
King says, "By having shared access to data, we're able to identify herd health issues earlier, evaluate those items and then provide preventative action."
When Richardson switched silage recently, he could see milk production dropped a bit and was able to work out a solution with his nutritionist.
"It's been a great tool for the farm," he says. "This thing is 100 times better than anything I've seen."
King says another benefit to access for nutritionists, feed providers and veterinarians is that once connected to several farms, they can start to spot trends in the region or single farm outliers and make adjustments accordingly.
Plus, remote access to all of this information via any mobile device or computer has been particularly helpful during the COVID-19 era when traveling around has been difficult.
Farmers can gain access to this program when their milk cooperative becomes a Milk Moovement client. When a co-op comes online with the program, it is rolled out for use by its producers, haulers, labs and processors.
"It's been a wonderful transition," says John Moores, general manager of Dairy Farmers of Newfoundland and Labrador (DFNL).
After talking with a few companies in this space and considering building a custom system, DFNL decided to sign a full service contract.
In particular, Moores likes how it improved service for their producers, access to data and the quality of the data.
They had been doing a lot of manual data entry. "The more humans that interact with data, the more room for mistakes," Moores says.
Since adopting it, "We are getting way more reliable data with far fewer errors," he adds.
He also appreciates the real-time access to data and notifications outside of the norm that allows him to identify and solve problems faster.
Now, the processors that receive milk from DFNL farms can validate shipments received in real time; they don't have to spend days at the end of the month validating data in order to issue invoices. The invoices are now automated.
This has helped streamline the organization and minimize labour by one to 1.5 full-time employees. Plus, it allowed for them to be more flexible and work remotely.
Moores says he is confident the data is handled in a secure manner with security audits and contracts for confidentiality in place.
He appreciates that it can be customized to fit their needs in the province. As a user, they can choose how the data is interpreted and displayed.
For cooperatives, the system can predict individual farm production and track how many empty miles are driven, average fill capacity, distance and driver time.
"With those two pieces of data together, we're able to automatically provide baseline scheduling for our clients," King says.
For example, if trailers are driving at an average fill rate of 77%, they can see if a change in scheduling can increase it to 92%. Or if the average route is 200 kilometers, they might be able to find a way to get it down to 140 kilometers.
"We've now moved into the ability to optimize the supply chain," he says.
This added functionality has been useful for Moores. "The predictive algorithms for how much milk is on farm and in transit have been fantastic tools," he says.
Growth and improved functionality have been the main focus from the start of this company.
In addition to Newfoundland and Labrador, the system is used in Prince Edward Island, the U.S. and Australia, with ongoing discussions in more provinces and states. Across these areas, they are working with farms of all sizes, which has been helpful in building and optimizing their predictive analytics tools.
Built on the premise of sharing quality data, King, co-founder and COO, and Robert Forsythe, co-founder and CEO, are open to integrating with other solutions at the farm level and along the supply chain.
"We think the challenges experienced by the dairy supply chain were a result of siloed information, and we do not want to be part of that problem. We want to share wherever possible," King says.
Their continued growth offers further opportunities to optimize the dairy supply chain across geographic regions.
"Right now, we manage optimizations in a funnel," he says, noting each co-op is managed and optimized in itself.
Ideally, they want to optimize entire geographic regions, which can be a benefit in unforeseen situations. For instance, if a milk plant is out of power for an extended amount of time, the system would be able to optimize the route and find potential processing capabilities in a neighbouring province or region.
The potential exists for entire countries and a long-term vision for global optimization with shifting patterns of consumption.
"We certainly want to be a part of providing the data solutions that can help our dairy producers on the producing side get that milk into the most profitable hands so we're able to provide sustainable growth for the industry on a long-term basis," King says.
PHOTO: Milk Moovement provides producers, cooperatives, processors and haulers access to a portal customized just for them to digitize and optimize operations, view real-time information, understand historical trends, set custom notifications, and predict and resolve supply chain problems in minutes. Photo courtesy of Milk Moovement.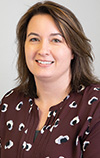 Karen Lee

Editor
Progressive Dairy