In October, two Canadian universities released a report outlining a roadmap with changes for the nation's dairy industry.
The report, titled "Supply Management 2.0," suggests four key steps to modify the existing supply management system and create a more liberalized market over time.
"Something is wrong. Something needs to change," says Simon Somogyi, Arrell chair in the Business of Food at the University of Guelph and co-author of the report.
"Our situation is not great. We are losing farms, losing processing capacity and sending cheques to farmers. I don't feel it is sustainable," adds co-author Sylvain Charlebois, director of the Agri-Food Analytics Lab at Dalhousie University.
The authors work together often, studying the food value chain and publishing reports for the agriculture and food industries.
"I can take a 30,000-foot look and don't have skin in the game. I can make impartial recommendations," Somogyi says, noting this report was not sponsored by any organization.
Dairy's supply management system is a polarizing issue with individuals across the country taking a stand for or against the program.
"We looked for potential scenarios in the middle," Charlebois says, noting this report does not call for an end to supply management but attempts to provide ideas for change.
However, changes to the current system could jeopardize the industry's recent progress. Dairy Farmers of Canada (DFC) president Pierre Lampron says, "Unlike some other sectors, the stability of supply management has actually promoted investments and innovation, as demonstrated by gains in efficiency and sustainability. For example, since 2011, milk production has reduced its carbon footprint by 7 percent. Many of those elements have progressed because of the stability provided by supply management – not in spite of it. Changing the system now would put that progress at risk."
Why now?
The dairy industry has seen a fair amount of challenges over the last several years.
The report points out dairy processor Saputo announced two plant closures in recent months, Starbucks' intention to reduce the amount of dairy it serves as part of a global sustainability plan, the steady decline of national and global fluid milk consumption, and dairy alternatives increasing in popularity.
It also draws upon a recent survey conducted by Dalhousie University and the University of Guelph that suggests consumers, especially among the younger generations, have mixed feelings about whether the Canadian dairy industry is good for the environment and whether animals in the sector are humanely treated.
Once beliefs have been established, they can be hard to influence. "Changing consumer preference is a long-term effort," Somogyi says. "It can be very costly with marginal benefits."
The report also looks at the declining number of dairy farms in Canada from 1967 to 2018. Based on the trend line, the authors estimate there will be half as many operating dairy farms in 2030 as there are today.
One of the greatest challenges for the industry has been the federal government's concessions in negotiating major free-trade agreements with Europe, Pacific countries and North America. The report states: "The combined effect of these free-trade agreements will harm the industry in the short term by having access to 8.14 percent of the Canadian domestic market, limiting domestic production quotas and taking revenue away from Canadian farms."
The authors say the trade deals also increased the general public's awareness of dairy and its supply management system.
"The trade deals shone a light on the sector. It made people think about it and provided media attention to it," Somogyi says.
The federal government announced last year that it will compensate the dairy industry with $1.75 billion.
"Dairy farmers are receiving compensation to offset losses due to trade deals recently ratified by the federal government," reads the report. "The fact that the Canadian public now directly financially supports the dairy sector changes everything. It needs to be made more competitive, accountable and transparent."
"I don't think the government should write cheques blindly," Charlebois says.
Somogyi adds that the government assistance focuses on helping farms when he'd like to see help for processors and ways to drive more innovation throughout the industry.
The plan
The report outlines a plan with four steps meant to modernize supply management to make the industry more competitive in niche and premium export markets.
1. Create a voluntary program for dairy farmers to exit the industry
Charlebois says the government's direct compensation to farmers will over-capitalize the system and lead to too much milk. By purchasing quota from farmers who want to exit the industry, it will make it more available to those who want to stay.
"With a program to encourage some farms to exit, it will allow others to grow," he says. "You keep the right people in the system and give them an opportunity to adopt more sustainable practices."
This quota buyback program is to be initiated using the $1.75 billion pledged by the federal government.
"That is an absolutely tangible thing to do right now," Charlebois says.
Dairy Farmers of Canada (DFC) says now is not the time to initiate a plan that reduces the milk supply in Canada.
Lampron says, "There is an implication in the report to reduce the level of domestic production, with a buyback program, when farmers will be striving to maintain and grow markets at a time when domestic food security is even more relevant. Supply management ensures that Canadian consumers have reliable, year-round access to high-quality milk produced within our own borders according to some of the most stringent standards in the world. Now more than ever, Canadians recognize the importance of self-sufficiency in our food production – the pandemic has highlighted the weakness of models that rely disproportionately on foreign production."
2. Make significant changes to the Canadian Dairy Commission (CDC)
"Supply management is not an easy program to understand," Charlebois says, noting most consumers and even dairy producers don't fully understand all of its pieces.
The report calls for more transparency and accountability of how the milk price is currently set and also a re-evaluation of how the price is determined.
The authors say the current system is discriminating against some regions of the country with an increased concentration of dairy in central Canada.
"The pricing formula could be modified to adopt a more value-chain focus approach and incentivize the formation of cooperatives between small farms in each region, with a higher farmgate price for dairy to recognize the increased input costs of production for smaller producers. The CDC should consider ways to keep production capacity in all regions, to support dairy processing," the report reads.
3. Remove interprovincial trade barriers on dairy products and create an innovation fund for the sector
According to the report, this step "is essential to promoting artisanal dairy products. Because the market is much smaller than for general dairy, it is vital that producers of these products can access consumers across the country."
The authors also call for the creation of an innovation fund to entice dairy farmers to develop new products and markets.
4. Initiate a 20-year plan to reduce general tariffs, develop an exporting strategy, create a Canadian brand and provide incentive for innovation
"Canada's dairy industry has a lot to offer to the world," Charlebois says. "Why not think big instead of keeping everything to ourselves?"
The authors say in the report that the dairy industry must protect itself from future trade deals by becoming more competitive.
They propose a coordinated effort between industry and government to set a quota system for export markets to attract new investors and entrepreneurs to dairy production and processing.
"Some parts of plans are easier to adopt than others," Somogyi says, noting steps one and two could be implemented more quickly than the others. However, he wants the industry to consider all of them. "All of the issues are important," he says.
The consumer survey cited in the report shows strong support for dairy, noting an overwhelming majority want to support Canadian dairy farms by buying Canadian dairy products.
"We want to see a vibrant dairy industry," Somogyi says, which includes innovation and growth in processing to provide stability for dairy farms.
"My intent is to help dairy farms," Charlebois says. "We live in a very big country … a big sector that plays a role in growing rural communities is dairy. Losing half of our dairy farms in the next 10 years is concerning to me."
What's next?
The authors shared this report with dairy industry leaders and politicians. A subject of this magnitude "requires the voices of many and all issues to be heard," Somogyi says.
They are looking for dairy associations and organizations to have respectful debates on the points brought forward and allow the people of the industry – farmers, processors and other stakeholders decide what to do with it.
DFC says, prior to this report, multiple groups came together to set a path for dairy's future in Canada.
"The dairy sector has evolved over time with a view to the future. More recently in 2019, Dairy Farmers of Canada, provincial dairy farm organizations, Dairy Processors Association of Canada and the federal government had already begun working together to ensure the dairy sector remains attuned to emerging consumer trends and well positioned in the sustainable economy of the future. A vision which will continue to ensure that the dairy sector is an important source of jobs, growth and innovation, food security for Canadians and the high-quality domestic dairy for future generations," Lampron says.
Somogyi says since the report's release he has been contacted by farmers and processors who agree with its points.
"It is essential to have a dialogue, to look at new infrastructure and a new model," Charlebois says.
At this time, there is not much more the report's authors can personally do. "It is in the industry's hands," Somogyi says.
PHOTO: Mike Dixon.
Visit Agri-Food analytics lab - Supply management 2.0 - to download a copy of the full report.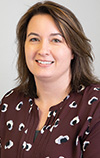 Karen Lee

Editor
Progressive Dairy