You're busy – milking cows, feeding cows, managing employees, attending the Royal Winter Fair, etc. With that in mind, Progressive Dairyman introduces this column: "What Happened? What's Next?" In recognition of your time, we'll attempt to summarize recent events or actions making dairy headlines that will have an impact on your farm business.
Then we'll seek out experts and sources, putting that news into perspective and, most importantly, briefly describe how it might affect you.
USMCA
What happened?
On Sept. 30, the U.S., Mexico and Canada concluded negotiations for a revised trade agreement. The new United States–Mexico–Canada Agreement (USMCA) will provide new access for Canada in the U.S. for dairy, peanuts, processed peanut products and a limited amount of sugar and sugar-containing products, and in exchange the U.S. can export more dairy, poultry and eggs to Canada.
In addition, all food and agricultural products that have zero tariffs under the North American Free Trade Agreement (NAFTA) will remain at zero tariffs.
Canada has agreed to phase in new tariff rate quotas – with a specific quantity for each dairy product by year six of the agreement and then growing by 1 percent over a period of up to 13 years – exclusively for U.S. milk and dairy products.
Those tariff rate quotas, which means each product will have a tariff if it is exported to Canada beyond the agreed-upon quantity, will affect fluid milk, cheese, cream, skim milk powder, butter and cream powder, concentrated and condensed milk, yogurt, whey and other products.
Preliminary calculations estimate through this arrangement the U.S. will be able to export an additional 3.59 percent of total annual Canadian milk production each year.
In exchange, the U.S. agreed to provide reciprocal access on a ton-for-ton basis for imports of Canada dairy products through first-come, first-served tariff rate quotas.
Another provision in USMCA is the elimination of Canada's milk price classes 6 and 7 six months after the agreement takes effect. This policy made it more affordable for Canadian processors to buy domestic ultrafiltered milk, an ingredient of yogurt and cheese, along with powdered milk and milk proteins.
Under the agreement, Canada will ensure the price for skim milk solids used to produce nonfat dry milk, milk protein concentrates and infant formula will be set no lower than a level based on the U.S. price for nonfat dry milk.
Canada also committed to adopt measures designed to limit the impact of any surplus skim milk production on external markets. These measures include resumption of its program to use skim milk domestically as animal feed and a new commitment to cap its exports of skim milk powder, milk protein concentrates and infant formula. Exports that exceed the threshold will face an export surcharge.
After specified amounts for the first two years, both caps will be increased by 1.2 percent a year, an amount equivalent to Canada's historical population growth.
To assist with monitoring implementation of this new program, Canada and the U.S. will review the agreement five years after entry into force and every two years thereafter.
When news broke about the agreement that had been reached, many Canadian dairy farmers expressed anger and disappointment.
"The announced concessions on dairy in the new USMCA deal demonstrates once again the Canadian government is willing to sacrifice our domestic dairy production when it comes time to make a deal," said Pierre Lampron, president of Dairy Farmers of Canada (DFC) in a statement.
"The government has said repeatedly it values a strong and vibrant dairy sector – they have once again put that in jeopardy by giving away more concessions," he added.
What's next?
Before USMCA can enter into force, it must be ratified by each of the three countries, which can be a lengthy process and possibly muddied or dismantled through upcoming elections.
The leaders of the three countries are expected to sign the agreement in November before Mexican President Enrique Pena Nieto leaves office at the end of the month. Andrés Manuel López Obrador, Mexico's incoming president, has already expressed he is in favour of the deal reached between the three countries.
The agreement must also be approved by Congress. The Nov. 6 midterm elections in the U.S. could prove problematic for ushering the new trade pact through Congress since a formal vote isn't slated to be held until next year.
If USMCA is ratified, it will likely take some time before the effects are realized. Most of the provisions are expected to begin in 2020, and the remainder will be phased in over more than a decade.
In addition, since the tariff rate quota is spread over several different dairy products, the demand for those particular products may be a significant factor in the amount actually imported to Canada.
The potential for a new pricing system, in place of Class 7, also leaves a lot unknown about the future demand for those types of dairy products and whether they will continue to be supplied within Canada or come from the U.S.
USMCA follows two previous trade agreements in which access to the Canadian dairy market was granted: CETA (with Europe) and CPTPP (Pacific Rim countries). The concessions made for each deal, once combined, are expected to have a significant impact on the industry.
According to a news release from DFC, "Once the recent trade deals come in effect, the total dairy imports will make up approximately 18 percent of the Canadian dairy market. ... At the farm gate alone, this represents an annual loss of 1.3 billion dollars for farmers."
To ease the burden on Canadian dairy farmers, the federal government has offered compensation for loss of market share resulting from the deal. Details of that haven't been released and probably won't be until after USMCA has been ratified.
Meanwhile, dairy farmers have taken it upon themselves to preserve as much market as possible for their products.
Just a few days after the deal was announced, "buy local" campaigns sprouted up across the country. Messages from DFC, provincial dairy organizations and individual farmers encouraged consumers to look for the 100% Canadian logo on dairy product packaging.
Dairy processing plants are not required to disclose the source of milk, so not all packaging will have the logo unless it intends to share it for marketing reasons.
Economists already predict prices won't change dramatically in the store, so consumers should be able to equally choose between 100% Canadian dairy products and those that contain milk or milk ingredients from other parts of the world.
PHOTO: Illustration by Kristen Phillips.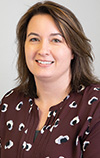 Karen Lee

Editor
Progressive Dairyman