Completing workplace inspections is a requirement under the Occupational Health and Safety Act. The employee health and safety representative is responsible for completing a workplace inspection every month, and the manager must examine the results of the inspection and take action to correct any unsafe conditions.
It is important to remember every individual in the workplace has the responsibility to maintain a safe work environment. This means hazards should be identified and corrected throughout the month, not just when the monthly inspection is conducted.
Why do we do inspections?
Inspections are needed to critically examine all factors in the workplace including equipment, processes, materials, buildings and procedures. The goal must be to complete meaningful inspections that actually impact the health and safety of the employees by:
Identifying hazards


Reducing unsafe conditions and practices


Improving housekeeping


Reducing workplace injuries and other accidents


Ensuring prior solutions and corrective actions are working


Monitoring compliance and the effectiveness of policies and procedures
This process cannot just be about ticking off boxes or making sure the document is submitted.
How do we complete the workplace inspection?
Prepare for the inspection: Review previous inspections to be sure items have been resolved. Find out if any incidents or injuries have occurred this month. Always bring a notepad to make notes as you go so you don't forget. Use the map to check all fire extinguishers, exits and other safety items. Determine who you will need to talk to during the inspection and what documents you will need to review (e.g., pre-use inspections).
Complete the inspection: Walk through every area of your workplace and thoroughly review each line item on the workplace inspection checklist. If you have racking, a separate rack inspection checklist must be used. Don't stop at the end of the checklist; ensure you assess all of the workplace conditions and practices. Every workplace is different, and each month will be different. Identify actual and potential hazards and document them on the inspection checklist. Record the location of hazard and describe the hazard in detail; use additional paper if required. Ensure that you indicate if it is a repeat item. If you observe a high-hazard situation, stop the work and report it to the supervisor immediately. Once complete, sign and date the inspection checklist.
Create an action plan: The safety representative and the manager must review the inspection and discuss any unsafe items. Also review any items that have not been resolved from previous inspections. Determine what corrective actions are required to address each of the items identified. The corrective action should eliminate or lower the risk of injury or other incidents. Consider what controls might decrease the likelihood of an accident or the severity of the consequences of the accident. Ask for feedback and recommendations from other employees.
Determine if there is already a control in place that is not working or not being followed. When determining the appropriate controls, you must consider the likelihood that the control will fail. For example, how likely is it employees will not wear their safety glasses?
Sometimes more than one control is needed to address unsafe items. Create an action plan document and assign each item to a specific person to address. Discuss unfinished items from previous inspections with the responsible person to determine why they have not been completed.
Implement the corrective actions and controls: Once you have determined what corrective actions are needed, you must put them in place. Involve the employees and ensure they completely understand any new requirements. After implementation, monitor the corrective actions to make sure they are being followed. Evaluate corrective actions to determine if they have effectively reduced the hazard and/or if additional or alternate controls are needed.
It is important to understand putting corrective actions in place is just as important as identifying the hazard on the inspection. If an unsafe item is identified on the inspection, but no steps are taken to correct it, that item will continue to put the health and safety of individuals in the workplace at risk.
The current monthly inspection must be posted on your health and safety board, and a copy must be retained in your files.
Don't forget about the requirement to inspect your work area, equipment and tools before each use. Correct hazards right away; you do not need to wait until the monthly inspection to correct an unsafe situation. Never use damaged or defective equipment or tools; mark unsafe equipment and tools as out of service and report it to your supervisor right away.
How do we complete meaningful inspections?
Focusing on details and potential hazards: Thoroughly understand what the requirement is for each item and look carefully at each item. Be thorough: Test equipment, open doors, look all around each room. Consider what "could" go wrong. Talk to the employees in each area to get their input. Don't make assumptions, especially about compliance with existing procedures.
Successful approach: Using a supportive approach when addressing health and safety items can go a long way. Focus on positivity towards improvements and proactive problem-solving. Involve employees by encouraging ideas and asking for suggestions. Acknowledge success and show appreciation for efforts and results. If you see someone doing something unsafe, step in. Suggest a better and safer way, observe their actions, and praise them for working safely. Work with supervisors to clearly describe the expectations in terms of results and behaviours. Inspections can only be successful if corrective action is taken to eliminate the hazards found.
Potential roadblocks: Keep in mind, it can be hard to notice unsafe items if you are too familiar with the area or job. You may not notice something you walk past every day. It may be difficult to see the risk in a task you have seen be completed before without any problems. Remember to consider what "could" go wrong.
The inspector may genuinely believe things are being done properly and therefore does not feel the need to check them. This often occurs with paperwork or tasks you are not familiar with. When inspecting our own work environment, it is easy to get distracted with our day-to-day job or feel forced to rush though the inspection. Make sure you take the time to complete a thorough inspection.
PHOTO: Photo by Mike Dixon.
Cheryl DeCooman, CHRL, can also be reached at (519) 532-2508 or on Twitter and Instagram.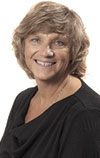 Cheryl

DeCooman
President
People Management Group