On April 5, four young dairy producers from across the country participated in a panel presentation at the Canadian Dairy XPO in Stratford, Ontario. They discussed how they started in farming, their plans for the future and their thoughts on the industry.
Panelists included Nick Brown, Brownsville Farms Ltd., Sussex, New Brunswick, with 400 cows in freestall and parlour; Kevin Forbes, Forbesvue Farms, Sarnia, Ontario, with 200 cows in a freestall and parlour; Alanna Coneybeare, Conlee Farms Inc., Listowel, Ontario, with 125 cows in robot barn; and Matt Plett, Plemark Holsteins, Blumenort, Manitoba, with 64 cows in a tiestall barn.
Why did you decide to farm?
BROWN: I attended NSAC [Nova Scotia Agricultural College] for a four-year ag business degree. It was really the people I met there that piqued my interest. My fourth year, I took a semester in Norway and was not able to go home on weekends. I just missed the lifestyle and being around the animals so much I knew one way or another I was going to have to return and try to make it my own.
CONEYBEARE: Farming wasn't really on my radar until my second-to-last year of university. I went to the University of Toronto for political science. While I was at Toronto, I had a really great opportunity in dealing with NGOs and non-profits in discussing food and food sustainability. It took being in a room full of hundreds of other people talking about food, but not necessarily from a farm, to realize the opportunity I had.
After I graduated two years ago, I came home full time. I'm really, really happy I took that time away because not only does it make me more appreciative, it also gives me tools, skills and knowledge that is going to make me a better farmer.
FORBES: When I started high school, my dad scheduled all of the meetings – whether it was the banker, the nutritionist or genetic salesman – after school or at a time when I could be there. Even though I had no say at that time, I could understand and learn the business of the farm. The next thing was getting kicked off-farm. We had to go work somewhere else.
I went to University of Guelph and took business. I worked two years at a bank and three years at a financial group. The most important part of leaving the farm is: That's when you start to realize your passion for it. Then, 10 years in, when the stress builds, you don't regret your decision.
PLETT: I grew up on a dairy farm until I was 12. My dad sold the dairy farm, and we moved to Oregon. I really didn't have much interest until we were off the farm; then I really missed it. I went to the University of Manitoba for agriculture business and met my wife, Tanya, working in the feed industry. For about nine years, I did nutrition consulting until my old farm place came up for sale.
We bought it empty, renovated the barn, bought 50 kilograms of quota and got started without any family help. It was a bit of a tough way in, but we made it in. I was happy, thinking I'd achieved my life goal – until Tanya's parents' farm came up for sale a few miles over and so, a few years later, we moved.
What is your current role?
BROWN: When I returned to farm, my father said I needed to take on a major responsibility. The first thing he did was step away from everything to do with reproduction. I had to learn how to do arm service, manage all the pregnancies and the protocols. We had a couple of bad checks, but I learned and got better. My next responsibility was nutrition. It was an ever-expanding list of responsibilities, but he did ease me into it. I'm fully involved now; everything goes through me and [my wife] Tara.
CONEYBEARE: The traditional herdsman title didn't fit, so we went with herd manager. We did a little reshuffling of roles in January, and I am responsible for bull selection and heat detection as well as daily milking and animal husbandry of the cows. I manage the calf barn with help from some excellent employees. We also have a broiler barn with chickens as well as doing some cash cropping. My dad primarily does day-to-day work in the chicken barn, and I help with fieldwork. Even though I've only been in my role recently, I feel like I'm really integrated into the decision-making process.
FORBES: My role would be general manager. When I first came home, we were at a nice-size setup with employees and, basically, I walked in to the barn, and my dad walked out. With myself and the herdsman, we managed the day-to-day operation with the cows and feed, and my dad looked after all the cropping and equipment maintenance. Over the next six or so years, I took on a greater role, and my dad took on a lesser role, so we're at the point now any major decisions my parents are still involved in, but I do have final say.
PLETT: My wife and I have a partnership set up. I would be the farm manager. I milk every morning and feed in the afternoons. We have one full-time herdsman. When we started 3X milking, we hired two part-timers to take care of the night milking. At the 30,000-foot view, I do everything in discussions with Tanya, and we try to have those discussions around the kids as much as possible.
What are your most important management strategies?
BROWN: My father always wanted to milk a lot of cows and keep it as simple as possible, so he never invested much in overhead. The two ways we've been able to do that is with good reproduction and good transitions. We really focus on keeping preg rate up. We try to keep it around 30 and, usually, we keep it in the high 20s. To get the cows off to a good start, we don't overcrowd the transition pen. From a bigger-picture view, keeping our labour as efficient as possible. We only keep five employees, and four of them are milkers. On 400 cows, I think that's pretty labour-efficient.
CONEYBEARE: We rebuilt the barn in 2011 after a barn fire with a focus on animal health and work efficiency. In terms of breeding, we focus more on production rather than for type. In terms of day-to-day protocol, we really focus on making sure that animal is as healthy and comfortable as possible. There is an economic side to animal health but also an ethical aspect to it too. With the chicken, dairy and cash cropping, we want to seek balance among the three and how each can improve the efficiency and profitability of the others.
FORBES: Everything we do revolves around cow health. For example, with reproduction we place a lot of emphasis on health traits. Two years ago, we went from dry cows being on sand-bedded freestalls to building a dry cow barn with a bedded pack on each side. There's no pen moves, one TMR, and our transition has improved unbelievably well.
We're getting decent production, but we don't push for high, high production. As far as the routines on our farm, the first question I ask is, "Can I or my employees replicate this on Sunday morning?" If we won't take the time on Sunday morning to do a routine, it's not a routine. It has to be simple.
PLETT: I have two guiding principles: One is economics, and the other is simplicity, which complement each other fairly well. We have been very intentional that our most effective way to lower our input cost is to maximize production. I'm a lot less worried about spending more on feed or equipment if I can see a payback. In a tiestall barn, we can't milk more cows, so how we expand without a major capital investment is to push as much milk as we can out the door. We just try to focus on what matters.
Our fieldwork is basically done on a share-cropping basis, so we own a minimum of equipment. That's one benefit to coming in the way we did: Steel is a waste of money when you are starting up. Anything you can do to improve the comfort of your cows and increase your marginal milk is paramount to the way we manage our farm.
What technologies do you have on your farm?
BROWN: We're definitely on the least automated side of the spectrum; our parlour doesn't have milk meters; no activity monitoring; our curtains you have to crank 'em up and crank 'em down; we skid steer scrape our barn. That said, we need a new parlour, and we're looking to automate that as much as we can. I would like to have activity monitoring on my heifers. I kind of like being on the lesser side of the automation since stuff gets old quick and needs to be replaced a lot.
CONEYBEARE: Technology is really ubiquitous for us. We have robotic milkers that allow us to have better health information on our cows. We have a camera system to monitor cows that are calving. On our phones, we have apps that synch to the robots, so I can see what's on the robot screen in real-time. The cameras are all live feed on all of our phones.
Everything that can be hooked to an app is hooked to an app so we are able to manage the farm just like we were there. We have auto-steer on one of our sprayers. I think in terms of automation, what I see next is cropping. It's a lot easier to automate driving up and down a field than assessing animal health.
FORBES: We're not a real high-tech farm. I bought a Lely Juno last year, and that was a big investment to have a robot running around my barn. We are on a bit of an island for dairy in our area, and we don't have a lot of vet service. I bought an ultrasound machine and learned how to use it. We do all of our own preg checks. In terms of the future, we've got a fairly dated parlour; we put it in used in '03.
I would say my goal right now is to still run it for another 10 years. Where I see technology going is the robotic claw available in robots that pre-strips, washes, dries and post-dips. I see that being installed in parallel parlours. In terms of robotics, I think that's one of the ways we're heading in the future.
PLETT: We're still in the tiestall barn; that said, it's a fairly new, up-to-date tiestall barn built in early 2000s. We have auto-detachers with milk flow, conductivity, milk yields, all right there cowside. We use all of the apps on the phone – calving sensors, DHI app. We do have robotic grain feeding. As I look at my age and the age of our kids, I think the next big leap is probably five to 10 years out for us. I would expect, should one or more of our children want to come home and farm, we would invest in a new barn with robots because that is clearly the way the industry is going.
What are the major issues facing dairy in the next 10 years?
BROWN: One of the major issues I think about a lot in the future is labour scarcity and cost. In Ontario, we hear about a $15 minimum wage, and I'm sure that's going to reverberate around the rest of the country. I think there's going to be more automation. There's more that we're going to have to do to try to streamline our labour costs, labour hours and hours per cow. The other one is: Input costs are rising. We have to do more with less and try to maximize the inputs we do buy.
CONEYBEARE: A decreased blend price of milk forces us to be more efficient and cost-effective with what we have. The issue surrounding employees – people wanting to do work that can be quite physical and hours that aren't necessarily ideal through the day, 365 days a year – speaks to that importance of employee retention but also the need for further automation.
Trade deals also relate to the eroding of supply management and, as we allow more inputs to come in, that again affects our blend price so perhaps dairy farmers need to diversify our portfolio. Making sure our farm is sustainable into the future means diversification for us.
FORBES: Our revenues aren't going to continue to go up, but all of our costs still are; inflation is going to look after that. So it's finding ways to generate more revenue from the farm, whether it's more milk per cow, finding more efficiencies in your facilities or cutting costs. That's not easy finding those efficiencies or the right investments.
That's probably the hardest thing, figuring out what are the ideal ways to tackle innovation at the right price point that you can still maintain profitability as you expand – and in a world with reducing margins.
PLETT: The viability of supply management – keeping that front and centre is important. I would also add on the animal rights and the nutrition side. I think that's something we can't stick our head in the sand about. Things like the proposed food guide changes are probably not going to cut into dairy consumption a lot in the next two or three years, but what are the consequences of a whole generation of kids learning cheese and yogurt and butter are bad for them? It's ongoing, whether it's political or engaging in your community, to kind of keep these things front and centre.
What are your plans for expansion?
BROWN: We're going to try to get a little better with the cow numbers we have before we go through the next expansion. We've been really lucky: In our area, there's no real competition for land, so the price is really affordable. Our quota is trading around $20,000 a kilogram right now in New Brunswick, and it's available. We have a credit exchange and the credits have been well priced.
We've been able to grow our quota holdings and overproduce and buy credits reasonably cheap. When we do take on the debt to buy the farm, we won't have that free cash flow to just build a new dairy barn. I think retrofitting what we have, getting better and more efficient with the numbers we have and bringing our price per litre up is the best way to go.
CONEYBEARE: We're putting in a third robot next month. That's going to bring all of our facilities to capacity in terms of our calf barn, our heifer and dry cow lot as well as our dairy barn, so that will kind of complete our dairy expansion for a while. Then we're looking into egg or non-egg investments for expansion for the farm itself.
FORBES: Right now, we're 200 cows, 275 kilograms of quota, so I think we'll kind of maximize where we are at right now at about 300 kilograms of quota. We do have 80 heifer stalls in our freestall facility that could be converted over to 65 to 70 milk cow stalls. Our next step would be to find a custom heifer raiser. We already have our heifers from 3 to 12 months being raised by my father-in-law.
That is our goal for the next 10 years. At that point, my kids will be 22 to 14 years old, so we'll have a pretty good idea if they are seeing a future in the dairy industry. At that time, the plan would probably be to green-site a new facility and convert our existing facility into a heifer and dry cow barn.
PLETT: I'd be perfectly happy milking 60 cows in a tiestall until I'm ready to retire but, realistically, that's no way to bring kids into the industry. The way we've expanded so far has doubled our quota holding by focusing on getting the fundamentals right and shipping more milk. In 10 years, our kids will be in their 20s. I want to position the farm in a way that it can do a significant expansion and building project at that point, should they be so interested.
PHOTO: Panelists at the 2018 Canadian Dairy XPO young producer panel were, left to right, Alanna Coneybeare, Kevin Forbes, Nick Brown and Matt Plett. Photo by David Bates, Shur-Gain – Trouw Nutrition.
Click here to read about the panelists' succession plans and employee management techniques.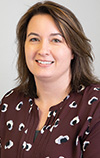 Karen Lee

Editor
Progressive Dairyman
Before commenting on our articles, please note our Terms for Commenting.