In September, Dr. Gordon Atkins was awarded the "Mentor of the Year" award by Merck Animal Health and the American Association of Bovine Practitioners (AABP). The award is given to individuals working in bovine medicine who have shown a continued commitment towards aiding and educating those interested in pursuing a career in bovine veterinary medicine.
Atkins grew up on a small dairy farm outside of Calgary, Alberta. Still wanting to be involved in the dairy industry after his brother took over the farm's operations, Atkins enrolled in veterinary school. Among his many accolades, Atkins served as president of the AABP in 1992; he has also been an official judge and veterinary adviser on Holstein Canada's type classification committee for almost 25 years. In 2008, Atkins joined the faculty of veterinary medicine at the University of Calgary where, at present, he is a teaching professor in the department of production animal health. Atkins talks to Progressive Dairy Editor Emma Ohirko about his experience mentoring and the evolution of dairy practice over his 47-year career.
Teaching professor
University of Calgary
What is a question you are often asked as a mentor?
How do you answer it?
ATKINS: From our students, the most common question would be: What do you enjoy about dairy practice and why should I consider it as a career? I would answer that by saying: I love working with dairy cows, and I think our dairy clients are a wonderful group of people to work with. Dairy practice is a challenging but very rewarding career to be part of. I think it's the diverseness of the profession that is particularly attractive, with an opportunity to specialize in so many different aspects of the business.
Why do you devote your time to mentoring students?
ATKINS: I think we have very few students coming to veterinary schools these days [who] have extensive dairy backgrounds. There's so much knowledge that's essential to be successful in dairy practice. I have a particular passion for the industry and, I think, an obligation to recruit new practitioners into that industry. Mentoring is a way of giving back to the dairy industry.
What have you learned from your students?
ATKINS: Even though the students [who] come to us may not have extensive dairy backgrounds, I think they're all an exceptionally bright bunch of students. They encourage us to not just accept things the way we've always done them, but to ensure we can justify the procedures and the recommendations we make and that the conclusions we reach are evidence-based, and that we give priority to the public issues, like animal welfare and food safety.
How has the pandemic changed the way you mentor your students?
ATKINS: We at the University of Calgary have adopted a hybrid version of teaching where all of the lectures are given online but we still have small cohorts for the labs. We've still been able to give those in person, but we have to give them multiple times and it has forced us to make much more use of online teaching, videos and online interaction. It has limited the number of students I can take with me for on-farm experiences. That certainly has been a detriment because that's where we really get to know the students and let them experience what dairy practice is really all about.
What projects are you working on right now?
ATKINS: Besides all the general components of dairy practice, I have recently had a number of dairy herds that have encountered herd outbreaks with Mycoplasma bovis, and the losses have been devastating for those producers. I'm currently involved in a research project that's focused on trying to understand the differences we see with the clinical signs in dairy cattle compared to feedlot cattle and improve both the diagnostic and surveillance capabilities in identifying and eliminating the disease from our herds. I think that's just one new priority, but I always try and stay abreast with all of the other components of dairy practice.
How do you stay up-to-date on advancements in bovine medicine?
ATKINS: I try and read as many scientific papers as possible. We live pretty busy lives, and it's sometimes a challenge to be able to do that. I think a big part of my continuing education has been attending some of the best conferences in the country. I've always placed a priority on attending the American Association of Bovine Practitioners conference, which [in 2020] was a virtual conference. The Western Canadian Association of Bovine Practitioners is another one and also the Western Canadian Dairy Seminar. I think those three conferences are really outstanding in giving veterinarians, producers and ag specialists an opportunity to stay abreast with the new technologies.
Are there any specific new practices in dairy herd health you are excited about?
ATKINS: I think there's always new technologies and new innovations being introduced in the areas of cow comfort, nutrition management, reproductive management, milk quality, and all of those increase the productivity and the profitability for our clients. It's incumbent upon us to always stay on the leading edge of all of those components. I think we have an industry that is changing all the time, and we have to change with all those changes that come to the marketplace.
One of the current areas where we must continually expand our knowledge and modify our professional services is working with clients that utilize robotic milking systems. We need to understand and evaluate not only the function of the robotic equipment but also recognize the proper udder conformation that's necessary for best milking. I think as far as the udder conformation goes, recognizing the value of a level udder floor and proper teat length and placement has never been more important. The importance of genetic selection to achieve this is an area I always prioritize with both students and clients.
What is one thing you think most farms could benefit from implementing?
ATKINS: While robotic milking has really elevated the priority on udder conformation, there is no doubt that a focus on other functional conformation characteristics can have a significant impact on dairy cow wellness. This has always been an area I've had a particular interest in because of my background in the purebred dairy industry, and we have worked hard to try and identify anatomical characteristics involving feet and leg conformation that can have a significant impact in reducing the unacceptably high levels of lameness we have in the industry. We must, however, recognize that this is a multifactorial problem and attention to all the other management issues, such as cow comfort, foot trimming and proper nutrition, must be addressed if we are to have an impact in improving public perception on animal welfare.
How should dairy producers view the role of their veterinarian?
ATKINS: It has certainly changed in my 47-year career as a veterinarian. I think to start with, we delivered primarily emergency services. Today, I think producers view their veterinarian as a key member of their management team with priority function in preventing disease, maximizing productivity, understanding cow comfort, animal welfare and milk quality – so a lot of that has transitioned to preventive medicine. I think we are in a position to ensure there's prudent use of antimicrobials and vigilant regard for drug residues in these modern times when food quality is so important, and also when there is such an emphasis on animal welfare.
What experience do you take from your knowledge as a vet to breeding and showing your own cows and vice versa?
ATKINS: I value to a great extent the information I've learned over the years on good cow conformation. I've had a tremendous group of outstanding mentors [who] have instilled in me the importance of good body conformation and genetic selection in dairy cattle. I think, expanding on that, my knowledge as a veterinarian has allowed me to marry the skills of those good conformation and genetic selection skills with the traditional veterinary skills and focus on conformation traits that impact the true functionality of dairy cows. In turn, that has assisted both our commercial and purebred breeders to achieve the functional conformation, or at least put emphasis on achieving the functional conformation that supports both high production and good animal welfare.
In the last 20 years, we certainly have seen a change from a lot of smaller purebred dairy farms, in my early days as a young veterinarian, to now a smaller number of much larger dairies and a greater emphasis on the commercial breeding aspect versus that individual purebred breeding aspect. I think our focus on conformation and functionality is continually moving from the individual cow in a smaller purebred herd to the overall health and wellness of the larger commercial herd. Regardless of the nature of the herd management system, I always depend heavily on the fundamental knowledge in cow management and conformation that my mentors have shared with me, and I feel obligated to give back to our students, colleagues and clients.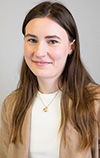 Emma Ohirko

Editor
Progressive Dairy