Two years ago, Minister of Agriculture and Agri-Food Marie-Claude Bibeau announced $1.75 billion would be provided to compensate Canadian dairy farmers for the market access concessions made under the Canada-European Union Comprehensive Economic and Trade Agreement (CETA) and the Comprehensive and Progressive Agreement for Trans-Pacific Partnership (CPTPP), but it left out a large segment of the dairy supply chain.
Fortunately, the 2021 federal budget included support for more of the Canadian dairy sector as compensation for CETA and CPTPP. Budget measures totalling $292 million will assist dairy processors impacted by the trade agreements.
Mathieu Frigon, president and CEO of the Dairy Processors Association of Canada | Association des transformateurs laitiers du Canada, responded to questions from Progressive Dairy about the welcomed compensation for processors and a growing initiative to establish a Grocery Code of Conduct.
Mathieu Frigon
President and CEO
Dairy Processors Association of Canada | Association des transformateurs laitiers du Canada
How will the compensation measures for CETA and CPTPP announced in the federal budget aid the dairy processing industry?
Frigon: For several years now, we have been advocating for the government to provide compensation to dairy processors negatively impacted by trade agreements like CETA, CPTPP and CUSMA. We were pleased to see that the most recent federal budget provided just over $292 million for dairy, poultry and egg processors. While it only addresses the impacts of CETA and CPTPP, it is an important step in the right direction; we are hopeful we will be able to work with the government to address its outstanding compensation commitments.
Each of the agreements signed by Canada has created new market realities which have undermined the basic tenets of supply management, largely market predictability. More specifically, for processors, it has reduced production volume and has destabilised the entire wholesale price structure for cheese. So this funding will support the industry as it transitions to the new market realities, lessen the negative impacts of the agreements and spur the innovation and investment that is needed to position Canada's dairy sector for long-term sustainability.
Why is it needed?
Frigon: When fully implemented, the impacts of CPTPP, CUSMA and CETA will amount to more than $300 million in annual losses for dairy processors. To put this into perspective, this is equivalent to Canada losing 15 to 20 of its medium-sized cheese makers each year; Canada has just over 470 processing facilities across the country. Leaving this unchecked, the impacts would go far beyond the facility, impacting both on-farm production and the wider communities that benefit from processing.
Even the Canadian government itself recognized that the deals they have signed largely favour Canada's trading partners when it comes to dairy. Our production is largely tailored to a domestic market.
What types of changes might we see when it is distributed?
Frigon: As of right now, we have not seen the details of the government's proposed program. However, we are looking forward to working with the government to ensure the program includes measures that would incentivize the kinds of investment and innovation that are necessary for the long-term sustainability of Canada's dairy processing industry.
How will it benefit Canada's dairy producers?
Frigon: Supply management is a system. Its long-term viability requires a healthy and growing dairy farming industry and processing industry – neither one can thrive without the other. Investments in Canada's processing industry will only serve to support Canadian milk production.
You've also been advocating for a Grocery Code of Conduct. Can you explain what this is?
Frigon: Currently, Canada's five largest retailers wield so much power in the marketplace they can unilaterally dictate the terms of business with their suppliers, including dairy processors.
This isn't a uniquely Canadian problem; countries like the United Kingdom, Ireland and Australia have all dealt with similar levels of market concentration. Each of these countries have dealt with the problem through the use of a mandatory code of conduct to govern the relationships between large retailers and their suppliers. These codes seek to level the playing field, in that they address power imbalances and seek to create conditions whereby the grocery supply chain is competitive, transparent and fair.
What brought about the need for a measure like this?
Frigon: In recent years, there has been a proliferation of new, arbitrary fees and deductions levied by retailers on their suppliers, as well as failing to adhere to the terms of contracts. For dairy processors, the fees associated with simply getting products onto a store shelf for consumers account for almost one-third of their business costs. This has created a climate of uncertainty in the grocery supply chain, which has made Canada an unattractive place for many in the agri-food sector to invest.
This has been a concern for several years, but it really came to a head last summer when two large retailers announced significant new fees they would be charging their suppliers. They dubbed them "innovation fees" and "investments," but for many of the businesses that were already struggling with the effects of COVID-19, this really was the straw that broke the camel's back.
What they are paying to retailers is money not being reinvested in their own operations or in the product innovations that consumers want – this is something that has really limited the competitiveness of small and medium-sized suppliers. This reduces the resiliency of Canada's dairy processors which, in turn, impacts the Canadian dairy farms reliant upon a strong domestic processing industry.
How might it benefit the dairy industry?
Frigon: We look to the experiences of the United Kingdom, Ireland and Australia to understand what the benefits of a grocery code might be. From them, we have seen that legislated grocery code is the best way to address these issues and create the transparent and collaborative environment required for a strong food supply chain. Codes create a balanced and competitive grocery retail environment, which benefits everyone in the food chain from the farm to the consumer.
It's based on this knowledge that we joined with others in the dairy sector to request that governments across Canada implement codes which are legislated, mandatory and enforceable. The development of a framework by the federal government would be key to ensuring that these provincial codes are fully harmonized.
What is the status of this in Canada?
Frigon: Last November, Federal, Provincial and Territorial (FPT) ministers of agriculture showed leadership and struck a working group to study the issues within the relationships between large retailers and their suppliers. We are hoping to see the results of this work soon.
Since then, various retail and supplier groups have come forward to propose solutions to the working group. These have ranged from industry-led codes to legislated, mandatory codes. We view all these initiatives as positive steps forward, especially initiatives which demonstrate retailer recognition that there is a problem; however, we believe the only true solution is a legislated code which is enforceable and applies to all parties. This was the main thrust of our letter to the FPT Working Group recently (DPAC-ATLC - Dairy sector calls for mandatory codes to address grocery retail issues).
Are there any other thoughts you want to share with dairy producers?
Frigon: Addressing issues with trade agreements and the retailer-supplier relationship has important implications for both dairy processors and producers. Our system is only as strong as the sum of its parts. This is an important time to not only address current issues but look to the future of the sector and make sure we – processors, producers, government and others – are making the decisions that position it for long-term success.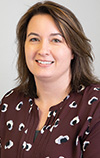 Karen Lee

Editor
Progressive Dairy