On May 19, a unique collaboration was announced at one of Canada's dairy universities. The new cross-campus research group called "Dairy at Guelph" will unite researchers from across the University of Guelph system.
To learn more about the partnership, Progressive Dairyman Editor Karen Lee interviewed professor David Kelton, holder of the Dairy Farmers of Ontario Chair in Dairy Cattle Health at the Ontario Veterinary College.
Who is included in Dairy at Guelph?
KELTON: Dairy at Guelph includes everyone at the University of Guelph involved in dairy-related research, teaching and extension – including more than 60 faculty in 12 different departments in five of the university's colleges.
These people cover the breadth of the dairy enterprise from crop production to animal health, nutrition, genetics and reproduction, to economics, policy and engineering, to product development, food safety and human health.
It also includes graduate students, post-docs and research associates working with these faculty members. Finally, it includes our industry and government partners in and around the city of Guelph. We see Dairy at Guelph as being broadly inclusive.
What is the purpose of the group?
KELTON: At this point, it is not a formal group or centre but rather an informal group of like-minded people working together for a common purpose. We hope this initiative will accomplish three things.
First, it will be a brand that will unite our group and celebrate the breadth of dairy-related work we do at the University of Guelph. Second, it will increase internal communication among faculty to realize new collaborations, address dairy industry questions in a multi-disciplinary way and make us more competitive in accessing large multi-disciplinary funding opportunities.
Third, it will increase our communication with external stakeholders, including dairy producers, industry organizations, potential research collaborators and funding agencies by making us more visible and ultimately providing a single point of access to our considerable resources and infrastructure.
What support has the university shown towards this initiative?
KELTON: The University of Guelph administration, from the President's Office to the Deans of the Colleges (especially Ontario Veterinary College and Ontario Agricultural College), has been very supportive.
President Dr. Franco J. Vaccarino and Vice-President Research Malcolm Campbell have brought a renewed enthusiasm for our agricultural and veterinary roots and are actively encouraging us to build on our core areas of strength, which includes all things dairy.
What has led Guelph to become a prime location for this collaboration?
KELTON: We have more faculty and students working across the complete breadth of the dairy enterprise than any other university in Canada, and yet we haven't done a good job of promoting that, either internally or externally.
Guelph (not just the university) is home to many provincial and national dairy organizations, including CanWest DHI, the Canadian Dairy Network, Semex, dairy processors such as Gay Lea Foods Co-operative and both provincial and federal government ministries of agriculture and health (OMAFRA, CFIA, PHAC) – all of which contribute to our substantial critical mass.
As the home of North America's oldest veterinary college and one of the top agricultural colleges, the fit is pretty natural. Last, but certainly not least, with the new Dairy Livestock Research and Innovation Centre in Elora, a $25 million state-of-the-art facility built through the partnership with OMAFRA and Dairy Farmers of Ontario, we have a renewed capacity to do even more in the way of dairy cattle research.
How will this group better benefit the dairy industry, particularly dairy producers?
KELTON: Our hope is that, through Dairy at Guelph, we will be able to increase our visibility and responsiveness to the dairy industry, including dairy producers, and continue to address the questions and challenges the dairy industry has as it works to remain vibrant and competitive.
By working together more effectively, we should be able to access and leverage more of the funding that is needed to do both the basic and applied dairy research that is needed.
We also hope to continue to expand our ability to transfer the great research we do to the stakeholders who can use it. Making our research results more accessible to dairy producers is an important part of our vision. PD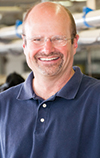 David Kelton

Dairy Cattle Health
Ontario Veterinary College