Since 2001, Réjean Morin and his wife, Véronique Lévesque, have been at the helm of Ferme Morine, located in Coaticook, Quebec.
The couple bought the farm from Réjean's parents to continue its legacy and become the third generation to maintain the dairy.
The Morine herd is a closed herd of 67 cows, including six classified as Excellent and 18 classified as Very Good, each carrying the prefix "Morine."
Véronique attests that her time on the farm can be all-consuming; however, she and her family take advantage of any spare time and warm weather to enjoy water sports like wakeboarding and boating.
Despite her rigid schedule, Véronique's commitment to meet the demands of Ferme Morine have paid off. In February, for the second consecutive year, the farm was crowned national Milk Quality Champion by Agropur. To shed some light on the keys to their triumphs in milk quality, Véronique shares five components integral to the operation of her family's dairy:
1. Direct contact with the herd. Without a single robotic component in operation, Véronique finds a hands-on herd management approach helps the farm achieve its best results.
2. Tunnel ventilation. Ferme Morine is enthusiastic about cow comfort and animal welfare. A vital component to Véronique and her family's successes in these areas is maintaining a comfortable environment for their animals, especially when the weather heats up. To achieve this, they rely on their barn's tunnel ventilation system. Véronique explains, "The air [in the barn] is constantly moving at a speed of 7 kilometres per hour to keep the animals cool."
3. Rubber-topped mattresses. From May to October, Ferme Morine turns their herd out to pasture. To mimic pasture conditions and to offer a comfortable environment while the cows are indoors, the farm chose mattresses fitted with soft, spongy rubber toppers to imitate the texture of the summer soil the cows are used to when grazing. "Our cows are the ones producing the milk that then allows us to make our payments," Véronique reasons as she reflects on why her farm's bedding choice is so important.
4. Quality forage. Véronique and Réjean work closely with agronomists to consult on the high-quality hay and forages they must plant to ensure their cows receive a highly palatable diet that keeps their input costs low.
5. A strict milking schedule. "Cows are creatures of habit and therefore need a routine," Véronique says. To support natural tendencies of the herd, Ferme Morine practices a rigid milking schedule. Each day, at 6 in the morning and 6 in the evening, the cows are milked. The cows grow accustomed to this routine, and it allows them to better respond to their needs for eating and resting time, Véronique explains.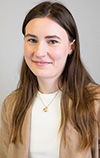 Emma Ohirko

Editor
Progressive Dairy