Romanticized visions of farming and rural life, along with views of a traditional farm family, can seem rather antiquated; however, if there were ever a modernized portrait of the idyllic family farm life, the Coddington family is it.
The family of 11 milk 300 Holsteins on their farm in Melbourne, Quebec, a town nestled in the province's picturesque eastern townships region.
At Coddington Farms, parents Kathleen and Tom and their nine children, aged 15 to 26, keep operations running smoothly, with Jeremy (23), the only son, even involved as a part owner. The family is passionate about dairying; they are dedicated to the improvement of their farm and herd, setting ambitious goals to keep themselves at the forefront of the industry.
Two of the daughters, Kaitlyn (21) and Jessica (19), are eager to speak about their father's work to grow their farm, which started with only 17 milking cows. In addition to working with Jeremy and their parents, their older sister Meagan (26) also works full time on the farm, and their younger sisters help with milkings and chores during evenings and weekends when not in school.
Although Tom makes the final decisions, Kaitlyn and Jessica attest that he takes his children's opinions into account. "[Me and my siblings] wanted to upgrade our milking parlour because it was starting to take us four to five hours to milk the cows, and our double-10 parallel parlour was not working for 300 cows, so everyone [said to my dad] it would be nice if we could get a new parlour. He then went and looked at different types of parlours and discussed with us," Jessica says.
In early 2020, the farm finished its parlour upgrade, which followed the barn expansion that was completed in 2018. As part of the improvements, Coddington Farms opted for a double-20 parallel milking parlour, modeled after the layout they had seen while touring Adirondack Farms in upstate New York. The expansion doubled the length of the freestall barn and now provides enough room for 600 cows.
When planning for and building their facilities, the Coddingtons had several goals they wanted the expansion to help accomplish. Kaitlyn and Jessica say animal welfare was at the core of the choices they made. For example, ventilation was prioritized to reduce heat stress. The farm installed balloon walls and 12 cyclone fans in the extension, and Kaitlyn says, "We do not feel the heat in the barn during the summer." She explains that the fans and the balloon walls play a key role in preventing heat stress in cows during calving, something she says can be a huge factor in the cows' upcoming fresh period and lactation performance, in addition to calves' future performance.
The Coddingtons say their management style has a large impact on the welfare of their cows. They pride themselves on the treatment and care their cows receive daily. "In the barn, it is kind of an unwritten rule: You do not stress the cows, and you do not rush the cows," Jessica says.
Jessica and Kaitlyn describe viewing their cows as pets and even friends. The sisters say the closeness they have with all the cows in the herd has obvious benefits, visible even to outsiders. "Our vets and people who come into the barn and walk among our cows are so shocked; they tell us our cows are so friendly, so relaxed and so nice to work with," Kaitlyn says.
Their investment and dedication to good cow management are also important due to their impact on milk quality. The farm switched to sand bedding about eight years ago. Kaitlyn says this, coupled with freestall housing and their diligent management, has helped tremendously with keeping somatic cell count (SCC) and cases of mastitis low. Their herd's SCC averages around 70,000, but they saw numbers as low as 52,000 this past summer.
Strict milking procedures also help keep their bulk tank bacteria levels low. Kaitlyn says the farm's procedure involves a foam teat dip, fore-stripping, a second foam treatment and finishes with a wipe of the teats. She says following these steps and maintaining proper sanitation of their facilities and tools, in addition to their management practices mentioned above, affords them average bulk tank bacteria levels of 6,000 per millilitre total bacteria count, which sometimes drop to as low as 3,000 per millilitre total bacteria count.
Another key factor in keeping their herd's SCC low is selecting bulls with low SCC. Kaitlyn says they aim to pick bulls with "better than average" SCC numbers and are always looking to lower SCC in future generations of their herd.
The Coddingtons have focused their herd's genetic improvements on producing strong commercial cows. To them, an ideal cow has good feet and legs and will last a long time in the herd. They have a mature herd that is nearly 80% A2A2 and polled. Transforming into an A2A2 herd is something that has been achieved partially by accident. The farm has been working with polled genetics to improve calf welfare by eliminating the need for dehorning, for the past 10 years, and through that experience they have discovered the polled trait is commonly found alongside the A2A2 trait in the bulls they use. However, Kaitlyn says she sees A2A2 as the future of the industry, and they have shifted towards actively promoting the frequency of A2A2 traits in their milking herd. She also says the high percentage of polled animals in their herd is what sets them apart from other dairy operations.
As they look towards the future, the Coddingtons have observed the progress made in Europe to eliminate leukosis in dairy cattle and are now working on achieving similar results on their farm.
Bovine leukosis is a disease caused by the bovine leukosis virus (BLV). It is a blood-borne disease transmitted through contact with blood or white blood cell-carrying bodily fluid of an infected animal. Signs of the disease tend not to appear until later in life. Because of the older age of many cows in their herd, Coddington Farms became concerned with the risk of leukosis in their cows and began the process of eliminating it about six years ago.
To accomplish this, they test cows before they are bred and, if a cow is determined to be positive for leukosis, they will not feed her colostrum. The calves are fed milk powder, or a milk taxi is used to collect milk from cows they know have tested negative for leukosis. This ensures calves do not consume milk from the bulk tank, eliminating the risk of disease transmission through milk.
"It's something that can be passed on from mother to daughter through her colostrum, so we work [the elimination of leukosis] into our repro and our A.I. program. So far it has been working; I wouldn't really say it's a challenge, but it's been a process, and we are really excited for when we're free of leukosis," Kaitlyn says. The farm has also taken a similar approach towards eliminating neosporosis but have a larger number of cows still carrying the disease compared with bovine leukosis.
In the meantime, Kaitlyn and Jessica are growing into their roles on the farm. Kaitlyn recently graduated college and focuses on the farm's calves; she monitors herd health and employee management. Jessica is balancing school and work on the farm, where her role focuses on reproduction, genetics and assisting Kaitlyn with some of her duties. With more time and experiences spent off the farm, Kaitlyn says she has come to recognize how successful their operation is. "I think when I started to tour farms with my school, I realized how well we are doing in protocols and management," she says.
Kaitlyn and Jessica explain that if their younger siblings decide to become more involved on the farm, it could determine farm management in the future. Despite the large size of their family, the sisters assert their father has created opportunities for all his children to be involved in the farm should they choose to do so. This leaves the door open for the Coddington children to decide how the farm will fit into their lives and how they will fit into life on the farm.
PHOTO 1: Installing proper ventilation to reduce heat stress was a top priority when the Coddingtons planned their 2018 barn expansion.
PHOTO 2: Coddington Farms modeled their double-20 parallel milking parlour upgrade after a farm in upstate New York.
PHOTO 3: Looking towards bettering their herd's future, the Coddingtons have spent the last six years working to eliminate leukosis and neosporosis in their animals.
PHOTO 4: Kaitlyn Coddington says good cow management, freestall housing, sand bedding and bull selection help keep somatic cell count around 70,000. Photos provided by Kaitlyn Coddington.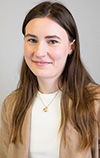 Emma Ohirko

Editor
Progressive Dairy