Christmas is a special time, but even more so on a dairy farm. There's nothing quite like a quiet blanket of snow covering the pasture, with the lights of the barn during evening chores casting a warm glow that can be seen for miles. There's a certain feeling in the air on Christmas Eve, causing all of us to slow down and be grateful for the incredible opportunity we have as Canadian dairy producers.
Often, dairy farmers have traditions they partake in only at Christmastime. Read on to discover the traditions of a few board members from the Dairy Farmers of Canada.
Ron Maynard
Port Hill Milking Company,
Port Hill, Prince Edward Island
Secretary, Dairy Farmers of Prince Edward Island
Vice President, Dairy Farmers of Canada
Christmas on the farm is a true family affair. One of our long-standing Christmas traditions is: Only family and farm owners work Dec. 25, giving our staff a well-deserved day off. This means if you aren't cooking the turkey and helping to prepare the Christmas meal, you are doing chores.
Whether you were born into our family, a recent addition or even just testing the waters, this tradition gives all of us the opportunity to get to know each other better and work together as a unit. We all want to finish up the chores as quickly as possible, so we can enjoy fellowship and food.
Christmas morning as a child was filled with anticipation, as we had to wait for my dad to finish the morning milking before opening our presents from Santa.
David Wiens
Skyline Dairies, Grunthal, Manitoba
Vice President, Dairy Farmers of Manitoba
Vice President, Dairy Farmers of Canada
The Christmas season actually begins for us when we decorate our real Christmas tree, about a week before Christmas. I love the scent of the Christmas tree in the house; it is something truly special to me, and it puts our family in a holiday mood. Christmas Eve day is spent doing chores around the farm such as bedding cows and making sure the heifers have enough feed to tide them over until Boxing Day.
By Christmas Eve, we have minimized the chores that need to be done on Christmas Day so we can spend a bit of extra time together as a family. We installed an automated milking system a few years ago, so that allows us even more flexibility on Christmas.
Once all the chores are done on Christmas Eve, we attend the Christmas Eve concert at our church in our local community. After the concert, we return home, and the Christmas celebrations begin. We have some wine and cheese along with other hors d'oeuvres, and the sound of Christmas music and conversation fill the house.
Before retiring to bed, I'll head to the barn to make the night rounds, clean up around the milking stations and make sure the cows are comfortable.
On Christmas morning, we do the basic chores in the barn, which includes feeding and bedding the cows along with cleaning the milking stations again. Right after breakfast, we have our family gift exchange. We usually attend the church service, which is followed by spending the rest of the day with the family at home.
After dinner, if the weather is good, we'll do some cross-country skiing on the beautiful trails we have along the river valley behind the farm. The rest of the day is spent visiting and playing board games.
I have many fond memories of Christmas as a child. There were nine children in the family, and the excitement was infectious. In those days, we were milking in a tiestall barn and would haul in double the number of square bales and set them up just out of reach in front of the cows.
Chores would always be done in record time on Christmas morning from all the extra work having been done the day before. After chores, we would have breakfast as a family before we were allowed to open the gifts. I could have sworn my parents dragged out breakfast as much as possible as we were impatiently waiting for the opportunity to open the Christmas presents. I will never forget the anticipation and the wonder of Christmas morning.
Last Christmas was pretty special. The snowfall began Christmas morning. The chores were finished, and the milk truck had come. It snowed heavily all day, and the roads were closed due to the heavy snowfall. The fresh layer of new snow glistened in the sun and created a peaceful blanket over the farm. The peaceful isolation of the day made all the busyness of the rest of the year seem like a world away. What a blessing.
Pierre Lampron
Ferme Y. Lampron & Fils,
Mauricie, Quebec
President, Dairy Farmers of Canada
I love Christmas on the farm. It is a very special time of year, when we can come together as a family and spend quality time. There is always a sense of excitement at Christmas, and this has stayed the same for me since I was a child. Christmas music, decorations and snow falling are all things that create a wonderful ambience on our farm around the holidays.
Our family's tradition for Christmas morning is: We get up, take care of the chores, have breakfast together and then open presents. Later in the day, we will often get together with our extended family, but on Christmas morning, it is just Annick and I and the kids. And the cows, of course.
One thing that never changes is our routine in taking care of our cows and making sure the chores are always done. We feed them, milk them and clean them on Christmas Eve and Christmas Day, as if it were any other day of the year. Our cows are unimpressed by the festivities.
But I enjoy the consistency of this and the calmness of the barn, as the holidays can be hectic. This was the same routine we had when I was a child; we always did our chores and took care of the cows before anything else, and I can remember excitedly trying to get everything done so we could celebrate.
I always loved going to midnight mass on Christmas Eve and seeing our church packed with family and friends. We would head home afterwards, for food and, of course, presents.
One fond memory I have of a past Christmas was when my first-born son was a baby and we, as a family, participated in our community's live Nativity scene. I was Joseph, Annick was Mary, and Gabriel was baby Jesus. It was a great way to be a part of the festivities in our community.
On behalf of Dairy Farmers of Canada, I want to wish our producers a very Merry Christmas and hope you all get to enjoy some of your favourite family traditions as well.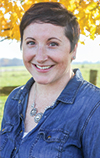 Jess Campbell

Freelance Writer
Strathroy, Ontario