When Adieu Farms decided to rebuild after a fire took their barn, along with 21 calves and a few cows, in July 2020, they turned to their longtime supplier to get it done as quickly as possible.
As reported in the May issue of Progressive Dairy, Adieu Farms celebrated the completion of their new facility this past March, inviting over 1,200 visitors to their farm in Waterloo, Ontario. Stacy Frey, fifth generation on the farm, says it went well but was busy, as it was the first open house in the area since COVID-19 restrictions had been lifted.
Stacy and his wife, Val, have four children (three boys and one girl) and operate the farm alongside his parents, Murrel and Wilma Frey. They now milk 55 cows in a double-eight GEA Global 90i parallel parlour and grow their own corn, hay and straw on 300 acres.
Building on trusted relationships
During the one-and-a-quarter-year rebuild process, their neighbours – Dennis Martin and Trevor Martin, and his father Kevin – offered a helping hand by caring for their herd. Frey says they are thankful for their friends because this arrangement allowed them to focus on the rebuild. "Young animals – heifers and calves – that were born would go from Dennis' to Trevor and Kevin Martin, who would raise the heifers, and when they would be close to calving, they would ship up to Dennis' to be milked," he explains. Frey adds that the fact they share some equipment with their family nearby has helped manage their expenses.
Frey's supplier Conestoga Agri Systems, located in Waterloo, Ontario, also played a large role in the rebuild. Working closely with Dave Kabbes, a dairy equipment sales representative with the company, the family visited some farms to gather ideas before breaking ground in December 2020. "I didn't dream up this design of barn; it was more like we visited some barns – and the first one we went to, we liked the design and setup, so we pretty much copied that setup," Kabbes says. They were able to access that farm's blueprints as well as insight into what worked and didn't work, so they could tweak the plan to best fit their needs. He explains, "We've done a lot of freestall barns, and our in-house motto is: If we thought we did a good job on the last barn, we try to make the next one better."
The facility
One tweak was a custom-built feed room – designed to be fully automated, it includes four 20-by-90 forage units, one 20-by-80 high-moisture corn unit, two XL200 unloaders, a 350-cubic-foot Spiro mixer, feed room conveyors and an 8-tonne, 450-cubic-foot feed bin. "At this point, we haven't added that final [automated] touch to it; it's still you press buttons to start things and to shut them off. … There's a mixer in the feed room, so all the feed runs into that stationary mixer. Mix up your recipe and then put it into a motorized feed cart which we drive to deliver the feed," Frey explains.
Kabbes says, "In any barn design, you can't just think of today or tomorrow; you do need to put a little thought into, say, 20 years from now – what's the industry going to look like?" Leaving things open to accommodate future needs is a strategy they used while conceptualizing the feed room. The size of the silos laid the framework; however, there is room for a silo on the south side if, down the road, their herd doubles and they want to switch the youngstock side of the barn into milking cows and build an additional barn for young and dry animals, Frey says. This room is adjacent to the 140-feet-by-356-feet main building which houses the calves, heifers, and dry and transition cows, while the other side houses the milking herd and nursery.
Their shared vision of building with practicality and future growth in mind led them to install a parlour instead of an automated milking system. Frey explains, "One way is not the correct way, you can do anything – you can do it many different ways. Whether you use robots or not, for our [herd] size, we were maxed out for one robot, so we would have probably had to go with two robots. Two robots would have been overkill for quite a while."
He adds, "With robots there's definitely advantages, but we have to be in the barn anyways; our animals are there, and you have to manage it one way or another."
Rubber mats and straw bedding (stored on top of the calf pens – another feature borrowed from visiting farms), along with cow brushes and steel stall dividers make for a comfortable housing situation. Not to mention their forced air ventilation system consisting of cyclone fans, air curtains and chimneys. Although they have not yet experienced a summer in the barn, Kabbes explains, "On ventilation, when planning a barn, we use a lot of pre-existing models to get our basis from. … With how the barn is situated, we're relying on what's worked well in the past and then keep building on that."
The barn was positioned to maintain pasture access for the cows. Frey states, "We plan to still utilize the pasture behind the house – it will be a free-choice option. A lot of people think they'll want to stay in the barn, especially in the heat of the day, which I'm sure they will come June, July, August."
Take-aways
Although the farm ran into a couple of road bumps along the way, the Frey family is content with how things proceeded with the new build. "[The build] was delayed in being able to get going – it was basically trying to get permits. We ran up against being too close to St. Jacobs boundary, over by the old [barn] location, so we shifted to the east side of the house to comply with manure storage and St. Jacob settlement boundary."
Frey reports that since moving in, the cows "seem to be calving really well with very little problems (knock on wood), and as far as production goes, we haven't really had to push them too much just because we have enough animal numbers and lots of milk." He doesn't want to have to dump milk or lose any animals, especially since they lost their youngstock in the fire, so they will probably need that milk until August when the new young ones start calving.
Since becoming operational, Frey notes they have found there is the need for an exhaust fan in the feed room. "The barn has the chimneys, but the feed room doesn't. There are no animals, and so you're not thinking about needing that air to be fresh all the time; it's just the dust [from the feed], that's all," he says. Adding, "The other thing is the manure pump room at the back of the barn … there we would probably suggest an exhaust fan in there too – every time the agitator runs, [it would be nice to have an] exhaust kick in at the same time those things are on just to keep the smell down."
With multiple parties involved in building their new facility, clear communication was vital. Kabbes notes, "When you're planning a barn, it's best to get the trades you're working with to all sit around the table and work on plans together, so you get the desired outcome." This team mentality, along with the help from trusted suppliers, family and friends, has led Adieu Farms to where they are today.
PHOTO 1: The new dairy facility at Adieu Farms in Waterloo, Ontario.
PHOTO 2: The Frey family: Murrel and Wilma (left) and Stacy and Val Frey.
PHOTO 3: An inside view of the new facility where young calves and dry and transition cows are housed on the right (east side) and milking cows (and parlour) on the left (west side).
PHOTO 4: An inside view of the new facility where young calves and dry and transition cows are housed on the right (east side) and milking cows (and parlour) on the left (west side).
PHOTO 5: Calf area with storage for straw bedding above. Photos by Lora Bender.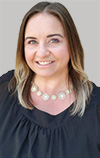 Lora Bender

Editor
Progressive Dairy