Eggnog … a sweet treat that is a traditional beverage for many at the Christmas season.
While its origins are debated, a quick Google search reveals many possible variations across continents and centuries of the popular drink. In Burnaby, British Columbia, many people agree the best eggnog is produced by Avalon Dairy. Their eggnog is a local favourite, made for decades using the same old family recipe.
Avalon Dairy was founded by Jeremiah Crowley in 1906 and is now the oldest continuously operating dairy and the only independently owned dairy processor in British Columbia. Crowley had gone West following the gold rush but found his gold in cows instead of mining after buying a farm with a small herd of cows.
The company's website has an interesting glance into its history. "It survived war. It outlasted depressions. It sidestepped meddling politicians, uncompromising bankers and an unrelenting wave of conglomeration. Its values, and its iconic glass jugs, never changed," the website reads.
The dairy has been in the same family ownership for its entire 112 years of existence and has been a leader in the industry. It was the first dairy in British Columbia to provide organic milk options, leading the trend in that direction.
While conventional dairy products are also produced in this full-service dairy processing plant, organic sales are now the majority. The dairy operates in a modern 40,000-square-foot plant and processes 12 million litres of milk per year.
The dairy produces all varieties of milk, heavy creams, sour cream, cottage cheese, yogurt, ice cream and cheeses, as well as selling organic eggs. All products are 100 percent natural and produced in a gluten-free, nut-free facility. Avalon Dairy is well-known for its chocolate milk, with many admirers of that product as well.
Milk is still available in glass bottles, first introduced in 1915, which keep milk cooler, fresher-tasting and longer-lasting. There is no wax or paper taste. Furthermore, they can be returned, reused and recycled. Milk is also marketed in plastic and in cartons, giving customers a choice.
Avalon's eggnog is the cream of the crop at Christmas and is available only from Nov. 8 until Dec. 31. It is a seasonal item that has limited consumer appeal outside of this short time frame, as in January people tend to return to their normal dairy products.
Its popularity is due to its unique taste quality; the dairy's goal is to maintain the highest quality standards of ingredients and production. In addition, this is a "craft" product – made in small runs according to orders, not in mass runs. This ensures the freshest products possible on retail shelves. The dairy has utilized the same suppliers for several decades, with the result that their product remains very consistent.
Avalon has a strong commitment to high quality and wants to ensure quality control extends to each farm (and from each farm to each product on shelf). It has never had an issue with inferior quality; this is in part due to the high quality standards that exist on British Columbia dairy farms as well as the processor's own quality control.
The milk they use is traceable; all the milk they use comes from within a 50-kilometer radius of the plant. If there is a quality issue, it can be isolated to the truckload and to the individual farm where it originated. This company stands behind the quality of its products and takes responsibility from farm to table.
Its milk originates from farms committed to organic production. Their farmers do not use commercial fertilizers, chemicals or pesticides, and the cows are fed only organically grown feed. Cows have access to pastures for fresh feed and freedom to roam.
Russ Rimmer, CEO of Avalon Dairy, has been involved with the dairy industry for nearly 30 years. He explains the dairy is committed to sustainability and recyclability, and a "level of assurance of our quality that we want to pass on to every consumer."
For more information, check out the website (Avalon Dairy).
PHOTO 1: Milk from Avalon Dairy is still available in glass bottles, first introduced in 1915. It is also marketed in plastic and in cartons, giving customers a choice.
PHOTO 2: Russ Rimmer is the CEO of Avalon Dairy, an independent milk processor providing fresh milk in British Columbia for 111 years. Photos courtesy of Avalon Dairy.
Alice Guthrie is a freelance writer based out of Hagersville, Ontario.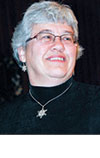 Alice Guthrie

Freelance Writer
Hagersville, Ontario
Before commenting on our articles, please note our Terms for Commenting.