Knowing where your food comes from is one thing, but being able to track it all the way back to the farm is another. A new brand of ice cream recently hit the Canadian market with a special feature added: 100 percent traceability.
Lori Joyce, founder and CEO of the Betterwith ice cream brand, says finding a source for her ice cream was initially difficult since she was a newcomer to the dairy industry and had to start from scratch when looking for a milk source. Despite antsy investors, she remained adamant that her ice cream remained 100 percent traceable, even forgoing the peak summer sales season in order to maintain the integrity of her product.
"I missed summer because I couldn't find the right farm," Joyce says. "Obviously with ice cream, the right time to be in the market is summertime, and in Canada, ice cream is in the most competitive aisle in the grocery store."
Even after missing the best initial selling season, Joyce maintains that it was the right choice to delay until she found the right milk source. "I really felt strongly that for me to do this properly I needed to do it right, and doing it right meant having all of the right ingredients," Joyce says. "It's kind of like you have one chance, so make sure you do it properly and you stand out when you do it."
Joyce initially started out her ice cream brand to complement the cupcake business she cofounded in 2002, which has grown to one corporate bakery and nine franchised locations. "The whole premise of the ice cream was to be a product extension onto cupcakes, hence the name "Betterwith" because cupcakes are better with ice cream," Joyce says. "But now it turns out that everything is better with ice cream."
While Joyce is a newcomer to the Canadian dairy industry, she does have experience with farm life and animals, and has great respect for agriculture. Her parents emigrated from Croatia in the '70s and bought a small hobby farm near Victoria, British Columbia, where she was born and raised. Joyce says growing up with a direct connection to food sources shaped how she lives today. "I recognized from a very early age how important and how significant it is to understand where all of your food comes from," Joyce says. "And now that I have two young boys, what I'm most proud of is to be able to show them that."
Joyce says she decided to build her brand on traceability to help her stand out in a competitive market. "In Canada, there's been a lot of innovation in the non-dairy sector. There's coconut-based, there's vegan options, there's fat-free and dairy-free options, but I didn't really find a lot of strong innovation in the actual dairy category," Joyce says. "I felt that one of the strong obvious things was traceable milk, which is very unique to Canada because our milk is mainly pooled, so I felt that there was a real opportunity there."
Joyce says it took a long time to find a farm since milk is pooled and producers are generally part of the quota system, but the wait wasn't without its benefits. "One phone call would lead to another phone call, would lead to another phone call, and in the meantime, you're getting your name and footprint into the industry and you're developing relationships," she says. "People in the dairy industry here, once they realized that I was serious and I wasn't going away, became very supportive and very helpful. The local person here for the B.C. dairy milk board was incredibly helpful."
After several telephone calls and some persistent investigation, Joyce's search led her to Lavender Farms, a 140-cow dairy farm in Abbotsford, British Columbia. "All that work totally paid off," Joyce says. "I was driving up the farm and up the driveway, and it was so picturesque, from the green pastures and white fence to the beautiful family doing things very traditional and clean, with the highest respect for their animals, so it worked out really well."
She says deciding which farm to choose is quite simple for her. "I am by no means an expert or a dairy farmer, so I just look at the animals," she says. "I look at the environment they're in; I look at how the animals are behaving, if the environment is clean, and the people of the farm, what they're like."
She says a shared value system and mutual respect and care for the animals is fundamental. "You can tell, when you walk onto a property, if those animals are happy," Joyce says. "If they approach you, if they look at you, or if they're intimidated, if they're scared. You can read a lot from the farmer by how his animals react. Every time I've come to this farm to do photo shoots and to meet with the owners, those cows are approachable and curious, and when animals are curious, they're comfortable and happy."
Joyce says Lavender Farms has set the standard for other potential sources. She says that if the time comes to expand, she doesn't foresee a problem with sustaining traceability. "There are independent dairy farmers in every province, and I find that now that I am in the market with a little bit of experience and a product to show, I think it will be a lot easier to find other sources."
Joyce says traceability is beneficial to the farmer because they get paid more for their milk. "In Canada, there isn't a demand for traceability yet, so when I take their milk, they get paid more, so it's in their best interest to give me their milk."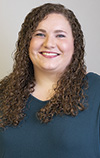 Carrie Veselka

Associate Editor
Progressive Dairyman
PHOTO: In founding her 100 percent traceable ice cream brand, Betterwith, Lori Joyce says that since she's not familiar with the dairy industry, she judges the farm by the quality of care given to the cows, because happy cows give quality milk. Photo provided by Lori Joyce.
Before commenting on our articles, please note our Terms for Commenting.