When Remco and Karen Brinke decided to join his parents, Ben and Annemieke, at Lintfield Farms in Granton, Ontario, they knew the original double-5 parlour and three-row freestall barn built in 1990 wasn't going to be big enough for the farm growth necessary to support two families.
With a limited budget, the family opted to build a low-cost freestall barn and double-10 parlour in 2004. With this, they could milk their herd of 130 cows and use their savings to invest in more quota.
As their quota holdings grew, they extended the newer freestall barn in 2011 to accommodate more cows. The larger herd size strained the parlour, which was a simple design welded on-site in the corner of the freestall barn.
See more of Lintfield Farms in this slideshow.
"It did its job," Remco Brinke says, "but it got to the point it was maxed out for the throughput we wanted."
A milking shift would last four hours, which put stress on the people and cows. "It was time for a change," he says.
Last year, the Brinkes built a new parlour, holding area and herd management area adjacent to the existing freestall barn.
The parlour is a 40-stall internal rotary, which is large enough to support the current herd as well as future growth in cow numbers.
Brinke says he likes milking from the inside because it requires fewer people per milking, allows him to see more cows at once and it's easier to reach a unit that is slipping. The rotary style provides a consistent milking routine.
Overall, the new parlour "provides consistent cow and workflow, and a stress-free environment for both the animals and the milkers," Brinke says.
They typically have two people milking in the parlour and a third person fetching cows, cleaning stalls and scraping the barn alleys.
Fresh cows and lame cows enter the parlour first when the wheel is turning slower, and then they speed it up for the rest of the herd. They regularly milk 190 cows per hour, and with a herd of 300 to 315 milking cows, they are done with milking and washdown in two hours or less.
Brinke handles 10 to 12 milkings a week, and lately, his two older children are taking turns to fill the second position in the parlour. If he needs to, Brinke can also milk alone by simply slowing down the rotation speed.
The parlour portion of this building is insulated for warmth. They also designed the clean-in-place (CIP) system to recover the acid rinse and reuse it as pre-rinse in the following cycle.
All herd management activities are done just past the parlour. There is a sort gate right off the deck to direct cows into a treatment area or back to the barn.
Breeding is done both morning and night, and the computer automatically sorts these cows based on the reading from the pedometers. Vaccinations are done on Monday, dry-off and hoof trimming on Tuesday, and herd health every other Wednesday. On Thursdays and Fridays, Brinke says he might pick a few cows for hoof trimming.
Cows will be sorted for these activities based on computer-generated lists, or a stall can be manually selected during milking, and the cow within it will be sorted. The sort gate will not open if the previous cow is still on the deck, and the parlour will not progress until the sorted stall is empty.
"It is very accurate that way," Brinke says. "For that matter, it's a simpler sorter than anything else out there."
He adds that it is far more accurate than his previous sort gate off the old parlour, which was located farther down the exit alley.
"One thing we didn't want with the new parlour was to have any bottlenecks," Brinke says. "The sort system in the old parlour worked, but it slowed cow flow coming out. If one cow was standing in the sort gate and didn't want to move, it created a bottleneck."
The new sort area has more room to work than his previous space. There is water access, a small straw pen and a row of headlocks. Extra gating allows Brinke to separate groups of cows within the sort area.
The trim chute is here, too, and he can pre-load four to five cows into the trim area, which helps to move them through the process quickly.
Herd work only lasts about 30 minutes, and most days, the cows are all back in their pens by 7:30 a.m. The morning milking starts at 5 a.m. and the afternoon one at 4:30 p.m.
With these activities occurring outside the parlour just after milking, they don't have to bother the cows throughout the day. "We just leave them be," Brinke says.
The only time they are in the freestalls is when they add fresh sand every Tuesday morning.
The Brinkes like to keep things simple on the farm. They put together a pre-mix of feed that lasts four to five days and cuts down on the feeding time each day. Cows are fed once a day. Three separate rations are mixed for the lactating cows, dry cows and heifers.
Family labour includes Ben and Annemieke, and Remco and Karen and their four children, ages 8, 10, 12 and 13. In addition, they have three full-time employees and two part-time employees. The labour force is shared between the dairy and the family's swine operation.
When herd size dictated a change in the calf barn, the Brinkes looked at their labour situation and decided to sell the automated calf feeder they had been using for eight years.
"It was either buy a second [automated feeder] or go back to standardized feeding," Brinke says.
He adds that standardized feeding is easier to manage, and therefore provides more opportunities for their children to help or for employees to take over a feeding.
Calves are bottle-fed twice a day with the milking time. Responsibilities are split between Ben and Karen, and the children each help once a week.
By switching from automated feeding to bottles, the Brinkes could feed whole milk instead of milk replacer. They feed up to 6 litres per calf per day of whole milk fresh from the line. "The calves are growing well even on a little less milk," Karen Brinke says.
Typically there are 35 to 40 calves on milk, and they've had more than 50 at times. They start weaning at 7 to 8 weeks old by cutting the amount of milk in half for a week. The next week the milk is cut in half again, and by 10 weeks old, they are fully weaned.
Calves are housed in the original freestall barn. They installed a positive-pressure tube ventilation system and put in chimneys in place of the original roof vent to keep snow out.
The individualized feeding system helps to maximize the space in the barn, Remco Brinke says. They struggled with overcrowding in the group feeding system, and now they have more control over each calf.
The individual pens are bedded with straw, and at 5 to 6 weeks old, the calves are switched to pair or triplet housing. Prior to weaning, each calf is given Bovi-Shield and dehorned.
With a young third generation growing their involvement in the farm, the Brinkes are mindful to adopt a system that provides opportunities for them all while maintaining their philosophy to keep things simple.
PHOTO 1: A new 40-stall internal rotary parlour has increased the efficiency of milking cows at Lintfield Farms in Granton, Ontario.
PHOTO 2: Karen and Remco Brinke welcomed visitors to their farm in September as part of the Progressive Dairy Operators (PDO) Outdoor Farm Show bus tour.
PHOTO 3: If sorted off the parlour deck, cows will make their way into a herd management area for vaccinating, dry-off, herd health or hoof trimming. This area is located alongside the holding area.
PHOTO 4: This layout shows the design the Brinkes used for their new rotary parlour, holding area and sort area. Photos by Karen Lee.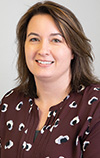 Karen Lee

Editor
Progressive Dairyman