Farming around weather patterns is a constant challenge for dairy producers. The frequent rains this year are resulting in very tight windows for fieldwork.
Thanks to an innovative silage filling solution built at Celmar Dairy in Norwich, Ontario, harvest moves faster, allowing them to do more when time is short.
When Marcel and Annika Steen set out to farm on their own in 2006, they looked to automation as a way to farm with minimal extra manpower. They utilize automated milking and feeding systems in addition to a silo-filling dump bay.
The concrete in-ground pit with conveying system enables them to quickly drop a load of silage and head back to the field while the equipment blows the crop into the upright silo.
"For us, we can fill a silo faster than a bunk," Marcel Steen says. "We don't have to wait for a packer, and it can blow 2 tons per minute up the silo."
It uses a 200-horsepower, electric-driven blower, which fits with the three-phase power the farm installed four years ago for its automated feeding system.
The system also eliminated a need to buy and operate another tractor to fill the silo. That savings, along with its efficiency, has helped pay back the investment quickly. The farm spends $1,000 to $1,200 to put up feed for the year.
Steen works with his dad and two brothers to crop 1,000 acres between their four farms. His dad and one brother cash crop while his other brother has a dairy farm. They each own their dairy equipment and custom-hire services from the crop operations.
"I don't have to tie up money on stuff I don't use often," Steen says of the arrangement.
By commingling the land, it increases options for crop rotations, but it also makes moving manure a challenge. A drag hose system is used to transfer manure faster than trucking.
With 1,000 acres to cover, speeding up harvest is a big advantage. The Steens have two 28-foot-by-110-foot silos on their farm. Once the haylage silo is filled, they flip the deck in the dump bay to fill the second silo with corn silage. After that, the deck is removed and put in the shed for winter.
A third silo, at 20-feet-by-80-feet, is filled with high-moisture corn, and they fill bags with some buffer silage as Steen says he doesn't like to feed green silage. When needed, they will cut open the entire bag and blow it up the silo.
The silos work well with the farm's automated feeding system. The feed kitchen is set up with conveyors from the silos to overhead hoppers that automatically refill as needed. There are also mineral bins and shredder tables for bales.
The system automatically fills, mixes and delivers 25 loads of feed per day broken into six different rations – two for heifers, one for far-off dry cows, one for close-up dry cows, one for first-lactation cows and one for later-lactation cows.
"You can play with different groups and move groups," he says. "There are endless possibilities."
Steen estimates it can feed 200 to 230 cows and heifers. The quicker it can be filled, the higher its capacity.
The Steens keep their animals from 2-month-old heifers through milking and dry in the main barn, which makes it easier for feed delivery.
"We don't think about feeding anymore, at least on a day-to-day basis," he says.
Daily tasks include sweeping the floor, topping off mineral and keeping the bale tables full. All baled hay and pre-chopped straw is purchased from places that grow and harvest it well.
Feed is pushed up by the feeding unit each mix, and each group of animals gets fresh feed delivered four to six times a day. They never clean out old feed in the winter, but will pick it up once a week in the summer as needed. "We never seem to have leftovers," Steen says.
For maintenance, they replace the knives every year, and over the life of the unit, they have put on a new caster wheel and battery.
They use three milking robots for their herd of 170 cows. These were recently replaced with the latest model offered by the company.
The newer milking robots are quieter and are saving the Steens 20% on their hydro bill. Steen says he likes the i-flow design. "It is easier to deal with," he says. "We used to fetch 60% of fresh cows after their third milking. Now it is less than 10%."
Other than fresh cows, their philosophy is to be a no-fetch farm. This helps in reducing labour needs and seems to work for them, with the herd averaging 3 to 3.2 milkings per day and 36 to 37 litres of milk per cow per day.
On the side of the barn with two robots, cows are sorted through an automated footbath after milking. First-lactation animals are all on one robot on the heifer side of the barn where there is a centralized footbath.
It is a slatted floor barn with robotic manure scrappers.
For added cow comfort, they have a temperature-controlled sprinkler system and switched to flexible stalls and deep bedding last year.
"We bed with cardboard. I think it's better than sand," Steen says. It is soft and stays in place. Mixed with lime and water, it is heavy, and the cows don't kick it out of the stall.
They get one pre-mixed load per month from Buffalo, New York. Once on the farm, it is mixed with 25% shavings to fluff it up. Bedding is added to stalls with a side shooter on a skidloader once a week.
Prior to deep bedding, they were struggling with wear on the cows' hocks. Since changing, most of the hair is back, the cows are cleaner and they see less mastitis, he says. Somatic cell counts were 100,000 or less in the winter and 150,000 in the summer.
Annika Steen manages the farm's breeding program. She says she likes to breed for high type, milk and fat.
They aren't using genomic testing, but are putting some sexed semen in heifers and first-lactation cows. Cows that are open over 150 days in milk or one they don't like, they will breed it to beef.
The automation allows the Steens to be the primary farm operators with little extra help. For a while, they only had one part-time employee, but have recently increased that to a full-time position.
While also raising a family of five young children, the Steens have a lot to do. "There's not much time for us, so we're trying to automate as much as we can," he says.
PHOTO 1: The Steens built a dump bay for unloading silage. A 200-horsepower, electric-driven blower puts the silage in the silo.
PHOTO 2: Marcel and Annika Steen run the farm with only the help of one full-time employee. Automation gives them time to spend with their five young children (two of whom were at school). Photos by Karen Lee.
Click here to see more photos of the Celmar Dairy operation.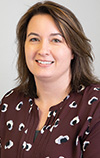 Karen Lee

Editor
Progressive Dairy