Maintaining a position in the top 20 in any field is not something that comes about by accident. It takes hard work and dedication, but that is something not in short supply at Dual Lane Farms, where Bill Kloepfer and his four sons live and work.
Bill's dad, Vincent, moved to the Ingersoll, Ontario, area from the west in 1938 when he was just a youngster. His dad passed away in 1944, leaving 16-year-old Vincent as the operator of the family farm.
In time, Bill gradually took over from Vincent and, by 2000, he formed a company, Kloepfer Holdings Ltd., to bring his sons, Darrell, Dwayne, Dan and Dale, into the business.
At that time, the family was milking 65 to 70 head in an old bank barn. Cattle had to be shifted to allow milking in the outdated facility, which had not been designed for that many cows.
In 2004, a new barn was built with 150 stalls and a double-10 parlour, and more quota was purchased. In the new facility, now milking 96, production doubled in about a year.
A 100-foot addition was built in 2008 to provide more calving pens. Cow numbers had risen to 140 cows, and a switch was made to 3X milking. "That does pay good dividends," Bill states.
Spring 2017 saw a second 100-foot addition, providing larger calving pens and bigger stalls for dry cows – 52 inches instead of 48 inches. They now milk 175 head with a total dairy herd count of 450.
Bill is semi-retired now but is still first in the barn every morning and does morning milking duty. He is often the one to do runs for parts but otherwise is free to do whatever he likes. He chooses to keep active.
Sons Darrell and Dale mostly deal with livestock, herd health and milking chores, while Dwayne and Dan are mostly involved with cash crops and field work.
Dwayne mixes feed in the mornings, Dale in the afternoon. Dan also runs a family-owned (not commercial) grain elevator. All four know every job and can fill in as needed, and each can take every other weekend off.
Generally, one livestock man and one crop man are off, leaving that area still covered at home. Three full-time employees (one for crops, two helping with livestock) work on the farm as well. Darrell does most of the bookwork on the farm.
They have quota for 290 kilograms per day, maintaining an average production in the herd of 44 litres per day. This gives them a ranking of fourth in Oxford County, 13th in Ontario for production and 11th in Ontario for herd management.
The herd consists of registered Holsteins, type-classified and on DHI. Dale points out 40 percent of the milking herd is third-lactation or higher, which boosts their herd's average production.
Achieving and maintaining such excellent results requires ongoing effort. Dale says high production "starts with the dry cows. If they don't have the proper nutrition and energy balance, you will have problems all the way through 'til next lactation. It might not be visible to the eye, but it will affect the bottom line of your milk production.
We also have discovered on our farm those dry cows that calve in with an underlying issue plays an issue with calf health. They just seem to take longer to get going and are more prone to getting an illness."
From maternity pens on, the key is observation and attention to detail. Cows are brought in for a vet check at approximately 40 days post-calving. Their vet comes in every other Friday to check fresh cows and address any concerns such as cysts, cycles or whatever.
Breeding occurs 65 to 90 days post-calving, depending on individual cow production. Highest producers are given more time due to the difficulty in drying cows still producing substantial amounts. Average time for cows to check safe in calf is 153 days in milk.
Dale comments they breed for type, not just production. "We want to get up in the morning to milk our cows; we want to milk nice cows," he states, adding that almost half of their fresh heifers are sold to a local buyer.
The TMR feed is available to the cows 24-7. The Kloepfers do not have an automatic feed pusher, so this is done with a tractor.
Dale doesn't want a robot; he says time spent pushing feed allows him to observe the cows at close range each time. Dale tries to have an eye for sick animals.
He notes small changes in individuals – perhaps something as small as the set of an animal's ears – can signal the beginning of problems. Sand bedding in the dairy barn also contributes to good cow health.
The Kloepfers work 3,000 acres, growing corn, beans and wheat as cash crops. More corn and an alfalfa/grass mix is grown for feed. They purchase a protein mix dairy supplement and feed cottonseed for energy.
Bill says he feels selling bull calves as drop calves is not a good idea and has built a feedlot where he finishes all their Holstein steers. The feedlot can handle 2,300 animals – about 1,000 are their Holsteins, and the remainder are purchased beef stockers.
This busy family works hard but also enjoys time off. They share a cottage near Loring, Ontario, with extended family, and all have opportunity to spend some time there.
Bill and his wife, Linda, travel to Arizona in the winter. Darrell and his wife, Rebecca, spend time with their two children, enjoying sports and travel. Dwayne and Sherri are busy with three children, Dan and Sarah with four children.
Dale and Patricia have two young children. Dale says he "just enjoys farming," but he also keeps busy with baseball, hunting and snowmobiling in his time off. He is a member of the Oxford Holstein Club and does fundraising for baseball and local parks.
PHOTO 1: The approach to Dual Lane Farms near Ingersoll, Ontario.
PHOTO 2: Two generations of Kloepfers work together at Dual Lane Farms to manage the dairy farm, feedlot and field work. Farm members include, left to right, Dwayne, Dan, Bill, Darrell and Dale Kloepfer. Also pictured is Bailey the dog. Photos courtesy of Dual Lane Farms.
Alice Guthrie is a freelance writer from Hagersville, Ontario.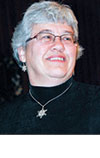 Alice Guthrie

Freelance Writer
Hagersville, Ontario