A background in dairy farming and a love for science led Bill Vanderkooi to own and operate EcoDairy. This farm focuses on agritourism and research. In doing so, it regularly adopts systems that are new to British Columbia and sometimes Canada.
The latest systems are related to feeding – one for cows and the other for calves.
Vanderkooi was raised on a family farm in Abbotsford, British Columbia, where his parents, both immigrants from Holland, had a small dairy herd. After returning from college in 1994, he became involved in the feed industry, as well as with the family dairy. The original herd numbered 80 head of milking cows, which increased to 800.
The family acquired two more farms in Saskatchewan; three brothers managed those and the home farm, while Vanderkooi took responsibility as general manager, visiting each operation as needed. By 2004, the business began to diversify with investments made in agribusiness. In 2008, the family reorganized and implemented a succession plan, with the brothers keeping their farms and Vanderkooi maintaining the agribusiness part.
In 2009, he started Nutriva, a grassroots business with a focus on innovation for the dairy, egg and beef industries. Its three pillars represent the value chain of feed, farm and food. In 2010, Bakerview EcoDairy, an agritourism barn in partnership with Science World, was established, with four mandates:
To create a platform for advances in agri-technology and promote agritourism.
To provide opportunities for education of dairy farming practices and products.
To focus on green energy conservation and nutrient management.
To offer a fun and experiential learning environment for the public.
The facility includes a Discovery Centre, with interactive hands-on displays; the Moozanine, a classroom space for school groups or workshops; and the Avalon Theatre, with a short film to help visitors get to know their food. Visitors can also see the dairy barn and animal exhibit.
In addition, EcoDairy is a research facility – right now focusing on omega 3 and vitamin D, with upcoming work on HydroGreen production. There is a small (1,000 bird) layer facility for research, a visitor centre, animal centre and U-pick area for blackberries and blueberries. An on-farm retail store sells their produce – milk products, eggs, and they plan to include grass-fed beef by spring.
The idea for EcoDairy came about due to several factors. First, as Vanderkooi says, "It's all about location." His property is on a major road with high visibility and is close to Abbotsford, making it a prime location for an enterprise of this sort. Second, he loves science, and this is a perfect example of the role of science and technology in food production. He has benefited from the dairy industry and wants to share his knowledge. He embraces traceability and transparency as he showcases how food is produced.
Vanderkooi is always interested in new ideas, and got into hydroponics after learning of a rancher in South Dakota who was using the technique. Hydroponic systems have been around for a while, but high labour costs and difficulties in climate control were problems. Vanderkooi is using a fully automated system, which uses belting instead of trays. He has tables stacked six high in an 800-square-foot footprint. There is no soil. Wheat or barley seeds grow with light, water and climate control (temperature and humidity), and the plants are harvested at 6 to 8 inches every six days. This small area grows the equivalent of 20 acres or more per season.
At this time, the HydroGreen feed Vanderkooi harvests is used in a finisher diet along with grass silage for grass-fed beef animals. He has plans for a larger facility to provide for the dairy herd as well. Vanderkooi is also considering providing this system to other farmers, as this fresh forage production is less costly than importing alfalfa, as many British Columbian dairy producers have to do. Vanderkooi says this system would be valuable for on-farm feed production, as it produces a consistent and higher quality feed product.
Another new technology recently adopted at EcoDairy is an automated calf rail system for feeding young calves. The calves are housed in individual pens, made with movable panels to facilitate the cleaning process. A rail between pens delivers 2.5 litres of milk or milk replacer to each calf five times per day. Vanderkooi says this system "takes feeding to a new level," stating that not only is it labour-saving, but it also encourages better growth rates, has better health benefits and lessened the mortality rate of young calves. The system is auto-cleaning and auto-disinfecting, with nipples replaced each day. Water is also provided automatically to each calf.
Vanderkooi's wife, Helinda, is involved in the business as well. She helps out with social media and EcoDairy programs. The couple has five children from age 8 to 16. They are active with sports and school activities. Vanderkooi doesn't have a lot of spare time, but most that he has is spent with his busy family or with friends. He does find time almost every day to complete an exercise regimen and enjoys an occasional competition in CrossFit. The family enjoys RV trips, time spent at their cabin and are anticipating a big family trip to Mexico in the winter, along with Vanderkooi's entire extended family. He has no worries about leaving his business; he says he has an amazing staff to run things in his absence.
Vanderkooi's operation will be featured in the 50th annual B.C. Dairy Expo farm tours on Jan. 24. Tour participants can stop by between 9 a.m. and 4 p.m. to see the HydroGreen and CalfRail systems.
Alice Guthrie is a freelance writer based out of Hagersville, Ontario.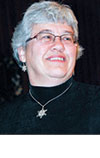 Alice Guthrie

Freelance Writer
Hagersville, Ontario
PHOTO 1: In this 800-square-foot hydroponic greenhouse, Bill Vanderkooi can grow 20 acres or more per season.
PHOTO 2: EcoDairy is located on a major road with high visibility and is close to Abbotsford, making it a prime location for agritourism and research.
PHOTO 3: This nipple mounted to a rail automatically feeds calves five times a day in individual housing.
PHOTO 4: Bill and Helinda Vanderkooi manage EcoDairy, which is part of Nutriva, the grassroots business they started to focus on innovation for the dairy, egg and beef industries. They also have five children. The Vanderkooi family includes, left to right, back row: Annabelle, Bill, Helinda, Liam; front row: Violet, Lucy and Joe. Photos courtesy of Nutriva.