Gary Sutcliffe knew he wanted the farmer connection – but did not necessarily want to be a farmer. The Huron County resident arrived from England in 2002, settling near the village of Walton, Ontario.
His farming background in England included renting equipment as needed, and he soon realized that was not an option most farmers here embraced.
He is not sure if he was the first to start renting machinery but began his business, Walton Equipment Rentals Inc., in 2003, seeing an opportunity to provide a needed service. He has seen an increase in rental activity in the past 15 years.
His focus is primarily agricultural, particularly focused on manure management equipment. His lineup includes: vertical beater manure spreaders 13 tonnes to 30 tonnes (slurry kit spreaders, too), vacuum and open-top liquid manure tanks, heavy-duty construction-style dump trailers and haylage large-volume dump trailers.
Sutcliffe works reciprocally with other companies as needed to provide clients with equipment. If someone needs something he doesn't have, he can make arrangements with another company.
For the first 10 years, 50 percent of his business was within a 50-kilometre radius; now he has a client as far away as Lindsay, which is nearly 250 kilometres.
This man has rented equipment about twice a year for the last 10 years. Once he had a client from Indiana, who initially rented then decided to purchase the item instead.
According to Sutcliffe, renting machinery makes a lot of sense, as the cost of renting is a fraction of the cost of ownership. Purchase costs are high, and then there are costs associated with maintenance, insurance and possibly debt servicing.
Not only that, but most farmers would not invest in as large equipment, so renting is often also a time saver due to the larger capacity of these machines. Another financial benefit is: Rental costs are a full expense each time used where an owned machine requires depreciation over a number of years.
Sutcliffe has more than doubled the amount of rental machinery he carries in the last year.
Jamie Beaumont of Mitchell, Ontario, has been a client of Sutcliffe's for 10 years. He needs equipment for about 60 hours per year to spread about 3,500 tonnes. Jamie says he appreciates having access to big spreaders with great capacity without the cost of ownership.
The cost of owning a large spreader would easily go over $100,000, with additional costs for shedding and maintenance. Jamie cannot justify such a large capital expense for a few days' work.
"Rental cost seems like a bargain," he states. Jamie also comments Sutcliffe's company was good to deal with and had enough equipment on hand to keep up to demand, an important feature to a busy farmer.
Last year, Sutcliffe made the decision to purchase an existing manufacturing business from his brother, who was moving on to a new opportunity. Sutcliffe also took on an equipment dealership as part of last year's expansion.
He teamed with a business partner, Larry Burns, an experienced and knowledgeable businessman whom he knew to be fair, honest and hard-working. Sutcliffe describes his partner as a "motivated firecracker" and states that Larry aids in problem-solving.
"Instead of trying to solve problems myself, I can get a different perspective," Sutcliffe says, adding, "My weaknesses are very often his strengths."
In revamping and restructuring this business, Sutcliffe has increased from two to eight employees. At this time, the once-fledgling business is actively building up inventory with 25 to 30 units in stock now, increasing the number of options available. For example, there are three different-sized spread booms to suit differing needs.
The manufacturing business is mainly equipment for liquid manure handling. He offers liquid spread booms, three-point hitch and trailed hose coilers, three-point hitch hose movers and unique inline manure choppers.
The hose system allows the operator to drive the field once with their drag hose system, which gives the benefit of requiring less time and causing less soil compaction.
It also allows the farmer to apply fertilization about two weeks earlier than with tanks. Typically, by the time a field is dry enough to get on with tanks, it is also ready to plant, causing a time crunch. With drag hoses, the field is ready to plant immediately when dry enough.
Sutcliffe builds a minimum of five to 10 units at a time, which makes for more efficiency in building and allows him to obtain parts in bulk, thereby saving costs. His goal is to have enough inventory so orders can be filled immediately.
As the manufacturing business is new to Sutcliffe, he does not yet have specific plans for the future, but he says anything is possible.
Sutcliffe is a committed Christian and runs his business according to the Christian values of honesty and integrity. He says he does not have a lot of spare time but keeps involved with his family (Ava, 12, and Liam, 10) and his church. He is also on the board of directors for the Huron County Food Bank distribution centre.
He is an active kind of guy. "Not the kind of guy to watch TV for hours," he grins. He has a workout gym in his basement and does a bit of running, hiking and mountain biking.
He claims he is "not your extreme adrenaline type of guy, but I do have my moments," then adds he did parachute jumps for cancer research (and for fun) back in England.
He has participated four times in the MS Bike Ride (a 160-kilometre round trip from Grand Bend to London) and recently accepted the Promise Keepers Extreme Character Challenge, a rugged adventure in the Alberta Rocky Mountains, which he says tested him in every way.
PHOTO 1: Equipment rentals.
PHOTO 2: Gary Sutcliffe stands between a heavy duty hose coiler and a spread boom in front of his manufacturing building. Photos by Alice Guthrie.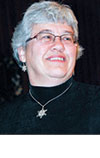 Alice Guthrie

Freelance Writer
Hagersville, Ontario