Martin and Sarah Yoder met at the World Dairy Expo in Madison, Wisconsin, back in 2008. Martin was a hoof trimmer from Ohio; Sarah was farming with her parents near Abbotsford, British Columbia.
It was a long-distance romance that culminated in an engagement four years later at the same show and a wedding in 2014. The new couple set up their dairy business, Golden Gate Farms, on 40 acres across the road from Sarah's parents.
They now have a daughter, Mikaela, who is almost 2 and enjoys helping at the barn. Martin jokes that she is already "involved [in the farm], just not real productive yet."
Their farm has a lot of family history. Sarah's great-grandfather Caleb Manual moved from Newfoundland and cleared the 40 acres with horses. Her grandparents Bert and Joy Donaldson took over, and in time her father, Rob, farmed the land.
Sarah comments that in only 80 years, the farm has gone from shipping milk in cans transported by horses to robot milkers, all on the same property.
Rob also made the change to organic farming and was the first to produce and ship organic milk in western Canada. Sarah and Martin are continuing to produce organic milk.
As the farm already had certification as organic when they took over, there was no problem in getting started. For certification, the land needs three years of no pesticides, no herbicides, no treated posts, no chemical fertilizers and no GMO seed.
Livestock need to be fed organic feed for one year before being considered certified. The Yoders purchased all of their animals from Sarah's dad.
With a small land base, it is necessary for the Yoders to purchase all of their feed, but this is not much of a problem as both Sarah's dad and brother farm in the area.
They both produce organic milk and crops, and they are the Yoders' source for organic feed. Sarah's dad utilizes manure from the operation.
The couple is enjoying their first year with a new barn, which they moved into in February 2016. This barn has three rows of freestalls with one feed alley along the outside. Part of the barn has a pack area, with pens for calving and close-up cows.
An automatic feed system, which feeds 150 cattle on demand, moves between the new barn and the old barn, which has been renovated for the feed kitchen as well as a heifer and dry cow facility. The feeder has sensors and adds feed only as required.
Large rotating brushes allow cows to groom themselves, and waterbeds provide comfort in the stalls. The barn also has fully automated tunnel ventilation with power chimneys, fans and an automatic weather station to control the environment.
In addition to having feed in the barn at all times, the cows are pastured on this farm with a 26-day rotational grazing system. A selection box system allows 24-hour access to pasture – except if a cow has gone too long between milkings.
Pastures or lots are utilized year-round, except when it is icy, to reduce the risk of cows falling.
Two robots take care of milking duties. The robots monitor milk quality through milk colour, fat, protein, milk flow and speed, and somatic cell count testing.
They also have a liquid feed dispenser to add propylene glycol to the concentrate for ketonic cows. It is manually programmed for specific cows when needed. The robots are equipped with weigh floors to help identify cows that gain or lose too much weight, which may indicate problems.
The Yoders say the robots are a help with organic production due to the health alerts that warn them if something is going amiss. They feel their cows are stress-free and therefore happier and healthier.
The herd, which numbers 100 milking cows, plus youngstock, consists mostly of Holsteins. About 25 are Brown Swiss, a breed Martin really likes. He would like to end up with a higher proportion of Brown Swiss in the future but has no intention of expanding the herd.
All of the cows are registered and are type-classified. The Yoders opted to count on the records from the robots rather than go on official test with DHI, feeling that daily information is more valuable to them.
"I hope in the near future DHIA can work with the robotic farmers to be able to use the daily production records as official records, being as the robotic production records are collected every milking of every day versus one or two tests a month," Martin states.
Activity and rumination monitors for the milking herd and heifers are managed remotely every two hours; these optimize heat detection and breeding times. Cows are bred by A.I., and Sarah and Martin are both proficient at this task.
When asked about their spare-time activities, the Yoders find it difficult to suppress a chuckle. This busy couple has little time for extras with their business and young family. Sarah still enjoys showing her cattle at the local dairy shows and World Dairy Expo.
Prepping show stock also takes some of her time. She enjoys horseback riding as time permits. Both enjoy hunting, and Martin likes to fish as well. They are close to family and friends and spend time with them.
They attend the local Presbyterian church. Sarah says her family members are "old timers" in this community and are always ready to help neighbours in need.
The Yoders are happy with their operation. "Now that we have adapted to robotic farming, we couldn't afford to farm without them. They have cut our input costs significantly," Sarah says, adding, "Since starting with the [automatic feed system] we received the same [milk] production but saved 600 pounds of feed per day."
PHOTO 1: After meeting at World Dairy Expo, a long-distance relationship formed and Martin and Sarah Yoder married and started farming near Sarah's family in Abbotsford, British Columbia. Their daughter Mikaela is almost 2 years old.
PHOTO 2: The Yoders built a new barn with an automatic milking and feeding system and moved the cows in last year.
PHOTO 3: Two robots milk the farm's 100 cows. The pen has three rows of freestalls and a feed alley along one side. Bedded packs are located behind the robots for calving and close-up cows.
PHOTO 4: Cows have access to pasture 24 hours a day. Photos provided by Sarah Yoder.
The Yoders are one of the stops on the BC Dairy Expo tour on Jan. 25, 2017, and look forward to welcoming visitors to their operation. For more information on the tours, read article "B.C Dairy Expo features farm tours, seminars and hoof trimming demonstration."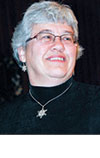 Alice Guthrie

Freelance Writer
Hagersville, Ontario
Before commenting on our articles, please note our Terms for Commenting.