In taking over the farm his parents started when they moved from Switzerland in 1990, Roger Haag and his wife, Karen, consolidated two separate farms and looked to automation to reduce labour needs.
Breezy Holsteins in Brussels, Ontario, originally started with 30 to 35 purebred Holsteins. Three years later it had twice as many cows being milked in the tiestall barn. Fifteen years after that, the family purchased a second farm and milked at both locations.
After seven years of operating both farms and keeping dry cows at a third location, the Haag family decided it was time to consolidate. In 2015, they constructed a new sand-bedded freestall barn with natural ventilation and three automatic milking systems to milk the farm's combined 130 to 140 cows. Now almost every animal is back at the home farm, with the exception of 80 to 90 heifers kept at the other farm.
Roger and Karen have the help of one full-time and two part-time employees, which also allows Karen to work off the farm two and a half days a week.
"We're really happy with the robots," Roger said during the Progressive Dairy Operators bus tour in September. The herd was milked twice a day, and now it is averaging well over three times a day. "That helps tremendously, especially with fresh cows up to five times. They peak extremely well," he said.
The herd's average production is now 1.55 kilograms of butterfat per cow per day with 4.13 percent fat and 3.25 percent protein.
The barn is split into two pens. The early-lactation pen has two robots, and the cows average 3.8 milkings per day. The other pen has one robot for late-lactation animals, which is stocked at 45 to 50 cows, not wanting to overcrowd this side. This pen averages 3.3 milkings per day. Any cow with crossed teats is programmed to be milked no more than two or three times a day so they don't tie up the robot.
Typically, they are fetching one to two cows per side per day and let the late-lactation go 12 hours between milkings if they choose.
While the sand bedding is good for the cows, it can be tough on equipment. "You take the good with the bad," Roger said. "For cell count, it's amazing."
Since moving to the new barn, somatic cell count is 120,000, half as high as the previous facility.
The deep-bedded stalls are filled with fresh sand every two to three weeks. Alley scrapers run five to six times per day to clean the barn alleys. Once a year, sand is removed from the manure pit with an excavator.
In addition to the freestalls, the barn has bedded pack pens for calving, fresh and sick cows located behind the robots. "We're happy we built these as big as we did," Roger said.
Another decision he is happy with is a playpen located in the middle of the barn. He uses this for cows that come into "crazy heats" so they are less likely to injure themselves or others in the main pen.
Footbaths are positioned at the back of the freestall pens. They are used every two weeks for three days in a row and then drained. The first bath holds a detergent solution and the second bath holds acidified copper sulphate. Roger said he didn't want to put a footbath by the robot and it only takes 10 minutes to walk a pen through it.
For trimming, he handles problem cows and has a trimmer do maintenance trims on 20 cows every six weeks.
All cows are fed once a day, with one partial mixed ration for milking cows and one single ration for dry cows. They opted to epoxy the first 3 feet of the feedbunk to keep the concrete from pitting. The same epoxy was used in the robot rooms, too.
The farm operates 900 acres. Approximately half is used for the dairy and the other half for cash crops. Roger has three bunk silos and continues to use the farm's tower silos for forage and the Harvestore for high-moisture corn. "I need three people to fill a bunk and can do with less labour for the tower silo," he said.
The vacated tiestall barn is now used for calves. Newborns are housed in a front room for 10 to 14 days. They drink their mothers' milk for three days and then milk replacer. The main part of the barn holds weaned calves up to 11 months old when they move off the farm until freshening.
A separate calf barn was built in 2009 for three groups on autofeeders. The calves are grouped by young, mid-age and weaning, and are allowed to drink up to 10 litres per day. The feeder is programmed to wean the calves over a two-week period, and the calves are weaned at about 8 weeks old.
The addition of the new freestall facility as well as efficient use of the existing facilities has enabled the Haags to keep more cows close to home as well as experience increased production.
See more of the operation in this slideshow.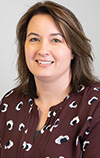 Karen Lee

Editor
Progressive Dairyman
PHOTO 1: Cows are split in two pens – one for early-lactation animals sharing two robots and one for late-lactation animals with one robot.
PHOTO 2: Roger Haag welcomes the Progressive Dairy Operators bus tour to his farm, Breezy Holsteins, on Sept. 16, 2016. Photos by Karen Lee.