Starting each with their own herd, Diane Jarrell-Ray and Roger Ray began Hollylane Jerseys in Corbyville, Ontario, in 1984. Their first herd was composed of Jerseys and Holsteins, and they concentrated on showing both breeds.
Over time, their focus shifted towards the Jerseys. In Hollylane's early years, the couple raised Franken Monarch Rosel. Rosel, as the cow is more commonly known, was a three-time Royal Agricultural Winter Fair champion in 1987, 1988 and 1990 and won several other titles over the years.
Rosel's success propelled Jarrell-Ray and Ray into the world of Jersey genetics. They began to shift their focus from local shows and markets to a wider, more global audience, and the U.S. became a large market for Hollylane genetics.
Hollylane herd manager Bryce Seaborn says, "Once Rosel did well, and they had numerous other good cows in that time, they started to try bulls, which produced Hollylane Renaissance, which was a nine-time premier sire." Around the time Hollylane was developing their bulls, they began exporting cows to Colombia in South America. This then became the bulk of business for Hollylane.
When the borders closed amid concerns over bovine spongiform encephalopathy (BSE) in Canada, Hollylane's ability to market their cows internationally was extremely affected. Seaborn says when the borders closed, Hollylane shifted their business plan once again and began doing commercial work locally and within Canada. They have continued down this path ever since, as their focus remains to raise cows to fulfill commercial orders and to milk their 35-cow herd.
To describe Hollylane's breeding and business philosophy, Seaborn says, "We're self-sustainable, which is everything I like; but we're also striving for type, and we definitely don't forget about milk because that's what pays the bills." He adds, "As much as we love show cows, I still love profitable cows a lot more."
Hollylane is well known for their genetics and Seaborn, who has been with the farm for six years, is keen to discuss their impact on the Jersey breed. He says, "A lot of the good cows of the breed go back to some form of a Rosel." He also says their bull Hollylane Renaissance has gone a long way in helping "balance out the breed." Seaborn says Renaissance filled a gap in Jersey genetics by improving the udders of broad, big-framed cows.
Recalling his start at Hollylane, Seaborn says some of the well-known cow families had begun to be phased out, and there was a need for another revival of Hollylane's genetics. "What we needed to do was take these big, broad cows and breed them to bulls that had sweeter udders and good feet and legs," he says. "Now what our focus is, is basically using some of the better-udder bulls with that extra shot of milk to try and knit it all back together." To Seaborn, the goal is to breed cows with the "full package," meaning type is a large part of breeding, but milk production is maintained in an effort to keep their cows "functional."
Seaborn notes their focus tends not to be on key cow families but more on traits and desired type of a given dam or sire. He says, "We are really picky about which [families] we need more from." However, Hollylane has a number of cows from the Martha family, as well as the Princess family of Pleasant Nook.
When asked what tools or techniques help Hollylane succeed in the field of Jersey genetics, Seaborn says they often look to other farms and calves at shows to replicate desired traits within their own herd. He also says when looking for outside sources of genetics, they look for consistency throughout a herd before committing to anything. Seaborn says when several cows from the same bloodline have good udders, it is enough proof to know that they can serve a valuable role in Hollylane breeding. He adds, "I try and blanket as many problems as I can, and try and fix it all, but it's easier said than done sometimes."
The biggest genetic challenge at Hollylane has been fertility. Seaborn admits he does not give it the attention it requires but says he has not had bad luck with heifer fertility despite the fact there is room for improvement. He has been able to keep milk production at levels he is happy with; he says Hollylane Jerseys average 32 kilograms of milk per day.
Hollylane relies almost exclusively on Facebook to market their cows and genetics. "If you can take a good picture, you write well, the easiest thing is Facebook. It's cheap," he says, explaining the social media site is an invaluable tool because it is quick and easy to get engagement. "[Today], say you get a 95-point cow, you take a picture and five seconds later, half the industry knows," Seaborn says.
With social media as his primary marketing tool, Seaborn is confident in his ability to continue marketing his cattle, even without the annual exhibitions like World Dairy Expo and the Royal Winter Fair. In the meantime, he will continue breeding towards that "full-package" cow that his genetics customers desire.
PHOTO 1: Established in 1984, Hollylane Jerseys has produced numerous high-scoring, winning cows.
PHOTO 2: Diane Jarrell-Ray and Roger Ray found their success after breeding Franken Monarch Rosel, a three-time champion who created a well-respected bloodline.
PHOTO 3: One of Hollylane's most notable cow families is Rosel. Pictured is a cow of the Rosel bloodline after winning Grand Champion at the Royal Agricultural Winter Fair.
PHOTO 4: Hollylane Jerseys have produced over 80 All-Canadian Jerseys. Pictured are three daughters of nine-time premier Hollylane Renaissance sire.
PHOTO 5: Pictured is Hollylane's Marbro On Time Emelia, a Jersey with a score of EX-92. Photos provided by Bryce Seaborn.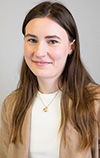 Emma Ohirko

Editor
Progressive Dairy