I live in France, so my day starts around 9 p.m. I leave my home in the town of Gueltas and my girlfriend, Françoise. We live in the Morbihan region in the center of France.
Direction: Paris to Charles de Gaulle airport. My flight is tomorrow at noon, and I am already thinking of the week to come in Canada, my new working playground since the beginning of this year.
I discovered this beautiful country last January when I came to the Quebec Ag Show upon Agriclé's invitation to do conferences. (Agriclé is the Canadian distributor of Milk Bar products.)
I can't wait to be there, as the weather will be warmer than the -15ºC it was in January, which was enough to turn off my enthusiasm during my first stay. I'm thinking it will be nice to feel spring scents and to see the country in a different scenery.
After seven hours of flight, Bernard Dion, technical manager at Agriclé, hosted me in Montréal. We don't know each other, since he joined the team three months ago to take care of the calf division, but he will be my contact for this week and for the future.
What is my job exactly? I'm the manager of the sales and technical development and a trainer for Milk Bar, a New-Zealand company specializing in feeders for calves, lambs and kids.
4 a.m.: My alarm goes off, but I'm already awake because I forgot to turn off my cellphone and a German customer called me around 3 a.m. I can feel the jet lag.

Anyway, I picked it up because I know the reason for his call. We needed to finalize a project to equip a 1,600-heifer barn, and we have few technical details to fix.
I'm finally up and ready to go. Bernard accommodates me the whole week at his place, in the Saint-Hyacinthe area. I really appreciate his generosity.
He tells me coffee is ready, toasts and maple syrup are on the table and, obviously, this makes me happy.
5 a.m.: No time to lose. We have a busy day and more than a three-hour drive to meet Clément Mercier, sales rep for Agriclé in the Quebec area. This morning, we also meet an important distributor south of Quebec City.

On the schedule is a presentation, a training course for the nutrition team and a meeting with store managers. We discuss implementing a protocol for feeding wet calves and how to feed them as a group.

That means a lot of work. However, the benefits for animals, farmers and other participants are huge, so it's my responsibility to bring forward those advantages. Educate; it's my job.
We're back on the road; I enjoy discovering Quebec sceneries. There is no more snow, and farmers have started planting. I understand spring has been difficult due to heavy rain. In my hometown, in France, it's the opposite. We have a rainfall deficiency.
The year is difficult on the west part of the old continent. While driving, I take this time to check out my emails and to respond conscientiously either in English or French. I speak only those two languages, but it's enough to cover the 26 countries under my responsibility.
8:30 a.m.: We stop at Tim Hortons, where we need to fill up with sweets before arriving to our meeting: coffee, muffins and donuts. I freak out. Too many flavours!

Let's stay here so we can eat these treats. We join Clément, and we go towards our meeting point, L'Outilleur Agricole, a commercial partner.
Time to make a few phone calls, and Stephane, the ag rep, welcomes us. He takes us through the company before having us wait in the meeting room. At 9:30 a.m., all is set for the presentation: Milk Bar feeders, teats and my computer. Over the next hour-and-a-half, I share my knowledge on calves and feeding.
All goes well. Lots of questions – and lots of answers too. We discuss heifer breeding, as milk phase is crucial for a good start. Interlocutors seem happy with our discussions – unless it's the muffins or chocolate donuts that makes them so enthusiastic.
11 a.m.: The nutrition team has another meeting. Stephane and his colleague stay with us for the presentation about our solutions and equipment for goats and sheep. It is already noon, and we must go.


12:15 a.m.: We're back on the road towards Agriclé, where the team is waiting for us for another meeting. As a must-see, we stopped in a canteen for the traditional poutine. Come on. I needed a snack!
More emails, and I call my girlfriend, my daily connection with the woman of my life, who has lots of courage to support my weekly absences the whole year long. She is an extraordinary person.
3 p.m.: We stop on a dairy farm which I visited this past January. I'm happy because everything went well and the results are here. Heifers are in good shape, and diarrhea and cross-suckling problems have almost disappeared, which is great.

Talking with farmers is constructive; there are still many questions about our solutions, but everybody understands we need to bring practices to another level to eliminate problems. Prevention is the solution.


4:15 p.m.: We arrive at Agriclé. There is lots of activity as the phone rings constantly. René Cloutier and Véronique Dion, the owners, join us for another two-hour meeting.

I must admit I slept a little bit during the traveling on the road, and I think Bernard was happy I stopped speaking for a moment.


6:30 p.m.: The day is almost over. We go back to Bernard's place, and drinks are waiting for us. After a long day, beer is more than welcome and, of course, accompanied by 100% Canadian cheese we bought yesterday at La fromagerie du Presbytère.


7:30 p.m.: Smells good. A pork roast, prepared by Catherine, Bernard's wife, stands in the middle of the table. It's simply delicious.


8:30 p.m.: My eyes start to close. It is now time to recover because the same crazy day is waiting for us tomorrow. Soon, I'll be back at home and with my girlfriend, my family and family farm (crops).

Next week, I will travel through France and Spain the week after, then Italy, Hungary, Israel, etc. In short, I will be on the road until the end of June. But I know that I'll be back here, with my friends from Canada, in September for a grand open house on calves.

So, see you soon, my Canadian friends.
PHOTO: Courtesy photo.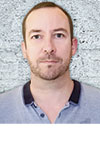 Samuel Malard

Technical Sales and Development
Milk Bar