Right-sizing the heifer population to fit replacement needs not only reduces raising costs, but it can also provide an opportunity for the best future milking females to thrive.
Two Wisconsin dairymen share how they have shifted their mindset away from quantity to place greater focus on replacement heifer quality, and both have realized benefits beyond what they expected.
Night Hawk Dairy
Jim Leick, a partner at Night Hawk Dairy near Stratford, Wisconsin, adopted a heifer inventory management program a few years ago. His motivation came from the goal of minimizing calf-raising expenses while maximizing calf growth potential.
"We spend a lot of money raising calves, and we don't want to spend any more than we have to," Leick says. "That's our biggest reason for controlling our inventory."
His calves are housed in group pens with auto-feeders, receiving unlimited access to milk for nine to 10 weeks before being completely weaned off.
"They generally eat around 150 to 160 pounds [68 to 72 kilograms] of milk powder by the time they are weaned," Leick notes. This gives even more reason to focus on raising only the best calves as replacements.
By working with their breeding company, the dairy arrived at the heifer inventory goal of 25 heifer calves per month, based on a 25% milking herd cull rate. The top quarter of the milking herd is identified based on a weighting of 75% genomics and 25% milk production.
These cows are bred back to Holstein; the rest receive Limousin semen. "There's some pretty good cows that aren't getting Holstein and are getting bred to Limousin, just because the improvement of our herd is continually getting more and more advanced," Leick says.
Meanwhile, 90% of heifers are bred to sexed semen, with the bottom 10% bred to Angus. They work with their breeding company on a regular basis to evaluate genetic and production numbers, and adjust breeding recommendations accordingly.
Several years into this program, Leick says Night Hawk Dairy is enjoying the benefits of decreased stocking density, with healthier calves, maximized growth and more valuable crossbred calves.
Ziegler Dairy Farms
A year ago, Ziegler Dairy Farms in Middleton, Wisconsin, was overflowing with more heifers than needed for the 1,350-cow milking herd. "Literally, half the herd was first-lactation heifers," Matt Ziegler recalls.
Ziegler, who takes care of the dairy's calves and youngstock from birth to 11 months, was contemplating building another auto-feeding barn to alleviate the pressure of overstocked group pens.
"There were way too many calves per auto-feeder," he says. Though the calves kept up pretty well, he knew the crowded pens were limiting growth potential. "I was forced to wean calves early because there were always more coming, so they weren't the size I'd have liked them to be at weaning."
But after visiting with fellow dairyman Jim Leick, the Zieglers changed their tune and opted for heifer inventory management over new facility construction.
They worked closely with a calf/heifer specialist and their breeding company to arrive at a goal of keeping the monthly heifer inventory at 70 calves per month.
Today, Ziegler is raising fewer heifer calves, and the portion of the herd made up of first-lactation animals has dropped down to 42%.
Getting to this point meant "biting the bullet" and selling unneeded heifer calves, based on their dam and sire production criteria, which Ziegler admits was a tough decision.
However, the outcome of culling surplus females has been favourable, giving the retained calves better feeding access. He adds, "Once I did start doing this, each calf increased its intake on milk by a significant amount."
The herd is just starting to see the results of changing the breeding program to meet their heifer inventory goal. Now, the protocol is for all heifers to receive sexed semen.
The top 40% of the milking cows are bred back to Holstein, while the bottom 60% receive Angus semen. The first crossbred calves just started hitting the ground, and they will remain on the farm no longer than one week.
Ziegler wanted "quality over quantity" with his calves, and with better gains and growth rates, along with less labour, he is achieving that.
PHOTO 1: Jim Leick sets a heifer inventory goal of 25 calves per month in order to meet replacement needs for Night Hawk Dairy's 1,000-cow herd.
PHOTO 2: Matt Ziegler takes care of calves and youngstock from birth to 11 months old at Ziegler Dairy Farm in Middleton, Wisconsin.
PHOTO 3: Ziegler focuses on "quality over quantity" by limiting the number of heifer calves raised to only what is needed for replacements for the 1,350-cow dairy herd. Photos courtesy of Purina Animal Nutrition.
Leick and Ziegler spoke on "Producer Strategies to Control Heifer Inventories" at the 2019 Leading Dairy Producers Conference, hosted by Purina Animal Nutrition on Jan. 8-9, in Wisconsin Dells, Wisconsin.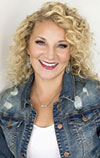 Peggy Coffeen

Editor
Progressive Dairy