Bart Op den Kelder started milking in Canada in 1999, after moving from the Netherlands with his family in search of greater opportunity in the dairy industry.
His farm, Kelderview Holsteins Ltd. near Salford, Ontario, began with 70 kilograms of quota per day, milking in a tiestall barn. Within two years, the tiestall barn was converted to keep dry cows, and a new freestall barn and parlour were built. Three years later, a heifer barn addition was made.
After seeing a robotic milking system on a farm in the Netherlands many years ago, it became Op den Kelder's goal to one day install the system on his farm. Motivated by problems with reliable labour and wanting to spend more time with his family, he made the switch. In 2013, the barn was extended again and the parlour removed and replaced by three Lely A4 milking robots.
When Kelderview Holsteins operated a parlour, they saw one or two cases of mastitis per month. After the installation of the robotic milking system, for two years they had almost no cases of mastitis. Op den Kelder attributes this drop to an increase in daily milkings. They went from milking the cows twice a day to an average of 3.6 and 3.1 milkings with the robotic milking system for their older cows and heifers, respectively. With more frequent milkings, the cows leak less milk and their risk of mastitis is decreased.
Op den Kelder and his team milk 160 Holsteins and average 42 litres of milk per cow per day, with a butterfat content of about 4.25%. The herd's somatic cell count (SCC) ranges from 80,000 to 120,000 and has never been a concern for the farm.
In 2013, at the same time the robotic milking system was introduced, Kelderview implemented deep bedding, using green manure solids which gave the cows more room to lie down. For three years, this worked well, and then things started to break down. "On the fourth year, all hell broke loose," Op den Kelder recalls.
Kelderview Holsteins lost 25 cows to klebsiella that year. "They're milking good at 10 o'clock in the morning – then at 3 o'clock they're almost dead," Op den Kelder explains. He suspects one infected cow caused the outbreak, contaminating the bedding supply, which was circulated through large parts of the barn.
Despite the lower SCC at the time, the experience prompted a switch to a deep-bedded straw, lime and water mixture. Op den Kelder got the idea from a Dutch co-op student he had working on the farm at the time. The student suggested bedding might be the problem, as he had seen a similar incident on a Dutch farm also using green manure bedding.
For Op den Kelder, the results of the bedding change have more than paid off. He struggles to recall the herd's last case of mastitis, suspecting it had been at least four or five months.
More than just bedding goes into Kelderview's mastitis prevention. A lot of effort is taken to constantly keep the cows, stalls and barn alleys clean.
The milking robots keep detailed history of each cow and test the quarters for mastitis. This has simplified treatment decisions, as cows with chronic mastitis are easier to detect. However, constant checks are still needed to ensure infected cows are not milked with the remainder of the herd.
Op den Kelder bases culling and treatment decisions on the "cow card" kept by the robotic milking system. In mild cases of mastitis, Op den Kelder treats the infected quarter with penicillin. More severe cases get a daily treatment of Spectramast and a painkiller if the infection is very severe.
During dry-off, cows receive a treatment and the teats are sealed. Op de Kelder recognizes the Orbeseal can be costly, but he is pleased with the benefits it provides and says it is well worth the money.
In terms of milking hygiene, Op den Kelder relies on the robots' standard settings. Teats are brushed twice, and a top-of-the-line post-dip is used once milking is complete.
To maintain high milk quality and prevent mastitis in the Kelderview herd, Op den Kelder focuses on a strong nutrition program. The cows are fed as much forage as possible, including corn silage, haylage, dry corn and soymeal. In the robot, a simple hard pellet is used which is top-dressed in roasted beans. Op den Kelder credits this top-dressing with increased energy and better conditioning in his herd. It has also eliminated the need for fat additions.
Op den Kelder says he would not have been able to make many of these improvements without the help of his vet, Jessica Retterath; and nutritionist, Jason Sutherland, as well as Kelderview employee Opa Piet.
Op den Kelder is always on the lookout for the latest technology with potential to help prevent mastitis and improve milk quality overall. The barns are slightly overcrowded, and Op den Kelder would like to expand sometime in the future to correct this. For now, he is very happy with the results he gets. He plans to continue to keep his robotic milking system in good working order and to raise clean, happy cows.
Op den Kelder says his efforts to prevent and treat mastitis have not gone unrewarded. His herd health is progressing well at a rate he is pleased with. Reflecting on his herd's progress, Op den Kelder says, "Now we're living the dream, it's just going so nice."
PHOTO 1: Bart Op den Kelder was motivated to switch to an automated milking system because he wanted to spend more time with his family.
PHOTO 2: Bart Op den Kelder says a mixture of straw, lime and water has caused drastic improvements to mastitis levels in his herd. Photos provided by Bart Op den Kelder.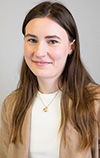 Emma Ohirko

Editorial Intern
Progressive Dairy