As Roelof Meilink, owner of Meilink Dairies Ltd., home of Breezynol Holsteins, recognized limited capacity at his home farm, he found an answer in an open space with more opportunities than he first imagined.
The Meilink family moved to Alberta from the Netherlands in 1992. They purchased an existing farm and started milking cows the following year. In 1994, they built a new freestall barn and grew the herd to 160 milking cows.
Fifteen years later, they were looking to grow some more, but being close to the city, there was limited room to expand at the home farm, so they purchased bare land near Red Deer, Alberta. They built a new precast freestall barn with flexible stalls in 2011 with plans to add on a milking parlour in the future. Until then, the new barn would be stocked with heifers to free up space for more milk cows at the home farm.
Meanwhile, Roelof's sons, Johnny and Erwin, expressed interest in working on the farm, and they began to consider robots instead of a parlour. They toured automated milking farms all across Canada. "Most robot farms had close to a 40-litre average," Roelof says.
So they opted instead to retrofit the barn for robots and put in five automated milking units in a free-flow traffic system. They put the robots inside the barn, added onto the front and back of the barn, and started milking in April 2017. With 265 cows milking, they average 41 litres of milk per cow from 2.8 milkings per day and 4 percent fat.
One reason for the production increase is more space in the new barn. "We are milking the same amount of cows as at home, but the old barn was crowded. When we moved to the new barn, [production] came up," Roelof says.
The first month of the transition to robots was "pretty rough," he adds, but then it got better, especially when the cows are left alone to do their thing. Their older cows did not make the move to the new barn; they were either sold to another farm or culled for beef.
The barn is set up with two main milking groups with two robots per group. A fifth robot for fresh cows is in a separate pen with freestalls on one side and a bedded pack on the other. They want no more than 45 cows in this pen. When they graduate, they move into one of the main milking pens and stay with that group until dry off.
They like to keep the lights off in the robot rooms. There is a single recessed light directly above each robot that remains on at all times, but the lights in the rest of the room remain off. "The cows like it better when it's dark," Johnny says. They will turn all of the lights on when they need to do maintenance, but the cows won't visit as often when the lights are on.
In addition to the new milking facility and raising heifers, which swapped places with the cows and are now at the home farm, the Meilinks farm 850 acres of corn, barley and alfalfa grass.
The farm team includes Roelof, three full-time employees – including his two sons – and one part-time employee for the weekends.
A partial mixed ration is fed once a day and pushed up regularly with the help of an automated feed pusher. It includes mixed grass and alfalfa hay, corn silage, barley silage, ground corn, canola and a supplement. In addition, cows receive an average of 5.25 kilograms of pellet in the robot, which varies based on production.
Stalls are bedded once a day with fresh sawdust with the help of an automated bedding system that travels along a rail above the stalls, dropping sawdust along the way. The delivery unit is fed via conveyor from a hopper that holds a little over a week's worth of bedding. They go through one entire load of sawdust in just over a month. The system "really saves on sawdust," Johnny says.
The herd is more than 90 percent Holstein with 99 percent of them registered. They had experimented with crossbreeding at a three-way cross of Holstein, Fleckvieh and Norwegian Red, but they opted to start using genomics in October, so more and more breedings will be purebred and based on that information.
Calves are tested at birth when they receive their ear tag. Roelof says the goal is to raise fewer youngstock and use genomics to help them retain better animals and sell those on the low end. "Raising youngstock is not cheap," he says. By reducing the number of animals, they can utilize more of their existing building space.
They haven't culled any yet, but he anticipates they will once the animals get close to breeding age. Their A.I. representative comes every day for breeding based on tail chalk. They are selecting young bulls with genomic information to sire their future herd.
A herd that will now call both locations of Meilink Dairies Ltd. home as they transition from one farm to the next.
Check out the operation in this slideshow.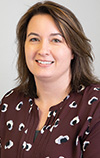 Karen Lee

Editor
Progressive Dairyman
PHOTO 1: Roelof Meilink came to Canada in 1992 to start dairying. Now he farms with his two sons at two separate locations in Alberta.
PHOTO 2: An automated bedding system runs along a rail, delivering fresh sawdust to the freestalls once a day. Photos by Karen Lee.