When Kim Schrijver wanted to start his own dairy operation, he created a business plan and barn layout as part of his application to Dairy Farmers of Ontario's (DFO) New Entrant Quota Assistance Program.
He started the paperwork process in the spring of 2016. Upon acceptance, a new barn was built last year and Banner Hill Dairy in Ingersoll, Ontario, began.
Barn design focused on a single steel structure that could be operated by one individual. The parlour and animal housing are all under one roof.
Schrijver purchased a used, double-eight herringbone parlour and did not include a holding area in the barn layout to save on costs. Instead, the parlour is positioned just off the milking cow freestalls, and he uses gating with the freestall alley to create a makeshift holding area.
On the half of the barn with the parlour, there are 66 freestalls for milking cows. Schrijver is currently milking 57 cows twice a day at 5 a.m. and 5:30 p.m. Milking and clean up takes one to one and a half hours.
Under the new entrant program, he applied for 16 kilograms of quota, which was matched by DFO. He started with 32 kilograms of quota and is now up to 68 kilograms after transferring some from his dad's farm.
Under the program, the 16-kilogram match will be his for 10 years; then DFO will take back 1 kilogram per year starting in year 11.
All cows came from his dad's farm. Schrijver had started growing his herd when he was 10 years old and has had a few cows of his own ever since.
It took the cows a little while to adjust to the new facility, but things are going well now.
"When I first started, I had a big SCC problem," Schrijver says. Now, the herd somatic cell count is 115,000. The cows are averaging 31 litres per cow per day at 4.04 fat and 3.26 protein. Days in milk have dropped from 230 to 160.
The barn has insulated panels on the ceiling, and the steel trusses are covered with wood to keep birds from nesting. Skylights and LED lights helped him cut the amount of lights needed by half.
There are fans and sprinklers, and the curtains are automated with a temperature and wind sensor to aid in cow comfort. He also installed a wavy neck rail to keep cows from bumping their necks when using the stalls.
Schrijver uses sand bedding because "that is what's best for cows," he says. Milk cows and dry cows are on sand bedding, but the heifers are on mats. He houses some of his dad's heifers to ease overcrowding at the home farm. His dad has mats, so he opted to keep it the same for the heifers instead of having them adjust between different stall surfaces.
The cows are bedded every other week and heifers once every three weeks.
Box scrapers clean the alleys and move manure into a round pit that is built to hold twice as much as it currently does.
Freestalls for heifers and dry cows are located in the other half of the barn, along with bedded packs for young calves and cows to calve. Calves are raised in hutches for two months, and then are moved to group bedded-pack pens for four months before graduating to the freestalls.
Schrijver owns the building, animals and quota. He does not have any cropland and very little equipment. "My only equipment is a skidsteer," he says.
All feed comes from the home farm under an agreement with his father. Corn silage, haylage and straw are purchased using a monthly "feed bill" created by consultants based on market prices. All other ingredients are billed at their respective market prices.
His dad mixes and delivers three different rations to the farm.
Milk cows receive corn silage, haylage, distiller's grains, a 50-50 mix of soybean meal and canola meal, dry corn, minerals, palm fat and Megalac. The dry cow ration is straw, a little bit of corn silage and a protein blend, while heifers get rye and a little straw.
Refusals from the milking herd are given to heifers, whose refusals go to bred heifers and those refusals are then placed in the scraper.
The heifers and cows are fed once a day and dry cows every two days. In the cooler months, that may be extended to feeding cows every two days and heifers every three days.
Schrijver has been using visual heat detection, but added activity monitors in July. Herd health is done once a month.
By keeping a simplified layout and working with his dad on the feed supply, Schrijver has been able to keep his costs down to be a new entrant in the industry.
Banner Hill Dairy was one of the stops on the 2018 Progressive Dairy Operators' Canada's Outdoor Farm Show bus tour.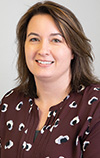 Karen Lee

Editor
Progressive Dairyman
PHOTO 1: To save on costs, Kim Schrijver chose to eliminate a holding area from his barn design. Instead, Schrijver placed the parlour adjacent to the freestalls and uses temporary gating to corral the cows in the freestall alley.
PHOTO 2: Kim Schrijver explains how he manages his farm on the Progressive Dairy Operators September farm tour. Photos by Karen Lee.