Put $50,000 into their existing tiestall barn to keep it running for another year, completely redo the facility or build a new robot barn.
That was the dilemma Amanda Lukassen and her husband, Kevin Sundborg, owners of Suntor Holsteins in Ormstown, Quebec, faced in 2015. They chose robots.
Lukassen and Sundborg bought the 51-cow dairy in January 2015 from Sundborg's parents, Fred and Ruth. Although Lukassen says the herd and facilities were well managed and a two-time Master Breeder herd, the barn was older and in need of some major renovation.
In addition, reliable employees were becoming harder to find, and Lukassen and Sundborg wanted more flexibility in their schedules, so they started looking at and designing a robot barn for their herd. In 2016, they broke ground on their new barn and, on Jan. 31, 2017, they milked cows in there for the first time.
While Lukassen did not join the farm full time until 2017, she started balancing the farm's rations not long after she and Sundborg started dating in 2013. At the time, she was a feed representative for a co-op. In 2014, shortly before she and Sundborg were married, she changed companies and became a robot management specialist; however, she continued helping out with the farm's nutrition program and became increasingly more involved once they started transitioning the farm to robots.
This transition started two years prior to the cows entering the barn. Sundborg started breeding for a medium-sized Holstein instead of the tall Holsteins they'd had for years. While those large animals worked well in the tiestall barn, medium-sized animals would have better persistency and longevity in the robot barn.
In addition, about a year before moving to the new barn, he timed his breedings so the cows would be around 150 days in milk at start-up since fresh cows tend to learn the robot more quickly.
About four or five months before the transition, every cow had its hooves trimmed to make sure the feet would be in good shape for better mobility in the new barn. However, since the new barn would have grooved concrete floors which would wear down their hooves, they made sure to trim well in advance and allow the hooves time to grow back a little.
Finally, two weeks before their start date, they began top-dressing with the exact pellet they planned to use in the robots to familiarize the cows with the smell and taste of their new feed. Once they were in the new barn and ready to start milking the cows on the robots, Lukassen dropped the energy out of the TMR to make the cows hungry for the grain.
"When those cows first got that TMR when they came into the barn, they were missing so much concentrate, carbohydrates basically, that it makes them hungry for the grain," Lukassen says. "Within those first few weeks, I had most of the herd go into the robot on their own. To get cows to go in on their own, the TMR is the biggest thing. Do not be afraid to pull the energy."
At the time, the herd was averaging 42 kilograms of milk per cow per day. Current industry recommendations for robot herds advise producers to balance the TMR for 7 kilograms below their herd's average production to encourage the cows to go to the milking robots for grain. However, Lukassen says that would not have been enough for her herd. Instead, she balanced their ration for 32 kilograms of milk.
"I dropped it 10 kilograms because my herd is high-producing," Lukassen says. "Just from 42, dropping it 7 they'd still be at 35, which would be enough to compensate for their needs. They would not need to go to the robot, so I dropped it even more."
Once the cows were comfortable in the barn and using the robots, Lukassen brought the ration up to the standard 7 below, so it is now balanced for 35 kilograms.
After a little over a year with the robots, Lukassen says their herd is averaging 42.5 kilograms per cow per day. However, if she removes the handful of Jersey cows they own, the Holsteins average 46 kilograms per day. Overall, they run about 1.8 kilograms of quota per cow with a 4.3 percent butterfat and 3.4 percent protein. She says the biggest thing holding them back right now is the age of their herd. Only 30 percent of their herd is 2 years old, and they have several six-plus-lactation cows.
In general, she says their younger cows that started on the robots or transitioned to them during their first lactation perform better than those that spent a few lactations in the tiestall barn. As those animals retire and leave the herd in the next couple years, she expects their average milk production to increase. However, they're keeping those cows in for now as they grow into the new barn, which is built to milk 80 to 90 head.
For easier management, Lukassen designed their barn with a few specialized areas. First, she put a treatment area next to their fresh and sick cow pen. The area has a rack, sink and work station to make it easy for them or their vet to treat cows.
The dairy breeds on natural heats, so cows are rarely in heat at the same time. Lukassen was concerned about in-heat cows disturbing the rest of the herd, so she included a heat pen when they designed the barn. When they see a cow in heat, they herd it into the pen, and the cow hangs out until it is bred and settles down enough to rejoin the herd.
While the dry cows are still housed in the robot barn, where they can keep a close eye on them, they do not have access to any robots. To help re-acclimate cows and introduce heifers to the robots, the cows and heifers move to the pre-fresh pen about 30 days prior to calving.
While there, they obtain their grain via an automated feeding station. Lukassen says by doing this, it keeps the heifers from being afraid of the milking robots and allows her to monitor the cows' transition feed intakes.
See more of their operation in this slideshow.
Although they do have a separate calving pen they can use, Lukassen says the animals are typically more comfortable staying in the pre-fresh pen with the other cows and heifers. While they will step in if necessary, she says their animals almost always calve on their own.
Calves stay with their dam for the first few minutes, allowing the cow to lick it clean. Once they remove the calf, its navel is dipped and, unless it is hot out, the calf is put in a warming box for a few hours until it is completely dry. The calf receives a 150-gram dose of colostrum replacer within that first hour and a second 150-gram dose of colostrum replacer at the next calf feeding time.
Meanwhile, the cow is moved to the fresh pen, where it can be closely monitored for the next hour or so to make sure everything is normal and allow the cow to eat some lactating-cow TMR. Once the cow is ready, they put it in the chute, trim its tail and udder, give the cow glycol and a calcium bolus, and milk it in the robot.
Perhaps the biggest challenge they've had with the robots, besides learning to chase cows instead of haltering them, is in the calf management. With the new focus on growth, they've gone from having five animals calve every month to 10, and their current calf hutch housing is having a hard time keeping up.
To fix this, they are in the process of turning their old tiestall barn into a calf barn and hope to have it up and running soon. It will include automated calf feeders and enable Lukassen and Sundborg to run the dairy without hiring outside help.
PHOTO 1: To make caring for their animals easier for Lukassen, Sundborg and their vet, the farm included a treatment area next to their fresh and sick cow pen. Photo by Lora Bender.
PHOTO 2: Kevin Sundborg (left) and Amanda Lukassen (right) with their 2-year-old daughter, Saydie, and newborn daughter, Eva. Photo provided by Amanda Lukassen.
PHOTO 3: Amanda Lukassen and Kevin Sundborg built their new barn a little bigger than the old one, allowing them to grow from a 51-cow dairy to an 80- or 90-cow dairy. Photo by Lora Bender.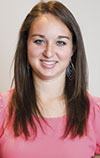 Jenna Hurty-Person

Field Editor
Progressive Dairyman