Traveling to a European Christmas village filled with traditional baked treats, handmade goodies and Santa himself is not in the cards for most of us.
However, Niemi Family Farm located in Mount Albert, Ontario, is working to change that. The farm, which is run by Marjo and Peter Niemi with the help of seven of their children, has transformed their property into a Christmas wonderland for the third consecutive year.
Starting on Nov. 12, the Niemi Family Farm opened to the public, welcoming their community and those flocking from nearby Toronto to their Christmas market. The market features over 27 local vendors, trails to explore the farm's forest, small wooden cabins, tunnels strung with Christmas lights, traditional Finnish baking made by the Niemis themselves using family recipes, hot chocolate, bonfires, wagon rides, two nights of caroling, pre-cut Christmas trees and much more. Marjo gushes about the farm's festive atmosphere, "Everybody is happy. It's just so beautiful, with beautiful music, beautiful people and happy feelings."
"It's amazing. There are lots of Christmas lights and it's like a European Christmas market. There is a huge Christmas tree in the middle of the village, and we have little wooden cabins and tents with vendors; even Santa has his own place," she adds.
Having grown up on a farm in Finland, Marjo always dreamt of one day owning a farm. When she married her Finnish-born, Canadian-raised husband, Peter, they began renovating and selling houses to save money in hopes of one day making this dream a reality. In 2004, the couple succeeded; they purchased their first farm and began working the fields, planting trees and vegetables. They later expanded their operation, opening greenhouses in 2008 to grow more vegetables as well as annuals and perennial flowers.
As Marjo and Peter established their farm and grew their family – the couple has 10 children, five girls and five boys – their goal shifted towards building a business that would allow Peter to quit his job as a full-time electrician and work full time on their farm. To do so, they sold their farm in 2013 and rented for a year, which Marjo describes as a challenge due to the small size of the rental property they moved into. Once the right property came on the market, the Niemi family wasted no time in purchasing and moving to the farm they now operate.
The move was motivated by what Marjo identified as the need for a better location. Their original farm was situated on a side concession road, whereas today the Niemi Family Farm sits on busy Highway 48.
The farm is very much a family operation; Peter has been on the farm full time for the last three-and-a-half years, and the couple's five daughters and two high school-aged sons help make sure all the work gets done. In the hustle and bustle of the Christmas market, they do bring in some outside help, mainly to relieve Peter of his duties as Santa Claus. "It's a long day for Santa, so this year we had to hire a second Santa to help my husband. It gets cold out there, and there are so many other things that need to get done," Marjo says.
Last year, the Niemis saw huge crowds arrive to visit the market. After a story about their farm was widely shared on social media, they were overwhelmed by the number of visitors they saw. "Living on the farm, we didn't realize how many people were going to want to come here," Marjo says. She explains the highway was "basically blocked" on their opening day from the traffic caused by those arriving on the farm.
To avoid the parking issues they faced last year, the Niemi family has expanded parking space on their property, and they have been selling timed-entry tickets to the market since August, with some tickets saved for gate sales. Marjo says her only concern with the number of visitors they expect is how to keep them all fed. "There is only one question I have: How do I have time to bake enough?" she quips. "Everything else is sorted."
Marjo and her daughters take turns managing the day's baking; during last year's Christmas market they spent 14 hours a day preparing all the baked goods for sale. Donuts and sourdough rye bread are their specialities. "I grew up in Finland, so it is a different kind of baking; it's not so sweet, but it's very tasty," Marjo says. Baking provides their family with a stable income year-round, but they amp things up for the Christmas season; they add chocolates, candies and Christmas cookies as well as soups and casseroles to their normal repertoire. They also sell a selection of turkey, chicken and pork from animals raised on the Niemi farm.
A few days before Christmas, once the flurry of the market has subsided, the Niemis prepare for their own Christmas festivities. "On the 23rd of December, we bake for our home Christmas because everything will have sold out at the market. Then, on the morning of Christmas Eve, we start celebrating Christmas. It's a special way we celebrate, like how we would do it in Finland," Marjo says. "We have Christmas rice porridge, then my husband and all the kids travel to friends' houses and sing carols for about six hours."
Marjo and one child will stay to cook Christmas dinner, and when the rest of the family return from caroling, they all enjoy time in their sauna before sitting down for a big turkey dinner and a reading of the Christmas gospel.
PHOTO 1: For the third consecutive year, the Niemi Family Farm has transformed itself into a magical Christmas destination.
PHOTO 2: A walk through the Niemi Family Farm's Christmas village offers the chance to peruse local vendors and warm up by the fire.
PHOTO 3: Open Thursday through Saturday until Dec. 22, the Christmas market at Niemi Family Farms is full of attractions like forest trails, tunnels strung with Christmas lights, traditional Finnish baking, hot chocolate, caroling, visits with Santa Claus, wagon rides and Christmas trees.
PHOTO 4: To help their Christmas market succeed, the whole Niemi family pitches in. Photos provided by Marjo Niemi.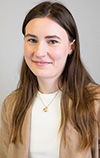 Emma Ohirko

Editor
Progressive Dairy