Dairy farming is a challenging business to enter. The financial commitment needed to acquire quota, facilities, milking equipment and animals is prohibitive for most individuals without a family farm to buy into.
New Brunswick couple Scott and Lindy Brown have learned that opening a new dairy farm is daunting, and high costs and barriers can take years to overcome.
The couple met in college at the now-defunct Nova Scotia Agricultural College. Scott began college on the heels of the difficult decision made by his father and grandparents to sell the family farm. Scott says his family's history meant dairy farming was in his blood and always knew he would find his way back into the industry. Meanwhile, Lindy had been exposed to dairy farming through a friend, also possessing a strong will to dairy farm.
After graduating college in 2010, Scott spent time working for a potash mine; he says he took the position with the intention of saving money to begin dairy farming. Following a few years in the workforce, Scott and Lindy purchased their home and property in the town of Portage Vale. The property came equipped with an out-of-use tiestall barn; the Browns liked its potential.
Once they purchased the property, entering the dairy industry was still out of reach, but the couple's love of agriculture persuaded them to grow crops and raise beef cattle and sheep. The couple say their experience in the beef and sheep industries, where guaranteed markets are not assured, only reinforced their desire to pursue dairy farming.
"People can say what they want about a supply-managed sector – we know it has its critics out there – but in terms of the stability, you can't beat it. To know your market and to know there is a [buyer] for your product is invaluable to someone who's wanting to enter an industry, especially one like this where the start-up costs are high," Lindy says.
"With the stability [from supply management], even though our margins are not big, we have greater control over what our margin is. We can plan for it, and that allows us to sleep a little easier at night," Scott affirms.
The dairy community is another factor that played into the Browns' decision to enter the industry. Both Scott and Lindy credit the support they received from dairy farmers in their region as a deciding factor in following through with the commitment to the major, long-term financial obligation required of them. Scott describes the turning point where their dream of dairy farming started to become a reality; he says a neighbour and retired dairy farmer approached them with a business plan showing the couple how they could succeed in the industry. Throughout their planning and start-up process, their neighbour acted as a mentor, guiding them towards the fulfillment of their dream of running their own dairy operation.
"We leaned on him fairly hard, and he was great. He was what me and Lindy would both call a true mentor. He had the ability to tell you what you should be doing without actually telling you what to do, so to speak. He allowed us to learn and make decisions on our own but would give us a little bit of guidance along the way," Scott says.
The Browns spent a full year planning their future in the industry. They made calculations and crunched numbers for nearly every possible scenario they could imagine, weighing their options to decide where their money was best spent and what could offer them the best chance at success.
The couple say once their plan was in place, the decision to move forward was easy. With an end goal in mind, they saw the new entrant program as their only path into the industry; they were confident in their planning and foresight, recognizing the time and financial commitment that would be necessary to succeed.
Through the Dairy Farmers of New Brunswick's new entrant program, the board matched the Browns' initial 16-kilogram quota purchase, totaling 32 kilograms of quota. Scott and Lindy have since grown their quota to 44 kilograms, an increase they facilitated due to improvements in production, as they have added just two cows to their milking herd since beginning operations.
Their cows are milked and housed in the existing 32-stall tiestall barn on their property, and they manage two tower silos, one of which came from a generous neighbour. To get up and running, the couple sourced used milking equipment, some of which originates from the farm Scott's grandparents shut down.
Scott and Lindy note their operation lacks many of the technological capabilities often held by their peers, and instead they lean on industry support to help with herd management decisions.
Since becoming operational in 2018, the Browns have deviated from their original plan. In the starting phase, the couple had not planned to raise their own replacement heifers and practiced shipping dry cows off-site to be cared for elsewhere until they could be milked again. Scott says as they followed through with these plans, their ideas on the value of raising replacements and managing their transition cows evolved.
"We realized how important our transition cows were to us and that transporting pregnant cows wasn't best for us. So we took our old machinery barn and we converted it into a pack barn for our dry cows, and that has made a huge difference in our production and cow health," Scott explains.
Scott and Lindy say the success of this decision is demonstrated by the corresponding production increases they have observed since making the switch. They have also started keeping some of their best heifers to work on the genetic improvement of their herd.
Satisfied with their production levels for now, the Browns have shifted their focus towards other areas of their operation. The couple says their new dairy herd has helped them realize the value of their crops, and they recognize budget constraints caused their cropland to suffer while they managed their beef and sheep herds. "Now we're really focused on our soil fertility and soil health, to try to be able to grow the crops we want to be feeding to our cows and that we know will give us that boost again in production," Scott says.
As they reflect on their journey so far, Scott and Lindy have some advice for anyone looking to enter the dairy industry. Lindy notes there are two major points that need to be met to increase a producer's chance at success. She recommends a solid, practical business plan backed up by some initial personal funding. Once the foundation is laid, she says she and her husband gained a lot from visiting the top tiestall producing dairies in the province. She says these dairies provided them with a model for their own operation, along with ideas that would benefit their specific set-up.
Now that their dream of owning a dairy farm has become a reality, Scott and Lindy have imagined some new visions for their future. Their goals for the future of their operation include upgrading to a freestall barn and a robotic milking system. They would also like to see their quota base continue to grow. As a small operation, Scott and Lindy are interested in diversifying their revenue streams, starting with re-entering the beef and sheep industries.
Although they are a self-made operation, it is clear Scott and Lindy cherish the support they have received from those around them. The farm's name, Lock Lee Holsteins, is even a tribute to the dairy that first sparked Scott's love for the industry; it is borrowed from his grandparents who farmed under the same name.
PHOTO 1: The existing tiestall barn on Scott and Lindy Brown's property provided a starting point for the couple's new dairy farm. Photo courtesy of Lock Lee Holsteins.
PHOTO 2: Since meeting in college, Scott and Lindy Brown have worked towards achieving their shared dream of owning and operating their own dairy farm in New Brunswick. Photo by Brady McCloskey.
PHOTO 3: Lock Lee Holsteins has already observed gains in production and now seek to improve their crop and land management to further boost milk production levels. Photo courtesy of Lock Lee Holsteins.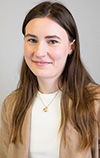 Emma Ohirko

Editor
Progressive Dairy