Changes to animal transportation regulations have laid out requirements for shorter journey times and mandatory rest periods. This has increased the need for more feed and water rest stops to accommodate livestock being transported.
Acknowledging these changes and looking to supplement their income, two businesses in northern Ontario have opened their own animal rest stops.
Jim and Selina Rogers own the old Kapuskasing Demonstration Farm, where they now run a cash-crop operation. Looking for another income source, the couple decided to transform some of their farm's existing facilities into the Feed + Water Cow Mootel, which opened in December 2020.
Similarly, Marie-Estella Richard transformed her goat dairy in Hearst – after a nearby cheese factory stopped buying all her farm's milk – into an animal rest stop and opened it up to transport trucks in February 2020. Marie-Estella and her boyfriend, Alex Rancourt, now work full time coordinating the operation of the Cattle Lodge.
"I had never heard about this kind of business before, but I decided to do my own research and I saw that there was a lot of feed and water [operations] in Ontario, and there's a lot of pig and cattle trucks that come along Highway 11. I called a man at the feed and water location in Thunder Bay, and I went over there for two days, and he explained it all to me. I really liked it, so I decided to go along with it," Marie-Estella says.
Both Marie-Estella's and Selina and Jim's operations function similarly. "[The drivers] get here, unload the truck and we feed the cattle, water [the animals] and make sure they're all healthy. Then, about eight or nine hours later, we load the truck, and they're on their way," Jim says.
Once the animals are settled in pens, drivers have the opportunity to shower and get something to eat. "During mealtime, if I cook enough, they join us if they want to, or they help themselves to whatever's in the fridge and cupboards," Selina adds.
Using the crops grown on their land, Selina and Jim make all their own feed. Selina says this gives them confidence in the quality of the feed they offer. Additionally, they have four milking units, in the event a truck arrives transporting milking cows.
Both operations are set up to serve cattle; however, Marie-Estella also accommodates swine. She has a contract with Olymel to house pigs being transported and has a pen reserved strictly for their animals.
In accordance with the contract, Marie-Estella must follow rigid procedures to ensure the cleanliness of her operation. The pig barn is cleaned and tested for traces of disease on a weekly basis, and the trucks arriving are tested and inspected beforehand. The loading chute is also cleaned between truckloads. Marie-Estella says there is some concern over biosecurity with regards to pigs coming into contact with cow manure. To address this, each species is kept in separate barns.
Selina says they decided not to accept pigs at their facility for concerns over biosecurity. She says, "We're staying away from pigs because that's where the highest biosecurity issues are, from our understanding."
Both Selina and Jim and Marie-Estella say while things have been going well since they opened, there are some challenges. "The biggest challenge has been to get the word out. We've got to reach the truckers because they ultimately decide where they're going to stop," Jim says. Social media has been an important factor in reaching drivers. "That seems to be where the customers are coming from, is from Facebook," Selina says.
Marie-Estella's contract with Olymel originated from word of mouth. She recalls, "There was one livestock trucker here in Hearst that passed one message along to another trucker. It went to a well-connected trucker; he called a boss at Olymel. The day after I opened, I received [Olymel's] call and he said 'Marie, can you please reserve the barn for us.'"
Marie-Estella says her biggest challenge is knowing the responsibility she feels to make sure the incoming animals are well cared for. "You need to be patient with animals. Do not stress them so they don't get hurt," Marie-Estella explains. She adds, "You know those pigs are going to the slaughter but still, you need to have respect." Marie-Estella notes many cows that arrive at her facility are being shipped to another farm, so making sure they remain in good health along the way is paramount.
PHOTO 1: Feed + Water Cow Mootel (pictured) and Cattle Lodge provide livestock drivers with a place to shower and enjoy a meal. Photo provided by Selina Rogers.
PHOTO 2: Marie-Estella Richard converted her former dairy-goat barns into a rest stop for swine and cattle being transported. Photo provided by Marie-Estella Richard.
PHOTO 3: Selina and Jim Rogers supply resting cattle with their own feed mix and offer milking services if necessary. Photo provide by Selina Rogers.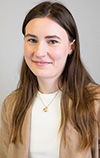 Emma Ohirko

Editor
Progressive Dairy