A new greensite dairy for Velrob Farms isn't just a part of the Veldman family's succession plan. It is also an extension of their efforts towards sustainability.
Chad Veldman is the primary operator of this new facility that started milking cows in March.
His parents, Steve and Carol Veldman, started farming in 1985 with 100 acres and 35 cows in Embro, Ontario. When their two sons wanted to farm, they built this new barn a mile north of the home farm and split the herd. Half of the cows went to Chad at the new site, and his brother, Chris, kept the other half to milk in the 110-tiestall barn at the home farm.
Chad purchased 35 kilograms of quota through the new entrant program, and each farm has about 95 kilograms of quota.
"We want to keep the two quotas the same, let them have their own milk cheques and work together where possible," Steve said during the Progressive Dairy Operators Farm Show bus tour on Sept. 13.
One area they combine efforts is in harvest. For instance, the hay crop was split with first cut going to the home farm, second cut to the new dairy and third cut at home.
The family is still working to finalize its full succession plan, which includes setting up two new corporations.
From the early design stages, energy efficiency was top of mind for this new build.
"I am interested in energy conservation," Steve said. "I started at the home farm 30 years ago looking for better ways of doing things more efficiently."
Originally, they ordered two Lely A4 milking robots, but when the new A5s came out during construction, they decided to go with those instead.
"They were more energy-efficient. It paid to upgrade. We save 20 percent on hydro," Steve said.
They installed a pre-cooler with 64 plates to increase contact time and positioned it as low as possible to force all plates to be full and functioning.
A 1.5-inch water line loops around under the barn (benefiting from the earth's cooler temperature) to feed the water troughs. It circulates through the plate cooler with a pump controlled by the robotic milking systems.
They also capture compressor heat to warm water for the cooler washer and both robots, so the robots use less energy to heat their wash water.
"It was $100 worth of plumbing, and we use half the amount of hot water," Steve said.
In addition, they set the robot cleaning cycles to occur during low to mid-peak price times for electricity usage.
The farm uses about 250 kilowatt hours of electricity per day, which encompasses everything from the milking robots, milk cooling, feed preparation and delivery, bedding press and delivery, lighting and any other farm needs as well as the house equipped with geothermal heating and air conditioning. Their hydro bill is about $850 per month.
The Veldmans also incorporated automated feeding and bedding units into the new facility to cut down gas and diesel usage while gaining labour efficiencies.
A couple of days before the tour, they started up the Valmetal bedding robot. It saves the farm one-and-a-half hours per day in labour. (Using the slinger method to spread bedding required two people for 45 minutes each day.)
A low horsepower roller press recovers the non-digestible fibre at a rate of 1 cubic foot per minute. The green bedding material is fed into the robot and delivered via rail overtop the stalls. It is applied at a rate of 2 kilograms per stall. Chad said they would like to get the layer in the stalls to be a little thinner so it dries faster.
They have sunken mats to keep the bedding from getting too deep and rake the stalls two to three times per day to level them out.
Additional green bedding is sent to the home farm for use there.
"We like the closed circle of green bedding and not running tractors and skidloaders," Chad said.
The automated feeding system also keeps them from burning fuel on the farm. They selected the Lely Vector because it meant no rail and therefore less clutter in the barn.
The feeding system mixes 12 to 13 batches a day. Forages come from the tower silos. Straw is kept in a forage wagon parked within the feed kitchen. A single dairy supplement comes from one auger. A hammermill for dry corn is kept in a separate room off the feed kitchen to control the dust. Chad uses it to fill a hopper once a day.
"We kept it as simple as we could," Chad said.
He added, "Forage wagons are cheap storage. When we are filling a silo, we bring in a wagon, and the Vector doesn't skip a beat."
He mentioned having some communication issues with the feeding system but sees the benefit of it and is willing to work with it to move forward.
Utilizing these automated technologies, the facility was designed for a single operator.
At the time of the tour, the farm had 85 milking cows, 40 pregnant heifers and dry cows. Chad was spending three hours a day on chores, which included cleaning robots, raking stalls, cleaning crossovers, animal care and breeding.
"I believe it is possible to get to 220 cows, but I don't know how much calves and heifers will add to my day," he said.
Eventually, heifers and calves will be housed here as well. In the meantime, newborn calves stay for at least a week before moving back to the home farm.
Gating and a sort area help Chad handle tasks on his own. They had installed a gate to usher cows into the robot holding pen for start-up that he decided to keep for bringing in fresh cows.
There is also a pen behind the robot for milk cows that require extra care. The robot sorts cows there that have a high somatic cell count (SCC), and Chad can have cows sorted there for lameness or other herd health issues.
"I love that area. It makes my day easier," he said.
Rumination and activity monitors aid in heat detection. Chad said the cows are showing stronger heats here than what they typically did at the home farm and he's been breeding a cow a day in the new barn.
After six months in to the new barn, Chad is using information from the automated systems to improve his management. "I love this barn and how quickly you can see a change somewhere else," he said.
After putting a lot of thought into the design, functionality and efficiencies into this new operation, the Veldman family has added a farm that will be sustainable for years to come.
PHOTO 1: An automated bedding robot, alley scraper and feeding system are keeping tractors and skidloaders (and their associated fuel usage) out of the barn.
PHOTO 2: Chad Veldman, shown here, is the primary operator of this operation, which was built for minimal labour. He partners on some tasks, like cropping, with his brother, Chris, who is taking over the home farm a mile down the road.
PHOTO 3: Two of the latest milking robots were chosen for their energy efficiency. They are positioned in an L shape for one pen. The other half of the barn has a similar set-up for future installations of more robots.
PHOTO 4: The feed kitchen for the automated feeding system was kept simple with two upright silos, a forage wagon, dairy supplement auger and hopper from the hammermill. Photos by Karen Lee.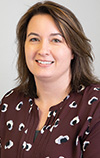 Karen Lee

Editor
Progressive Dairy
View an online photo slideshow for more images of this operation at Slideshow: Velrob Farms.