Expansion is a strategy that has been passed down from generation to generation at Walker Farms in Aylmer, Ontario.
Seizing the opportunity to grow through diversification, the Walker family decided to vertically integrate themselves into the market by opening up a new on-site processing plant and dairy bar.
Walker Farms is one of the largest dairy operations in Ontario, currently milking 1,600 cows. (The late) John Walker Sr., Canadian Agriculture Hall of Fame inductee, began Walker Dairy in 1958. His son, Jon Jr., started his own farm, Walker Farms, in 1977.
His herd moved around a lot, but he eventually moved his cows back to the family farm in 1997 with his wife, Linda, and their five children – John G., Dayna, Scott, Clint and Jane. John Sr. moved his herd to another farm, where Walker Dairy Sales is located today, and both continued to use any extra money for more quota. Since 2008, Walker Farms has built two sand-bedded freestall barns (in the shape of an "H"), two large earthen manure lagoons and installed a 50-stall rotary milking parlour.
Entering a new phase
Scott Walker, dairy operations manager, explains, "We've been thinking about [processing] for over five years. It's always been in the back of our heads." The growing outside pressures on Canada's supply management system and the recent trade deals influenced their decision to take the next step "or leap," as Walker states.
Research began three years ago by touring processing plants such as Miller's Dairy and Shaw's Ice Cream Dairy Bar in Ontario. They also toured in the U.S. and the Netherlands. Walker says the biggest takeaway from each processor was that they would have built more capacity from day one. "They wished they had built their original builds bigger because they expanded a lot faster than they had expected. So when we heard that, we took it to heart. We were like, even though in the first month we may only sell 500 litres, let's build it for five to 10 years down the road," he explains.
Five years ago, the farm started breeding for the A2 beta-casein gene, thinking it would give them a competitive advantage in the future. They continually check their herd and now have approximately 50% of the tested animals carrying the A2A2 gene. These roughly 500 cows are split into two pens, and their milk is sent to the farm's processing plant. "Eventually, our goal is to have 100% A2A2 [cows] on the farm," Walker says. "Our youngstock and heifers are going to be more prevalent with A2A2 than our older cows … and with the calves being born now, I think we'd be closer to 80% A2A2."
Processing plant
Located 400 feet from the milking parlour, 100% single-sourced A2A2 milk flows underground to the fully automated processing plant. The plant's maximum processing capacity is 25,000 litres per day. "We built the plant so it's scalable," Walker explains. "Eventually, our goal is to have all our milk on the farm go through the processing plant – that might be a 10- to 15-year goal." Until then, the farm's additional milk is trucked off the farm. Once the demand is there and the entire herd is A2A2, Walker says the plan is to add a second shift to the plant, allowing them to process all of their milk on-site.
Innovation
The farm is working in partnership with the School of Food and Nutritional Sciences at Brescia University College (affiliated with Western University) on product development through an internship program. They have two part-time interns: Sarah Devereaux will focus on sales and social media, and Nina Trask will help on recipe development and product design. They've also hired a full-time production manager for the plant.
The plant will process 1%, 2% and 3.25% white milk, as well as 2% chocolate milk – served in 1.5-litre and 250-millilitre plastic bottles. Walker says their immediate focus is to push the volume of fluid milk through the plant, but there are plans to expand products in the future. "The first one would be to bottle our own cream. … This would be the easiest transition and the most realistic to start. And then the next thing would be a drinkable yoghurt," he says. Everything they need to expand is already set up in the plant, such as the fermenting tanks and fermenting tubes.
For distribution, the farm is currently in discussions with local farm markets and grocery stores – one being Sobeys – who are interested in promoting local products to consumers. "I think our product will sit very well in those markets, so that's been our push." Walker says they are also talking with wholesalers to help with volume.
Dairy bar
In addition to the new plant, the Walker family decided to open a dairy bar down the road. The family purchased an old burger and ice cream joint with a drive-thru option. They are renovating it to serve the local community everything from milk (straight from the plant) to coffee to locally sourced eggs and baked goods. In the summer, they will also serve Shaw's ice cream.
Walker Dairy Bar is located off-site in the town of Aylmer, as customer safety and traffic were of concern on the farm. "On top of that, biosecurity is getting a lot stricter, especially now with COVID-19. … We just thought it was too much to have all on one property. So, luckily, we found this property in town, and I think this will work a lot better," Walker says.
Changing roles
"That's going to be our biggest challenge – switching our mindset from just selling milk as a commodity to getting it to the consumer," he says. "We've learned a lot in the last 18 months. … Like how people make decisions in a store and how fast they make those decisions. It's been a huge learning curve." The Walkers worked with two consulting groups in marketing and the agri-food industry. From understanding the consumer to the importance of the design of the packaging, they are taking the time to build their brand.
"It takes a lot more than you expect when you start into this, and that's just the honest truth … I think we underestimated the time and effort it took and the capital [required]," he says. "It's almost been two years since we really started building … so if you're not 100% committed, you're not going to get through to the end because there are some hurdles you have to overcome that really make you question what you're doing."
They were able to work with provincial resources to help them through this process. Walker says, "[Dairy Farmers of Ontario] has been amazing to work with and have helped us with some of the questions in terms of how to separate the farm and the processing plant while both benefiting. OMAFRA has also been amazing to work with to make sure we're going to have a safe food product."
The Walker family is looking forward to providing their product locally. "I think people are more curious and more in tune to where their food comes from, so I think that's benefiting farmers," Walker says. "I think that should be a motivator for farmers, both dairy and outside of dairy. I think there is a real need for products like ours in the marketplace."
In the near future, Walker Farms plans to be nationally certified (CFIA) so they can ship outside of Ontario, focusing more on bulk cream and opening up future markets. Walker says it is easier for them to get the necessary certifications at the beginning, making sure they are all set up from day one, to avoid missed opportunities in the future.
Keeping an eye out for opportunities is a longstanding practice at Walker Farms. "Like my grandpa always said about technology, 'You never want to be the first, but you never want to be the last'," Walker says, recalling the statement shared with him back when they installed their rotary parlour. Passed down from generation to generation, this strategy still continues today at Walker Farms.
PHOTO 1: The new Walker Dairy Bar is located in Aylmer, Ontario, serving milk straight from the processing plant as well as coffee, baked goods and local products.
PHOTO 2: 2008 Canadian Agricultural Hall of Fame inductee (the late) John Walker Sr. (middle) with son, Jon Jr. (left) and grandson John G (right) with great-grandson John (J.T.).
PHOTO 3: Scott Walker, dairy operations manager, looks to the future of the herd and is breeding to get calves with the A2 beta-casein gene.
PHOTO 4: Walker Farms constructed a new processing plant 400 feet from the 50-stall rotary milking parlour to begin bottling the farm's A2A2 milk. Photos courtesy of Walker Farms.
PHOTO 5: Inside the barns at Walker Farms where they currently milk 1,600 cows. Photo by Mike Dixon.
Walker Farms is scheduled to begin processing milk through their plant in May. Follow Walker Farms on Facebook for updates.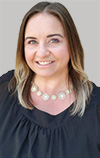 Lora Bender

Editor
Progressive Dairy