Everyone has at least one definitive moment in his or her life. The moment when you must either persevere against the odds in hopes of achieving greatness or give up and spend the rest of your life wondering what might have been.
Today Brad and Iris Vink are living their dream because they persisted when times got tough. They knew how they wanted to farm and focused on what they needed to do to get there.
The Vinks joined their lives together in marriage on July 1, but they started dairying together before then. Three and a half years ago, Brad and Iris decided to buy a farm in Embro, Ontario, with 50 milking cows and 55 kilograms of quota.
It had a single-12 parlour retrofitted into an old bank barn. One of the first steps they took was to pare the herd down to 48 cows. This kept the parlour to only four turns with a total milking time of two hours. However, it still wasn't their ideal arrangement for milking cows.
Brad came from a farm with a milking parlour and he knew the bank barn had its limitations. Any milking centre upgrades would require a new parlour in another location on the farm or a very specialized remodeling project.
Iris explains that they wanted to milk cows three times a day but didn't want to hire employees. Her family's farm has milked with robots for 18 years. When they ran the calculations for their situation, they found "robots were not too expensive," she says.
In converting to robots, they were looking to increase their herd size, too. "We had the land base to support it," Brad says.
Plus, quota increases brought them up to 65 kilograms. Brad's father was feeling the pressure of the increasing quota on his larger dairy nearby, so they were able to utilize the parent-to-child quota top-up policy to transfer some quota from one generation to the next. Brad and Iris now have 140 kilograms of quota, while his father has 520 kilograms.
They purchased three gently used automated milking systems from another Ontario farm, pulling them out with the help of Norwell Dairy Systems, which also assisted in refurbishing the units.
As this was taking place, they were growing their cow numbers and still milking in the single-12 parlour. The new quota took effect on Oct. 1, 2016, but their robots weren't ready yet. Because they wanted to fill it as best as they could, Brad and Iris were milking 110 cows, three times a day, by themselves.
"We ate, slept and milked cows," Iris says.
They did hire a relief milker, who provided a little break for them. He covered four milkings a month, but they still had to do the other 86 milkings each month.
The robots finally arrived at the end of November and almost a year later, the Vinks are breathing a bit easier as they continue to milk 115 cows and handle all of the farm work themselves.
"The robots are working really well," Brad says. They are able to swap out close-teat cows with others more suited for robots with his father's herd. He figures they have done this a handful of times since they started. "It's nice not having to sell them," he adds.
The barn is set up for free-flow traffic and they are only fetching 3 percent of the herd to get them to the robots.
This summer they installed fans above the robots to aid in fly control. "Box time was going up," Brad says, noting the movements of the cows to shake off flies was affecting the robots' ability to do their job.
The Vinks pride themselves on maintaining a low somatic cell count. It is typically around 150,000 and at most reaches 200,000, Brad says. One of the reasons they selected the DeLaval Voluntary Milking System was because of how it cleaned the cows' teats. "This does a really good job," Iris says.
She also notes they use a chopped cardboard bedding with added lime to keep the cell count low. "The bedding looks like a thick powder, but isn't dusty like sawdust," Brad says. They lay down a thick cover of this bedding over the mattresses that are in the stalls.
For additional cow cleanliness, they added brushes to the freestall pens. "We wanted our cows to be as clean as possible," Brad says.
Another area they emphasize on the farm is hoof health. They let their cows out of the barn twice a week. On the way out and back in they pass through a footbath. They use formaldehyde once a week and every second week they use Klingon Blue. In the winter, instead of sending the herd outside, they walk them through the old barn and parlour. While the cows are out, Brad delivers fresh feed to the bunk so they are eager to return to the barn.
He does all hoof trimming here and at his dad's farm. Brad picked up the skill by working alongside the trimmer on the family farm.
The cows are fed a pellet while being milked in the robots, with the amount based on the preprogrammed feed tables. The Vinks will customize this for some cows based on their stature or if they just freshened.
The robot pellet allowed them to stop using high-moisture corn, which they struggled to keep from molding before it could all be fed.
They also reduced spoilage by purchasing a self-propelled mixer. Their feed is stored just up the road and they found this unit has helped in transport and defacing the bunker of feed. "In the summer, we were throwing away 30 percent of the feed. Now it's nothing," Brad says.
The only machines the Vinks own are the robots, the mixer, a skid steer and an automated barn scraper to roam over the slatted floors. Brad's father hauls manure for them, and their neighbour, Brad Green, does custom field work for the crops.
With more land than they need to feed their cows, they get a little extra income from cash cropping and worm picking.
While Brad spends his time on the trimming, breeding and feeding, Iris does more with the robots. With the single-12 parlour, they had no information on cow performance, but now they almost have too much, she says.
They can keep tabs on conductivity by quarter, individual cow pellet consumption and heat detection from the activity monitors. They can also customize their reports and have one that focuses on conductivity and days in milk, where they watch for any deviations in the past seven days.
Even with the automation, Iris says she still prefers to handwrite her herd health list for the vet check every two weeks. She will print the report from the computer, but will also add in a few more cows she wants to see checked.
Brad and Iris split the work "50-50 all the way around, even in the house," he says.
The robots allow for the Vinks to be the only two employees on the farm and give them back a life that doesn't involve them milking cows three times a day.
"It was hard to see friends," Iris says. "When we first started, we never went out."
However, by working through the tough times and remaining focused on their future, Brad and Iris can now enjoy the lifestyle they dreamed about when they started Incroft Dairy just a few years ago.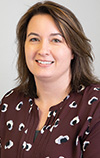 Karen Lee

Editor
Progressive Dairyman
PHOTO 1: Brad and Iris Vink are the only two employees on their farm thanks to the help from three robots that milk the farm's 115 cows
PHOTO 2: The Vinks use a chopped cardboard bedding that creates a thick powder surface without a lot of dust.
PHOTO 3: They put down a thick layer of chopped cardboard mixed with lime over the mattresses for cow comfort. Photos by Karen Lee.